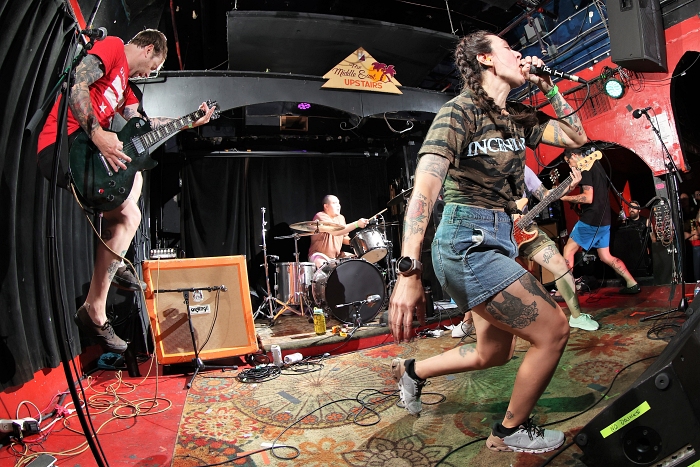 FAIM is one of the best hardcore bands going right now in the States. The Denver outfit formed in 2017 and has to date released an eponymous 7-inch on Convulse Records, a split EP with Discourage and LIFT, and a superb album entitled Hollow Hope via Safe Inside Records in 2020.
Their sound captures the grit and energy of classic hardcore, but FAIM also manages to fuse elements of post-hardcore and crust into their attack. You might have caught them live on one of their various US tours or on their sole trek through Europe.
Today, I'm happy to post two new digital-only tracks FAIM just dropped. Recorded, mixed, and mastered by Jack Shirley (Tørsö, Deafeaven) during their session for a new FAIM full length to be announced shortly, "Uninhabitable" and "Hide Behind Your Badge" remind me why I'm high on this band.
"The song is about climate anxiety and nihilism," guitarist Chris Carraway told me about "Uninhabitable" via email.
"Society has spent the last few decades collectively mocking, ignoring, and downplaying climate change and now the bill is starting to become due. With the collective failure to address this, it's easy to feel really hopeless and numb and that's what the lyrics are really grappling with. It is important to acknowledge these feelings—but on the other hand, we cannot dwell on them or give up because at the end of the day, the bad stuff will still happen. The only way to stop or mitigate that is to move past nihilism into action."
Check out the video for "Uninhabitable" right here:
FAIM vocalist Kat Lanzillo also shared some thoughts with me about the other track from the new drop. "'Hide Behind Your Badge' a re-recorded version of one of our early songs (originally released in 2017 on a tape benefit for the Trevor Project by Wide Eyed Noise).
"This song is about the abuse of power of the police force and the fact that policing is built on oppression of black and brown people. ACAB."
2023 will be a busy year for FAIM as they will be releasing their next full length and touring in the United States and Europe.
FAIM on social media: Facebook | Bandcamp | Instagram
***
Help Support What No Echo Does via Patreon:
***
Tagged: faim