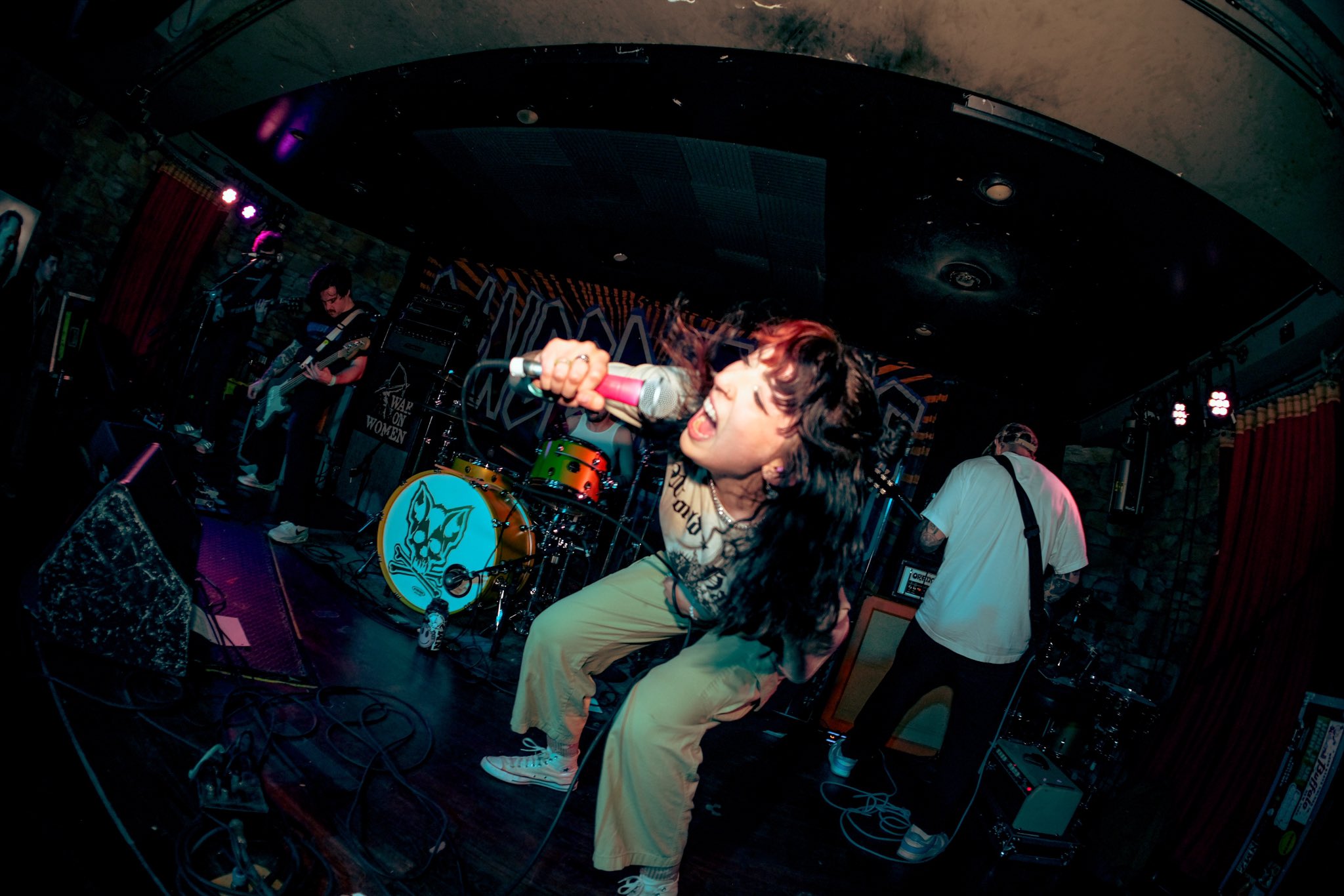 I first covered Spaced in 2021 when they dropped their 4-song debut demo. The Buffalo, New York band's bouncy and melodic take on hardcore made me an instant fan, so much so that I included the quintet on my '12 Newer Hardcore Bands to Check Out in 2022' list a few months later.
In the time since, Spaced have built up quite a decent following, playing tons of shows throughout the US, and even touring Europe. New Morality Zine welcomed the band to the label's roster last year, releasing a compilation featuring new tracks called Spaced Jams last summer.
Last week, Spaced released a 2-song 7-inch called Far Out Hardcore, and they'll be touring throughout the US this spring, and then heading out to the UK and Europe this summer with Buggin.
With so much action happening in the Spaced camp, I spoke with their vocalist Lexi Reyngoudt about their recent success, balancing their touring and working life, and the band's future plans.
First off, congrats on all of the recent success. It feels like the band is truly riding a wave right now. How has it felt from your standpoint?
It's honestly been surreal! It's a really cool feeling to be able to travel to new places and have people come up to us saying they've been looking forward to seeing us or even that they didn't know us before, but are now a fan.
The love we've been getting is truly humbling and special.
You've put in a lot of road work this last year or so. Did you guys commit to trying to go full-time with Spaced and figure out the day job stuff as you went, or have you been balancing that?
We've been balancing it so far. A few of us work full-time jobs that allow us to go on the road. Dan and Donny work at a pharmacy together, John runs a coffee shop, Joe works from home as a writer and editor, and I work at a local paint and sip spot in Buffalo that is entirely supportive of Spaced.
We're lucky enough that our bosses understand touring and grant us to either work on the road or give us the time off we need.
What have been some of the highlights for the band so far?
Some of our favorite highlights have been going to Europe for the first time with Comeback Kid (and being able to go back this summer with Buggin), being able to play with Buffalo hardcore legends Buried Alive and Snapcase, having our first record pressing sell out, and our first little headlining weekend in Philadelphia and Richmond.
How did you come to connect with Nick Acosta at New Morality Zine and how did that relationship develop?
Honestly, we manifested working with NMZ! We were really pumped and interested in what the label was doing and he decided to take a chance on us. It's been really awesome working with Nick and I'm glad we get to have that kind of relationship with him.
Tell me a bit about these two new tracks you just released? Is it a teaser of sorts for a full-length, or is it a standalone deal?
These songs are a standalone; we wanted to write some new songs to see what we're thinking about for future releases and felt these were good to go out first. We're writing more music still for a bigger release later this year.
What's on the schedule for the rest of 2023 that you can talk about?
We have some headlining shows coming up at the end of May and beginning of June out in the Midwest that everyone should keep an eye out for within the next few weeks! We're also going back to Europe this summer with Buggin and will be headlining a few shows without them.
Other than that, we're planning on releasing more music later this year!
Since you've been on the road a lot, what are some of the newer bands you've played with that impressed you?
Some of our favorite bands we've played with are Sign Language, Full Stride, Wasted Space, Who Decides, Dagger Threat, Enervate, and Fatal Visions. These bands rock and have the exact vibe we love about hardcore!
Thanks for that chat, Lexi. Is there anything else you'd like to mention before we finish here today?
Just wanna shoutout to upstate New York hardcore right now; we've played Rochester, Syracuse, Albany, and of course Buffalo recently and each scene is on the come up. So many cool bands from each city and the unity we have with each other is important to make sure these scenes stay alive.
***
Far Out Hardcore is available now via New Morality Zine (vinyl, digital).
***

Tagged: spaced