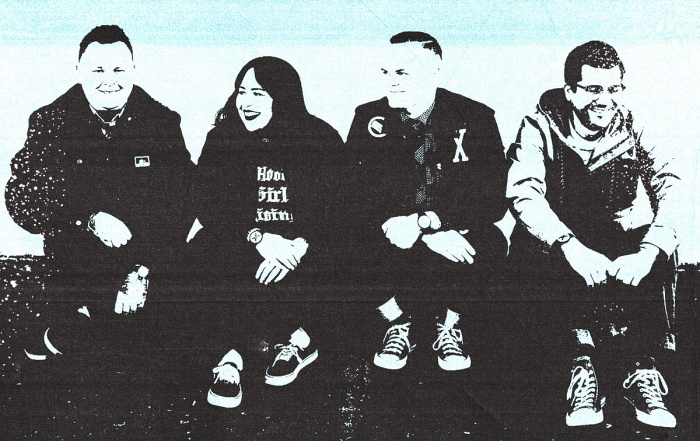 In the site's neverending pursuit to keep our readers up on new hardcore bands, No Echo is happy to introduce you to Enact. Based out of Portland, OR, the straight edge quartet features current and former members of Dying for It, Cutting Through, Blue Monday, and XCauterizeX.
"This band is really the result of friendships that have grown over the course of playing music together," Enact drummer Thomas tells No Echo. "In 2017, Kyle hit Dying for It up to play a show in a garage in Dixon, CA with Cutting Through. That show kickstarted our friendship and got us to visit Portland several times, which resulted in becoming a part of an awesome group of friends who are mostly all vegan and straight edge, and the next thing we knew, Rikki and I to moved to Portland 2 years later."
Enact vocalist Rikki takes over the story: "After moving to Portland, Kyle asked Thomas and I to be a part of his new project. I was pregnant at the time and the thought of being in a second band wasn't what I saw myself doing. After talking to him about the vision for Enact and realizing it was in alignment with what I want to see within hardcore, I knew that it was the right opportunity to speak up about issues that I feel passionately about and things that I have been feeling on an emotional level in a way that Dying for It hadn't really fulfilled before."
Now that you've gotten the lowdown on their formation, let's listen to Enact via "Hear My Voice," a track from their forthcoming promo:
'"Hear My Voice' is about changing the dominant narrative in hardcore that favors men, particularly white men," Rikki says. "Women, trans and non-bibary folks, the LGBTQ+ community, and BIPOC have always been present in the scene, but have not always had the representation or credit given where it's due. The typical response to this is along the lines of 'these bands [full of men] worked hard to get on this fest/tour/label,' which is not always the case.
"That's the same bullshit bootstrap mentality that people apply to succeeding within capitalism and it is important to make that distinction within hardcore. It is time for that to change within hardcore and the only way for that to happen is to elevate, provide access to, and amplify the platforms of the always present, but often forgotten people whose voices need to be heard. That's equity."
No Echo asks Rikki what sets Enact apart from some of the other groups they all have played in. "For me, I am doing something outside of my wheelhouse, vocally. Typically, I have been drawn to more screamed, low (for my vocal range) sounds.
"I've always wanted my voice to sound like the dude from From Ashes Rise. With Enact, we wanted to try something completely different to differentiate our sound from Dying for It, which was really a challenge, because there is really no blueprint for non-males fronting early Revelation Records-influenced hardcore bands."
Thomas adds: "With Dying for It, I just wanted to start a band with Rikki as an outlet for me to be the primary songwriter (musically) and to go on tour, because I had never had either of those experiences before. I think that was accomplished and through that, I have learned that every aspect of your band counts and so with Enact, everything is intentional. Everything should be cohesive--the sound, the lyrics, the visuals, and most importantly the message. This band was meant to be deliberate from the start and I think that really comes through."
"In reference to the songs, I wanted to explore implementing ideas of melody and layered guitars," offers Enact guitarist, Kyle. "Sometimes the more basic things are the better, but also I wanted to find room to cover some new ground for myself as a songwriter."
Sean from the new outfit says the following: "Though both xCauterizex and Enact could be characterized as political hardcore bands, they are quite different both sonically and lyrically. What I appreciate about Enact is the fact that the music challenges me to think about playing bass in a different way, pushing my understanding of what it means to be a bass player in a hardcore band. Lyrically, Rikki is able to weave the personal and the political in a way that is quite unique and powerful, especially for the style of hardcore we play. For these reasons, Enact is quite a unique and energizing band to be a part of."
WAR Records (Strife, Ironclad) will be releasing the 2-song Enact promo, plus their upcoming LP. "Our relationship with [WAR Records founder, and member of Strife, Berthold City, and World Be Free] Andew [Kline] goes back to 2018 when Dying for It was touring extensively," Thomas explains. "We hit it off with him and the rest of the guys in Berthold City and as a result, he started providing us with a lot of rad opportunities, like playing with Shelter in Berkeley, and we are incredibly thankful to him for that."
"When I heard WAR Records was interested in putting out our promo and LP I was elated. Having grown up in the hardcore scene in southern California, being part of a label based in SoCal that puts out such awesome bands was simply a no-brainer for me," says Sean about the partnership.
Kyle is also excited about the WAR Records x Enact union: "When we reached out to WAR, it was important for us to convey that this band is very much motivated by message and while we love the energy and fun that comes with the style of hardcore we play, we feel an obligation to speak up on issues that are often not brought to light. We also felt that Andrew and his label were in alignment with those values."
As shows are starting to come back, what are the folks in Enact cooking up? "We want to play some cities that we have not been to in previous bands," Kyle tells No Echo. "I know there is a festival in Europe that we hope to play and I personally want to take the band to Japan."
"In addition to what Kyle said," Thomas chimes in, "I'm excited that we are going to be a new Portland local band. Portland seems to be an often skipped over town for tour packages and we are maybe not thought of when fests are formulated, but we're repping hard for our home and hope that people know that we are part of a very vital scene in the Pacific Northwest."
The Promo 2021 session was recorded by Jason McGhee (Dying Wish, WithxWar), mixed by Aaron Jamili (Berthold City, World Be Free), and mastered by Wyatt Oberholzer (Year of the Knife, Ecostrike).
Hit up WAR Records to get in on the pre-order for the limited edition cassette.
Enact on social media: Facebook | Twitter | Instagram
***
Help Support What No Echo Does via Patreon:
***
Tagged: enact