Lennart Bossu has been involved in bands for over 20 years. I first learned about him upon my discovery of Maelstrøm, the 2011 LP by Oathbreaker. I'm fortunate enough to have seen him play live many times with both Oathbreaker and Amenra; I'm especially grateful to know him personally and glad to share this conversation with you all.
While it's safe to say Amenra is his primary focus, we also discussed the death metal project Living Gate (who released their debut EP, Deathlust, in June of 2020) he takes part in with Aaron Rieseberg of YOB, Gilles Demolder, and Wim Coppers of Oathbreaker and Levy Seynaeve of Wiegedood.
I hope you find this conversation interesting and informative, and I thank Lennart for his time. Also, check out my recent review of Amenra's superb De Doorn album.
From what I understand, this is the first time you were the primary songwriter for an Amenra record. How was this experience for you?
I had initially joined Amenra after Mass IIII, and the first thing we did was the acoustic EP. I only contributed a few riffs on Mass V, and Levy took most of the writing for Mass VI. When we took on the rituals, I already had Voor Immer but hadn't brought it forward. When I did, and the other people in the band responded positively to it, this process served as the catalyst in moving forward.
I hadn't previously considered myself a primary songwriter. For Oathbreaker, I think the best songs are a mix of writing by Gilles and myself or Ivo [Debrabandere] and myself.
Even without considering the time frame when these songs were made, De Doorn, I feel, represents a new strength in Amenra as a band.
What was recording De Doorn like considering how different everyday life must have been for the band due to the pandemic? Do you feel it affected the overall writing/recording process?

Actually, the record was recorded before the pandemic. We had started recording with our bassist Tim [De Gieter], and we didn't actually know it was going to be released by Relapse either. We thought these songs might be specifically for the ritual performances and unsure how they would be released or when.
Recording with Tim made it more natural than traveling somewhere and having a heightened awareness of it being "studio time." Both processes could have advantages and challenges; we could have overworked the material, but we immediately stuck with what came out.
While "Voor Immer" was the first song you presented, did all these songs come together at once?
So, "Voor Immer" consisted mainly of ideas I already had, and "Ogentroost" is one we already had a rough demo of around the time of Mass VI. "Het Gloren" and "De Evenmens" came later and were constructed entirely with new ideas for the fire ritual we did in Menen.
What were some of your influences in guitar playing and songwriting?
A lot of my playing and writing is based around my learning songs by Metallica and punk rock bands like the Ramones, and the next band that out stood for me was Death, specifically the Symbolic record. Also, other '90s death metal bands like Entombed's Left Hand Path, and those particularly influenced my time playing in bands like Firestone and Liar.
I also learned a lot from other musicians I played with. For instance, Gilles has influenced me even though we have a sort of generational gap music-wise. I might label my playing style rooted in power chords and more metallic influenced, Gilles's playing would be something I see more influenced by more acoustic guitar playing, full chords, and open tunings.
And Mathieu [Vandekerckhove] has a more atmospheric way of playing with lots of droning notes and e-bow stuff. Incorporating some of their approaches has definitely made my playing more interesting.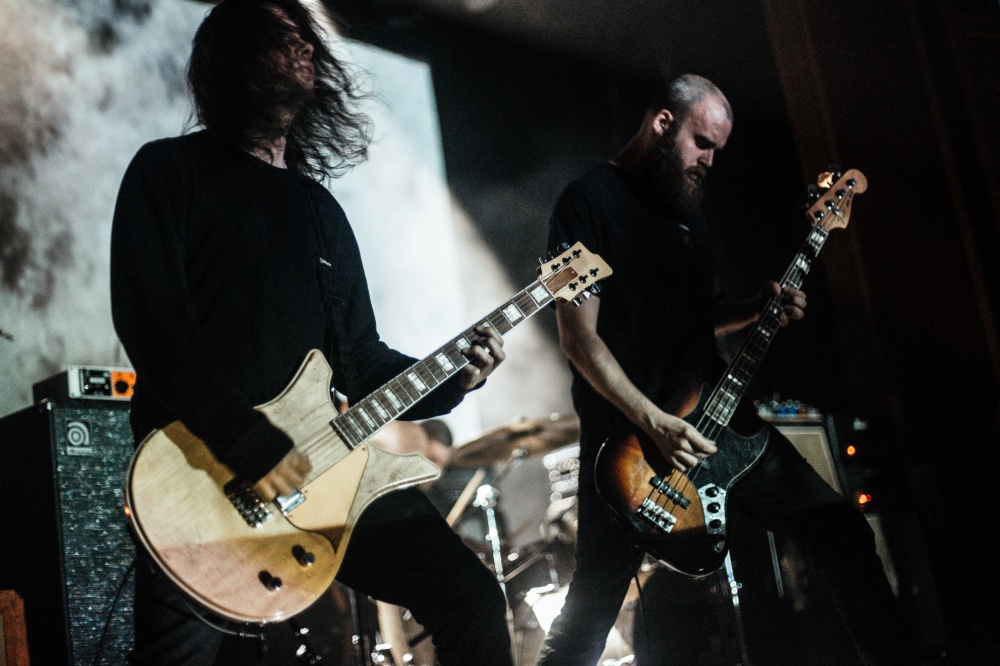 How does it feel to be transitioning back to the heavy, electric sets again after mainly acoustic shows for a while now?
I'm personally excited and look forward to it. I don't want to sound corny or simplistic, but it is somewhat therapeutic for me. The volume, the noise, and amplification; it is something I've missed, and I'm excited to get back to playing this way regularly. It's been interesting to reflect on what it means to me.
Just out of curiosity, what are some of your favorite Relapse bands (past or current)?
Mastodon, Burnt by the Sun, and Brutal Truth as well. High on Fire is still one of my favorite bands, and their records on Relapse were favorites of mine; Nile is another favorite of mine. It's great working with Relapse, and they've been very supportive of Amenra in this process.
To briefly touch on Living Gate, how was that writing process?
This was also written pre-pandemic and primarily written by Levy. He had a clear vision, and it was done very efficiently. We recorded with a friend that Wiegedood often works with, so it was a natural process. It was one of the smoothest and fastest recording processes I've ever been part of. It also helps that most of us have previous recording experience with one another.
Was it interesting bringing back some influences you may not have tapped into since playing with Liar?
Living Gate is definitely one of the most technical projects I've played in, and it requires certain stamina in my picking hand. I definitely still have Liar riffs come back to me, and now that you mention it, I see the connection of how it would influence my playing.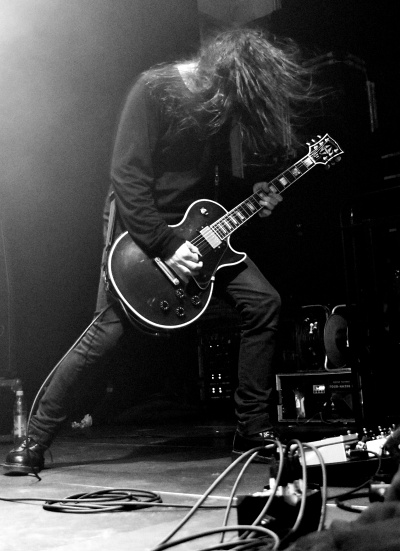 It might be a generic question, but is there a specific song you're particularly excited to play on tour from De Doorn?
Definitely, "Voor Immer" is one I'm looking forward to. I'm curious what the reactions will be due to some of the quieter sections. It may change over time, but "Voor Immer" stands out for me.
***
De Doorn is out now via Relapse Records.
Amenra on social media: Facebook | Twitter | Instagram
***
Help Support What No Echo Does via Patreon:
***
Tagged: amenra, living gate, oathbreaker