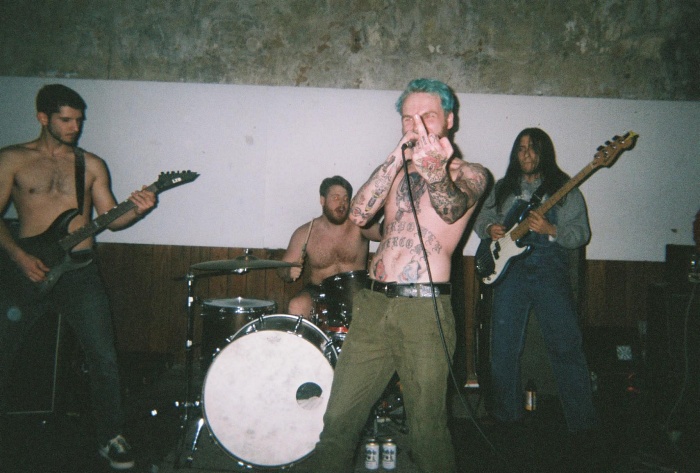 Pick up your pencils, y'all. That hastily scribbled year end list has just been rendered null and void. Sliding in just under the (barbed) wire that is of 2020, Atlanta's Living in Fear have anted up and they ain't bluffing.
The titanic and merciless crossover of The Coward's Path Ends Here... drops digitally this Friday. With wax and cassette handled via Personal Best Records and (fittingly) Best Wishes Records, respectively, you haven't a single excuse for missing a late addition to the year's finest long players.
Aside from boasting what's perhaps the best album title of the year, Living in Fear exudes a streetwise confidence that's exhilarating. Who else would have the audacity to name a song "Highway to Hell" and still make it work?
No Echo got the early jump on the record, so hit the "play" button below and find out why The Coward's Path Ends Here... is getting our hype treatment:
Off the strength of these songs, Living in Fear should quickly find themselves shoulder to shoulder with modern giants, forcing their way into the company of the likeminded Mindforce, Dead Heat, Ekulu, Take Offense, and Drain.
Though you're certain to find dog-eared copies of The Age of Quarrel laying around their practice space, the band's signature brew cops ingredients from everyone from Nuclear Assault and Leeway to and Power Trip and Slayer.
This has it all, friends... speed, dynamism, aggression, and chops for days.
Georgia's coldest crew won't ask twice. Come walk the path with them.
The Coward's Path Ends Here... will drop on Bandcamp this Friday. The vinyl will be out in January, and the pre-order is live.
Living in Fear on social media: Bandcamp | Instagram
***
No Echo has launched a Patreon with 3 tiers offering all kinds of hardcore-related goodies to help support the site:
***
Tagged: living in fear