LA metalcore act Matriarchs have been quiet since last year when they dropped "Eviscerate," a ripping single featuring Myke Terry (Bury Your Dead, Volumes). They've broken their silence with another single, "Feed," combining downtuned metalcore with hints of beatdown and instantly-recognizable vocals. Chris Anguiano of enlightened metalcore act DMT lends his vocals to the track,
For the uninitiated, the presence of clean vocals doesn't mean that Matriarchs have resigned themselves to weak singing or bad metalcore tropes. Instead, it underscores the constant instrumental heaviness and lends the band their recognizable sound.
Check out the new lyric video for "Feed" below and keep scrolling to read an exclusive interview with Matriarchs guitarist Ben Levi about DIY, songwriting and the future of hardcore.
You play in Cutthroat LA, Fate Destroyed, and Matriarchs in addition to being the owner and idea man behind Five Rings Productions. Five Rings Productions is described as a one-stop resource center for independent bands. What is it specifically that you guys do?
Well, we do quite a few things, really. Essentially, we work to connect artists with the services they need to grow. We provide lots of in-house services as well as a really great network of partnerships and contractors. For a more iin depth look, just check out FiveRingsProductions.com and KnuckleHeadzINC.com.
I've managed budgets that total in the hundreds of thousands of dollars on various projects in traditional marketing, PR, social media marketing, digital marketing, production etc for over 200 clients and have gotten the opportunity to observe what works and what doesn't, what is worth a dollar and what isn't. I am equipped to guide less experienced artists on where they should start and how. (Hint- It always starts with writing the very best music you possibly can, everything else is secondary).
We've had many contractors partner up with my company to expand our competency: Be it Music Production, Composition, Sound Design, Ghostwriting, Marketing, Content Creation, Project Management or Strategy. There really isn't much we haven't tackled in the entertainment space so there isn't much we can't do for someone who comes to us for consultation.
How long have you been involved in the Los Angeles hardcore scene? How do you think the ethos that are central to hardcore have influenced your work outside of and around the genre?
I am pretty sure I played my first hardcore show back in 2005. I have been going to hardcore shows since I was 16 years old (I'm in my 30's now). Hardcore work ethic has definitely influenced me in every aspect of my life at this point. The most obvious being the idea of marching to the beat of your own drum and disregarding the status quo.
When I started working on my company 10 years ago, I was the only guy with plugs and tattoos, the only guy missing work to tour or play shows etc, but luckily my performance stood out above my unconventional schedule requirements and I have been able to develop a healthy relationship with supportive and understanding business partners. I attribute that to staying true to myself and living my life my way . You hear references to that ethos in lots of hardcore songs throughout the decades, and I think it really encapsulates what the hardcore scene is all about.
Conversely, you also play in Fate Destroyed, a band that exists largely outside of hardcore. Do you think that your time playing different music has impacted the way that you write, play and promote hardcore music?
Absolutely. Joining Fate Destroyed, I had been pretty quiet and out of musical activity for a couple years. Fate gave me a completely different mindset, as there was a freedom I hadn't experienced before. Instead of trying to sort of fit into a particular box genre wise, I was able to contribute all of my influences (a lot of them from hardcore) to a completely different type of art and create something different, add a different vibe and flavor to it and ultimately make my mark on the final product. It actually gave me a lot of the creative energy and focus to get back to writing hardcore.
My playing in Cutthroat and Matriarchs, and how I try to push beyond the usual confines of the hardcore genre was influenced by the artistic freedom I found playing in Fate, and is something I'm very proud of!
What is one lesson that you think any band, regardless of genre, could learn by listening to or studying hardcore? How important is a DIY mindset to emerging bands?
This kinda loops me back to what my mindset is when I am connecting bands with services that will help them grow. There are a lot of vultures in the music industry. Lots of people claim to be publicists, managers and agents etc, when in reality they are just salesmen peddling services that either don't exist or provide no real value.
I learned this first hand because at some points (early on) in my career I was burned by hucksters who claimed to be things they weren't. Hardcore, it's no bullshit. We do everything ourselves and it's literally about the community and being a part of that community. That attitude empowers a vast majority of hardcore bands to handle a lot of things that bands in other genres simply dont have the time, or the skillset to handle alone.
This includes obvious things like booking shows, putting out merch and recording records and less obvious things like "branding" and managing the "business" of being in a growing band. This gives us hardcore "kids" a bit of an advantage in that respect, we are not dreaming of someone coming and changing our lives with a record deal, we figure out the steps it will take to change our own lives. No Gods, No Masters!
The DIY ethos in hardcore is an important lesson in how you can remain creative in a musical space and not get deterred by failure and hardship. It's imperative to perpetuate the DIY ethic and help it bloom in order to ensure a future for music as a creative art form and not just monetizable content. It all begins with a community, the sense that there is something bigger than yourself that you are wanting to contribute to and be a part of, the sacrifice of the ego for the sake of a common dream.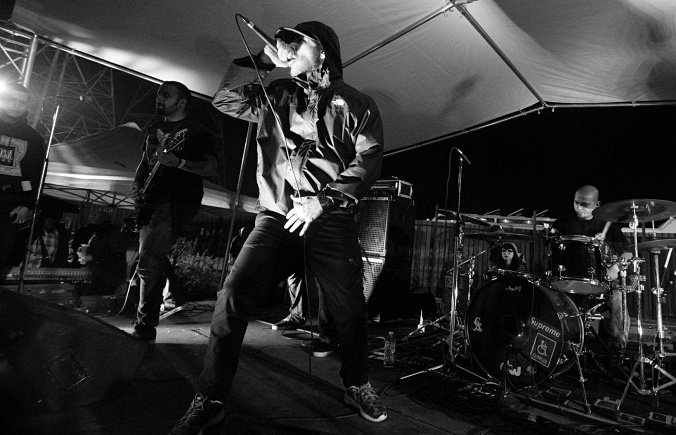 Tell us about the new Matriarchs single "Feed." What was the writing process like and what was on your mind when you wrote the song? Who appears on this track with you and how did they factor into the creative process?
Chris Anguiano is the vocalist of DMT, a band I have a significant history with. I have been playing in bands on the same bill as them for over 10 years! He is an extremely talented and out of the box singer that is a close friend of mine and I've always wanted to work with someone who had a broad range of vocal abilities like he does. I am always looking for a way to take Matriarch's in new creative directions and Chris was willing to go through the process with me, which I am extremely grateful for.
The writing process was unique in that we co-wrote the song and had a theme in mind going in, rather than me just sending him the instrumental and him putting vocals over it. This process definitely helped the song come out sounding focused and mature but with a really hard edge.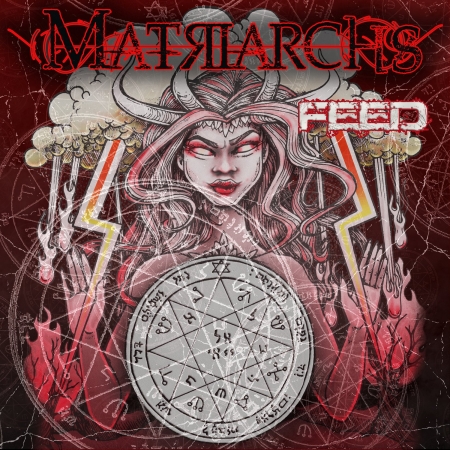 In your opinion, what does the future of hardcore look like? What will it look and sound like?
I think there's always going to be a place for hardcore. As long as there is a "mainstream" herd mentality in the world, hardcore will provide the opposition to it. Hardcore, somehow, manages to be music (sometimes literally) for the mob that also emphasizes the power of the independent thinker. It's that sense of community, but also that sense of independent spirit, that makes it timeless.
There are a huge number of new bands out with guys and gals who have clearly studied the history of the music, respect the ethics and want to pass the torch down to the generation under them….so hardcore is definitely alive and well!
***
Matriarchs on social media: Bandcamp | Facebook | Instagram
Tagged: matriarchs