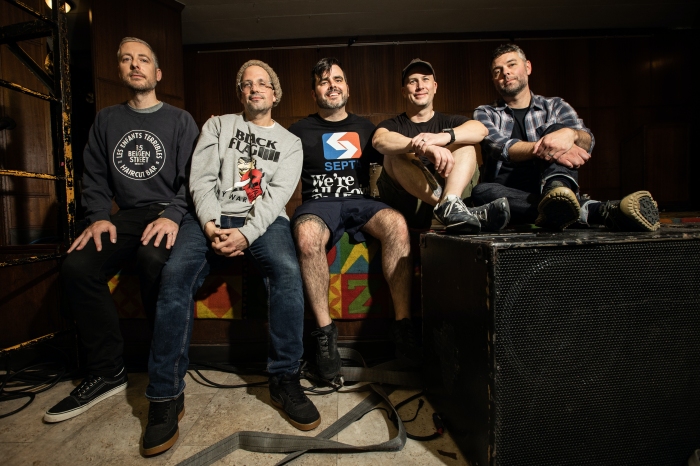 In the wake of the recent '90s screamo revival, members of the seminal New York band, Saetia, came together for an unexpected 23-year reunion. Active from 1997-1999, Saetia's popularity grew in the years after the band split up, influencing a new generation of millennial screamo bands to form in the decades following.
When Saetia released the Collected compilation album in 2016 through Secret Voice, rumors of a reunion were quickly dispelled by the band's vocalist, Billy Werner. "Saetia was a very specific time and place, both personally and artistically . . . Collectively and individually, the band members are different people now. It would feel more like a cover band or tribute band than the actual band itself," Billy said in a 2016 interview with Form und Leere.
"I absolutely love G.L.O.S.S.—they're a perfect reason that there's no reason for Saetia to play a reunion. You have this current DIY band, comprised of marginalized people writing incredible songs, mobilizing a community that demanded a voice . . . Reunion shows of old men trying to get paid or relive their college years dilutes these possibilities . . . No reason for old folks with day jobs to be in the mix trying to make space for ourselves in a community that already has very limited space for necessary voices."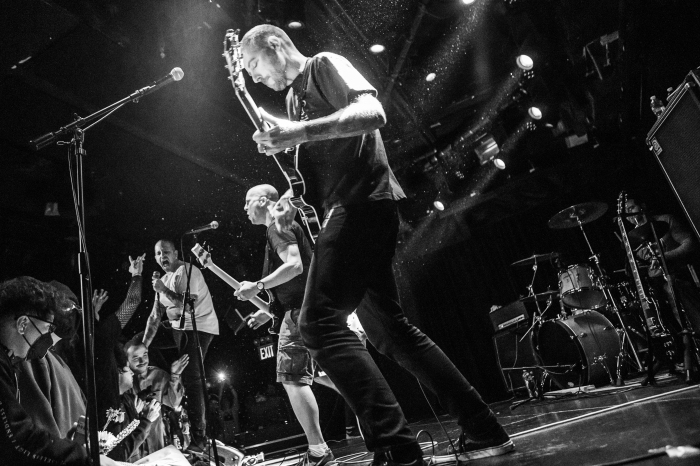 Yet by some miracle, Saetia band members came together in November 2022 for a string of five reunion shows in New York and Philadelphia to benefit Global Action for Trans Equality (GATE) and The Abortion Liberation Fund of Pennsylvania (ALF of PA).
The spirit of their reunion remained true to Werner's sentiments echoed in his interview above regarding the DIY space being used to uplift marginalized populations; the band was able to use their platform to raise over $11,000 for GATE and over $21,000 for ALF of PA ($10,600 was raised from the Philadelphia show and matched by Poor Richard's charitable trust).
Saetia announced their first reunion show at Saint Vitus Bar via Instagram on the 25th anniversary of their very first show at ABC No Rio in NYC in 1997. The reunion show instantly sold out online within less than a few seconds, as did the other shows that were sequentially announced in the following weeks.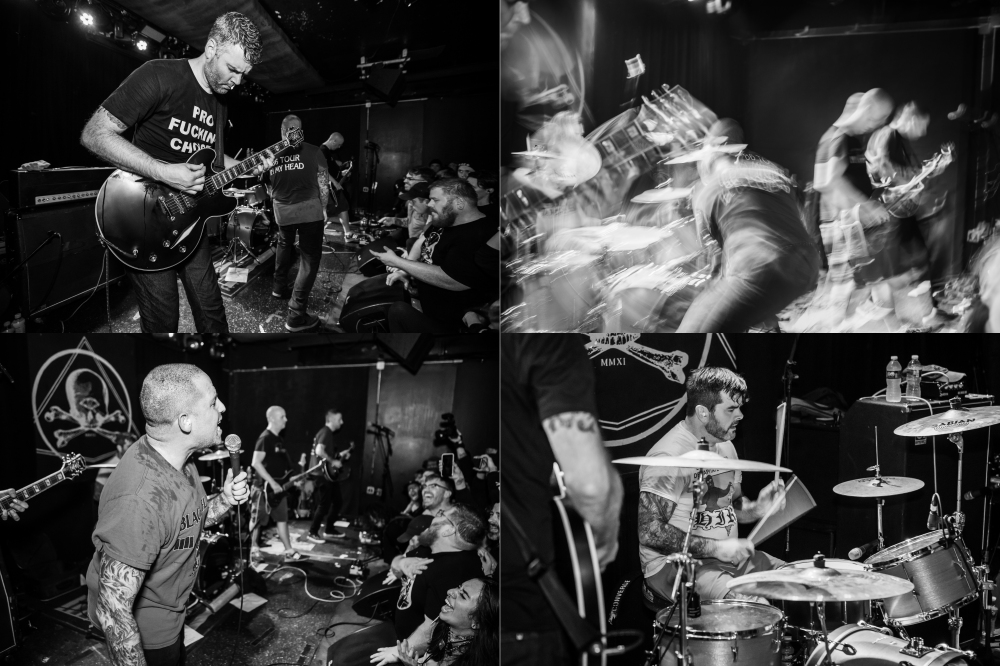 The band also added an all ages show at Saint Vitus that was first come, first served, cash only admission the day of the show to allow locals and younger fans the chance to attend.
All five reunion shows included two opening bands, featuring a different pair of bands at each show. These included:
Thursday, November 17 at Saint Vitus: Gospel and Meow Meow
Friday, November 18 at Saint Vitus: Husbandry and Closer
Saturday, November 19 at Le Poisson Rouge (matinee): Uniform and Pique
Saturday, November 19 at Saint Vitus: Hundreds of AU and Edgar
Sunday, November 20 at First Unitarian Church of Philadelphia: Soul Glo and Massa Nera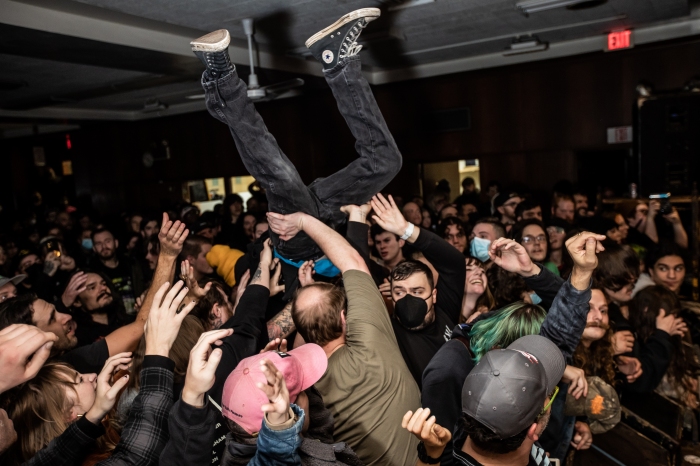 Saetia's performing lineup included original members, Billy Werner (vocals), Adam Marino (guitar), Colin Bartoldus (bass), and Steve Roche (drums), with Tom Schlatter (The Assistant, You & I, Hundreds of AU) replacing original member, Jamie Behar, on guitar.
During both Saturday shows in New York, guest vocalist Cooper Winterson (Pique) joined the band on stage for the final song, "One Dying Wish." In addition to their 11-song setlist, Saetia also covered the Born Against song, "Mary and Child," with Colin taking the mic for vocals.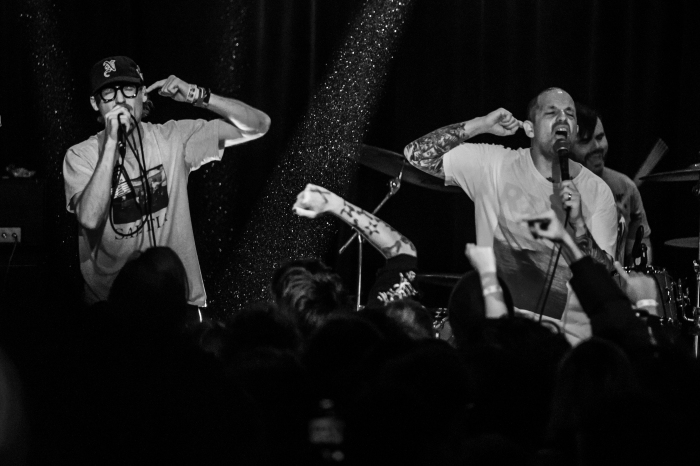 What seemed most impressive was how solid the performances sounded, with every instrument well-mixed in its emission and the vocals clear and poignant. If one closed their eyes (which many attendees did throughout the set), it sounded just as good, if not better, than the original recordings.
Emotionally invested fans hung on to Billy's every move, eyes locked on his microphone, singing (or screaming) along to every word. And no screamo show would be complete without a series of clapalongs during a number of songs. Each memorable show ended with a giant group photo taken by reunion documentarian, Nathaniel Shannon.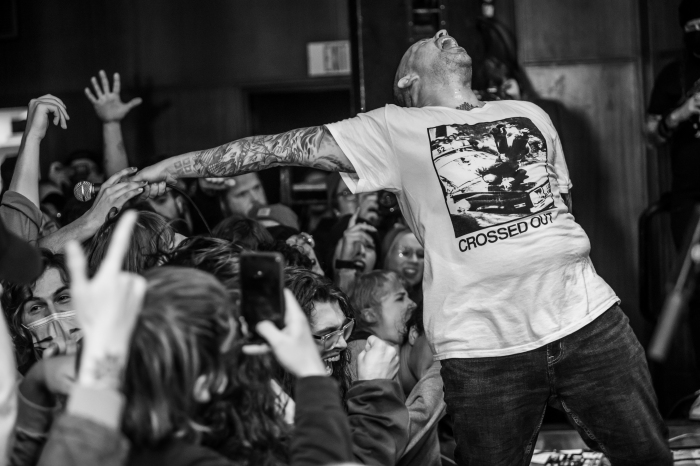 Merch enthusiasts were pleased to see a brand new line of Saetia items for sale, including shirts commemorating the reunion tour, posters, and tote bags. By the end of the weekend, all shirts were sold out, so the band put up an additional set of original T-shirts, crewnecks, and hoodies online to be available for two weeks after the tour.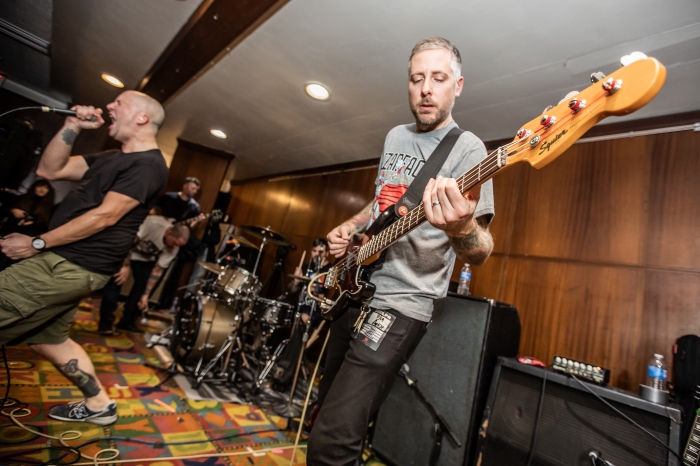 As of now, the future of Saetia as an ongoing band is anyone's guess. With members residing on different coasts, getting together for regular shows could be challenging.
During the performances, repeated references of "if or when we ever do this again" and "this is it for a while" by band members imply that there is still a possibility that Saetia could come back for another reunion, but most likely not for some time. It sounds as though the door has not been shut on future opportunities, which should come as a sigh of relief to hopeful fans.
***
Help Support What No Echo Does via Patreon:
***
Tagged: saetia