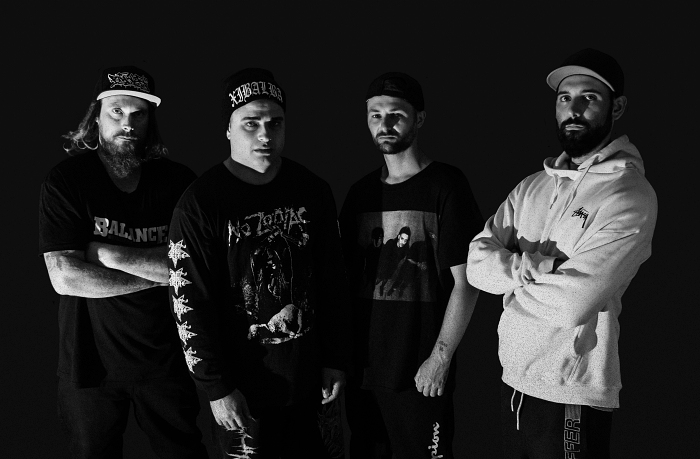 Meet Brawler, a metallic hardcore band based out of Hamilton, New Zealand.
"While playing in separate bands back in 2014, Damz (guitar) and I both discovered we shared a mutual love for hardcore, we had spoken for a long time about getting together and doing something," Brawler vocalist Joe Steiner tells No Echo. "It wasn't until 2020, during the COVID lockdowns, that we got back in contact. Damz had a few demos and riffs sitting there, once we could get out and travel, we laid some vocals over them and figured we should make something happen.
"We met Facundo (drummer) through Facebook, who we met up with and jammed through what we had. His ideas worked really well and we gelledand added the complexity we were looking for,once we had enough material locked in, we reached out to Greg (bass) who Damz knew throughplaying shows back in theday."
Brawler's debut EP just came out this month and is fittingly titled Hard Truths. "I'd say it's a mixture of heavy hardcore, classic beatdown, and slam," answers Joe when asked about the group's style. "There is no fucking around you get what you're given. For influences, it's tough but to name a few, Bulldoze, No Zodiac, Warhound, Six Ft Ditch, Billy Club Sandwich, and Queensway."
Guitarist Damz offers this about his writing style in Brawler:
"Writing the riffs, for me personally, Warhound, Queensway, Hatebreed, early Biohazard, and Cro-Mags. To begin with, it was a lot more slam/ No Zodiac, Chicago beatdown vibes, but the sound kind of evolved into what it is now, our own Kiwi spin on hardcore."
Damz talks a bit about the EP's lyrical side: "Hard Truths is a dose of tough love, dealing with issues like substance abuse, self-betterment, picking yourself up, sorting your shit out, and not being useless. If you want change, only you can make it happen. It's our first release coming via Aussie label 1054 Records."
In terms of other Kiwi bands No Echo readers should also check out, Joe shows love: "Xile, Drop Off Point, Pressure, Soul Void, Utilize the Remains, Vish P.N.H.C, Standover, Brainwave, Knifed, and Stress Ghetto." Damz chimes in: "Joe pretty much nailed itwith that list, but I'll add Utterance."
***
Hard Truths is available now on CD and digital via 1054 Records.
Brawler on social media: Facebook | Instagram
***

Tagged: brawler