2021 saw a dearth of feel good stories, but the resurrection of A389 Recordings was the one I needed the most. Aside from reacquainting the hardcore world with Cold As Life, the ouija board tells me we've got more bangers on standby.
First up on that endless slate of riches is MMXXII, a two-song single from End Reign, which fittingly includes one Domenic Romeo, the wizard behind the aforementioned label's curtain, Integrity, Pulling Teeth, Slumlords, and more.
The band is ostensibly a who's who of metallic hardcore. As I'm loathe to use the term "supergroup," I'll instead run down the roster and let the reader determine the superlatives. Rounding out the menacing four piece is Art Legere (Bloodlet), Adam Jarvis (Misery Index, Pig Destroyer), and Mike Score (All Out War).
The rare alchemy required when cobbling together such fearsome forces into a single unit is a difficult proposition, but their ante up into the music world pulls it off with horrifying aplomb.
"The Hunger" is a slow build of mid-paced menace and Score's hellfire lyrical sermons. His singular scream is as "soaked in torment" as ever, sounding simultaneously unhinged and decipherable.
Behind the drum kit, Jarvis eschews his unparalleled blast attack and relies more on feel. Still replete with pummel and pace, there's a looser vibe that allows his playing to stretch out a bit, all airy tom runs and crash. Legere brings the same wildly intricate runs that made Bloodlet's experimental jams an enthralling and unique listen. Romeo's now signature wail makes the track's final minute a masterclass. Just think Randy Rhodes playing in Ringworm and you're not far off.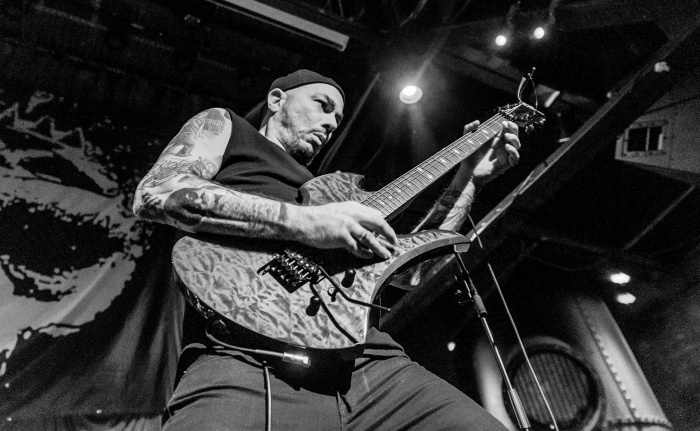 "Divine Abysmal End" ups both the tempo and the fury. Check the 1:30 mark for one of the nascent year's nastiest riffs. The whole song has a churning sensibility, only magnified by Score's filthy and bilious lyrical couplets that're loaded with enough glorious blasphemy to please Deicide devotees. The guitar's mangled squeals fall like shrapnel all over the place, beckoning oblivion in a way only these players can. End Reign conjur nightmare visions and I'm fucking here for it.
May the end rains bring fire… hotter than three humid nights in the cypress trees.
***
MMXXII is available both on limited edition cassette and digitally via the A389 Recordings Bandcamp page.
***
Help Support What No Echo Does via Patreon:
***
Tagged: all out war, bloodlet, end reign, integrity, misery index, pig destroyer, pulling teeth