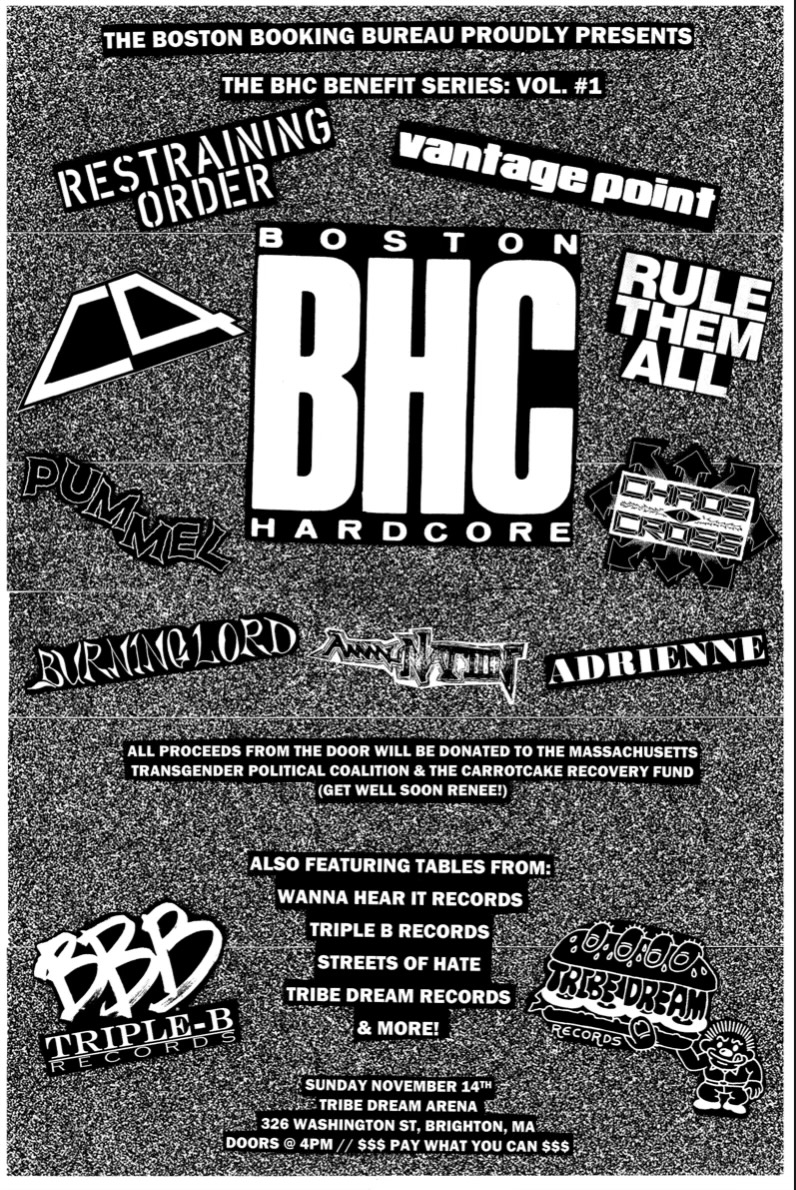 Boston has always been a first-tier hardcore city however in recent years, despite many bands either from the city or surrounding areas popping up to carry the torch, it feels like people not from here don't realize what a great scene we have right here and now.
In an effort to both promote the great things going on in Boston hardcore and raise money to benefit worthy organizations, local promoters Doug Ostroskey (Tribe Dream Records) and Sam Yarmuth (Triple B Records) have come together to bring forth the BHC Benefit Series.
This first installment will feature 8 of the best current acts from the Boston area (as well as a great band from Long Island) and will be a split benefit for the Massachusetts Transgender Political Coalition and the Carrotcake Recovery Fund (to support medical bills for local artist Renée Girouard who was injured at a recent show, check out their work on Instagram).
I was able to catch up with Doug and get some of his thoughts on this show, the current state of BHC, and the future of the benefit series.
So this iteration of the benefit series is going to be pay-what-you-can, could you talk a little about why you decided to go that route and will this be the norm for the future installments?
I really just wanted there to be little barrier to entry. If someone can only afford $5, it's better than not being able to participate at all in my opinion. Who knows, could end up being some younger kid's first show.
Also in my experience, most people either pay the price I would normally charge or more so it typically ends up raising more money than charging a set fee. So we'll see how this one goes but as of right now, I plan on doing any future installments the same way.
You booked a pretty stacked lineup of some of the best bands out right now, who did you miss this time around that you think you might like to include in future installments, local or otherwise?
Glad you're excited about the lineup! I was really fortunate to have so many friends be down to come out and play.
In the future I'd love to have some of the locals that weren't able to be on this one like Wound Man, Final Gasp, Move, Maniac, Colin of Arabia, All Due Respect, Wreckage, Anxious, and Jinx—I could keep going, New England has so many great bands right now.
Who knows, maybe I could even get some bands to reunite at some point for something like this?
You picked the Massachusetts Transgender Political Coalition, and later, after Renée's injury, a recovery fund for them. Who do you think you might direct funds to in future installments and do you have any dates in mind for the upcoming installments?
Off the top of my head, I'd like to be able to direct funds from upcoming shows to Families for Justice as Healing and the Boston Area Rape Crisis Center (BARCC).
I am very open to people suggesting different organizations that they feel passionately about. Shout out to Corey [Charpentier, from Move BHC] for directing me to the Boston Mutual Aid links that helped me select the MA Transgender Political Coalition for this show.
Currently I don't have any plans in place for the next one. Hopefully we can make something happen once the weather gets nice again in the spring.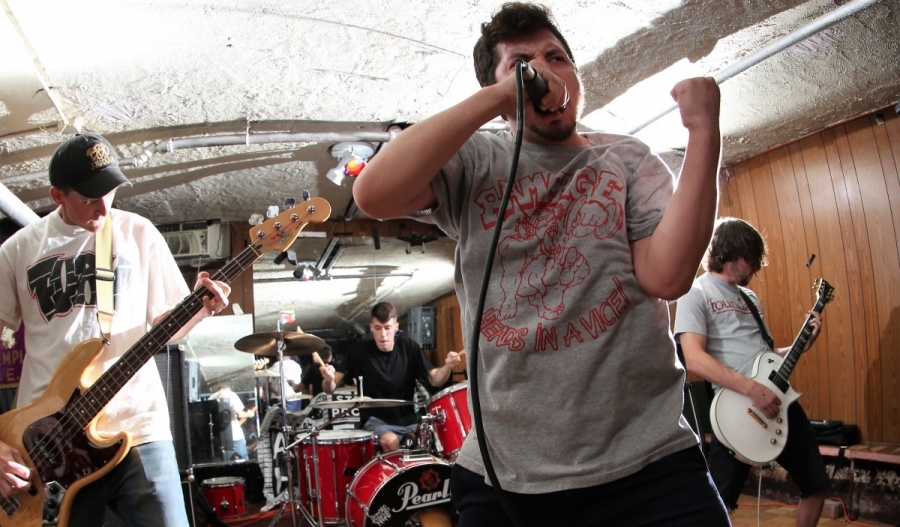 Lastly, give us your thoughts on Boston hardcore in the last few years, drop a few shout-outs, whatever you want.
Last few years in Boston have been great (besides the whole global pandemic thing). Shows have been packed, tons of new faces and a bunch of great bands. Shout out to the Boston Booking Bureau, the Gordeedah chat, the DMIC, Ill Will: Boston's best mosher, Raising Cane's, all Ogden residents past & present, the people who work in the copy center at Staples near the Burlington mall and all the youngheads.

Be on the lookout for the following bands: Super Destruction, Hulk Hands, Untitled Crisis, Dungeon Crawler, Glory NYC, Inner Vision, Blast Furnace, and Cafeteria Warfare.

**

If you're not stoked yet, below is a list of the bands with descriptions and streaming links, so keep scrolling and then be at the Tribe Dream Arena on November 14th.
Adrienne
Younger kids playing very early 2000s/late '90s-influenced metalcore. Their first show was a week before the demo came out and I was there and they got an insane reaction. The next day, half the band showed up to the C4 record release and were beating ass in the pit to C4 and Chaos Cross, so I am excited to see them on this show, especially since I blatantly lobbied to Doug for it.
This set will have the most spin-kicks of the evening.
Ammunation
A band known to most of the hardcore world for having opened the Have Heart parking lot reunion show in 2019, but specifically in Boston, beloved for being consistently fun to see.
They also have the opening track on the most recent installment of the America's Hardcore compilation which besides being a great song, ties together nicely with the previous four volumes' opening tracks (they all feature the guitar or vocal talents of one Gil Sayfan). I hope they play their cover of the greatest hardcore song about unity ever, "As One" by Warzone.
Burning Lord
Frequent fliers to the site will likely already be familiar with Burning Lord as our very own head honcho, Carlos, ran a feature on them shortly after their first show and demo release so I won't rehash.
I have yet to see Burning Lord live as I was recovering from eye surgery when they played their first show, out of town for their second, and they dropped off their third (although C4 did cover one of their songs in honor so that was cool) so I am looking forward to seeing them for the first time.
Chaos Cross
Regrouped with a new lineup in 2019 after a hiatus of a few years, Chaos Cross came back with a vengeance in earnest in 2021 with a new demo on Tribe Dream Records. They play metallic hardcore that still feels punk but also you can mosh to, a winning formula in my book.
In the two times I've seen them with this new lineup, once at their first show back in 2019, and again at the C4 record release this year, they have covered two different Integrity songs: "Systems Overload" in 2019 and "Judgement Day" at the C4 record release.
Maybe they'll bust out a whopping third Integrity cover for this show, my vote is for "March of the Damned," not that anyone asked.
Pummel
The reigning champions of Boston hardcore, they steal the show in Boston every time and it only speaks to how stacked the rest of the lineup is that they're not billed higher. Good sing-alongs, good pit parts, what more could you ask for?
They're one of the bands who suffered hardest from lost momentum with COVID lockdown because they dropped their excellent 7-inch, Our Power, in January of 2020, played a handful of shows, and then the world stopped.
However, in 2021 with both a new 3-song promo out and a song on the new America's Hardcore comp, I expect big things from them in 2022. Perhaps finally an LP? We shall see. In any case, this set is one not to miss especially if you're coming from out of town.
Rule Them All
The only out-of-state band on this line-up, but an appropriate one given their ties to Boston. Their set at the Vantage Point record release in 2020 was an evening highlight for sure, and the band has publicly stated that it's one of the best reactions they've ever gotten. The words "I'm from Boston now" were definitely said on stage that night.
If you've been living under a rock, Rule Them All have been representing Long Island for a few years now, playing the region's signature style of melodic hardcore in the proud tradition of bands like Silent Majority.
Like many of the other bands on this gig, they also have a song on the America's Hardcore comp, which I will once again refer to because it's one of their best so far, and it has a mosh part. I predict this set will command a lot of stage-dives.
C4
What can you even say about C4? It's been a while since hardcore had a band with such a cutting sense of humor, in fact, Boston was due for a new one in the wake of The Rival Mob's dissolution. Just an incredibly fun band and a force of destruction live since literally their very first show.
Owen is one of hardcore's best frontmen in recent memory and soon the world will know after they play to a sold-out crowd at FYA in a few months. Fast hardcore with good mosh parts and an overall fun vibe. What more could you ask for?
Vantage Point
Another band that puts Boston on their back and that you should really be paying attention to whether you're from here or not. I still think their set at their record release January 2020 was one of the greatest sets I've ever seen in my time in hardcore, the energy in that room was impossible to contain, it felt like the place was gonna cave in any second.
Vantage Point also have a song on the America's Hardcore comp, but I'd like to give some shine to their 7-inch on Triple B because man those four songs are something special. I'd say this set will likely have the biggest pile-ons of the night.
Restraining Order
Boston would love to claim Restraining Order as for a very long time, this was (and maybe still is) their main place to play. However, they have not and will not ever stop representing for Connecticut and Western Massachusetts.
I couldn't think of a better band to close out the evening.
The first installment of the BHC Benefit Series will take place on Sunday, November 14th at the Tribe Dream Arena located at 326 Washington St, Brighton, MA with doors at 4:00pm.
***
Help Support What No Echo Does via Patreon:
***
Tagged: burning lord, pummel, restraining order, rule them all, vantage point