Bazookatooth are a dynamic hardcore powerhouse out of Nashville, Tennessee who have been at it since 2017. After releasing a self-titled tape in 2018 and an EP, Assimilate, in 2020, the band have teamed up with Safe Inside Records to release a new EP called Kingdom of Pain.
The release tackles the topics of apathy regarding environmental destruction, the military industrial complex, abuse and lethal greed. They recently went through a lineup change, transitioning from a trio to a quartet.
Bazookatooth combine a variety of sounds in their total package, mixing the sounds of bands like Black Breath, Every Time I Die, and Turnstile. The end result is a unique expression of songwriting that helps the band to stand out among their peers in the hardcore world that tends to lean heavy in today's age.
While the vast majority of heavy bands are bringing in '90s nü metal or early '00s metalcore into their sound, Bazookatooth are carving out their own interesting niche that firmly plants a foot on both sides of a line drawn between metal and punk that makes perfect sense in the world of hardcore.
Your sound is so eclectic. It's hardcore and it's metal. Was it always your intention to blend the two styles or is it something that just came naturally in the songwriting process?
Ben: Trevor and I come from more of a metal background and Audra comes from punk stuff, so we just ended up writing a bit heavier and riffier over time. It was never planned and our styles just blended into what it is today. Sometimes it makes it difficult to understand "what we are" but it's more fun to just play what comes out than worry about fitting in too much.
What is the inspiration for the lyrics of the song we're premiering, "Deathblow"?
Audra: It's about the societal pressure to keep your head down to the point of loss of self. The song is the story of realizing the game and fighting against it. Ben and I wrote this one together starting from a place of helplessness, but finding strength and liberation - turning the tables to become your own master.
How did your relationship with Burt Jenkins and Safe Inside Records form?
Audra: We owe it all to our friends in Time and Pressure. We became friends after playing with them in Nashville in 2019, and James has done flier work for us too. We reached out to him when we were sitting on our last record for some "advice" on release, and he straight up called Burt and put in the good word for us. I'll never forget how sick that was. RIP T&P.
After talking with Burt, we decided ourselves that the release timing wasn't right and we went independent with that record. Fast forward to now, and Burt was the first one we called. We've been fans of Safe Inside for years and it's an honor to be a part of the family.
You recently changed from a three piece to a four piece. What led to this change?
Ben: Honestly it's because I'm not that good at bass and I'm much more comfortable running around with the mic. I started playing bass to keep things simple and streamlined but I felt like I was underselling both roles. We loved being a power trio but now I feel like we can actually go as hard as we want.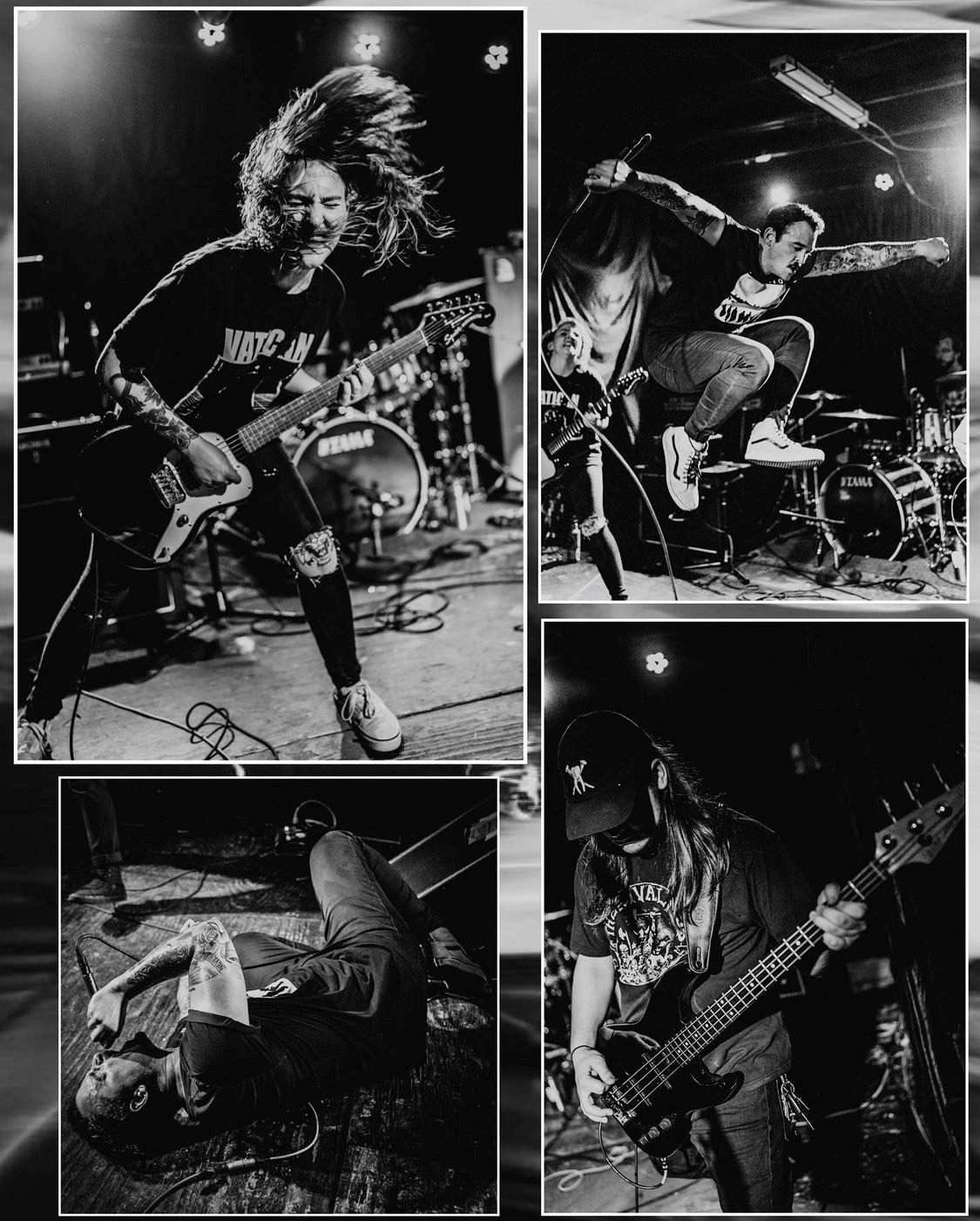 Tell me about the title of the EP, Kingdom of Pain.
Ben: I wrote the song Kingdom of Pain after being inspired by the movie Martyrs. It's a story of people in power seeking to realize their own selfish goals through the suffering of those beneath them. It felt like a distillation of everything going on in our world right now socially and economically.
Once the song was written it really felt like the mission statement of the record so we made it the title.
What is the scene like in Nashville and who are some of the bands in your area you'd like to shout out?
Ben: We're so fortunate to have so many sick and inspiring bands as our friends and neighbors.
Check out Offhand, Torsion, Toxic Culture, Thirdface, Big 50, Circuit Circuit, Purity Among Thieves, Vital Part, Second Spirit, Rules of Engagement, Achilles Heel and Gumm (honorary locals).
I've noticed that y'all kept a very busy tour calendar before COVID and are still hitting it hard in our post-COVID reality. Are there any places that you haven't made it out to yet that you're hoping to in the future?
Audra: We currently book everything ourselves, so as far as a van can take us! We've got another big tour cookin' after this one but beyond that—West Coast: we've got our eyes on you soon!
***
Kingdom of Pain cassette tape pre-orders drop with the full EP streaming on all digital platforms on June 17th via Safe Inside Records.
***
Help Support What No Echo Does via Patreon:
***
Tagged: bazookatooth