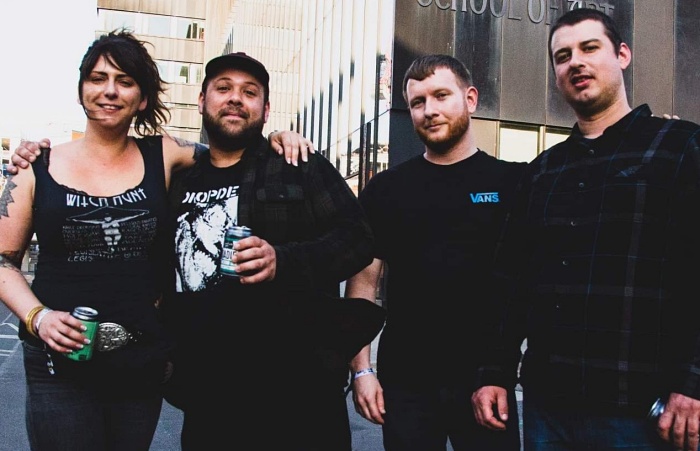 After the Fall formed all the way back in 2000, which as we all know is a pretty rare feat for any band to pull off, let alone one a punk band. Hard-hitting but never shying away from a strong melody, the Albany, NY-based group have built up an impressive discography, including releases on Paper + Plastick and Bridge Nine. If you haven't come across their music before, think Avail, Leatherface, and early Jawbreaker and you'll be in the right ballpark.
Though they haven't issued any new material for a few years now, later this month, After the Fall will be dropping a split 7" with Newfoundland-based punk outfit, Brutal Youth. In anticipation of the new record, No Echo got hooked up with the premiere of "Sick of Myself," a music video for a track from the collaboration:
"'Sick and Tired'" is the first song from this band in 5 years, it also marks our new member Jasmine's first recording with ATF," vocalist/guitarist Mike Moak tells No Echo. "These songs were recorded before our UK tour and second time at Manchester Punk Fest, and both songs ('Sick of Myself' and 'Panic Attacks') are about my past year being the darkest time of my life living with severe depression and substance abuse and quite frankly not wanting to wake up in the morning.
"Shortly after the UK trip, Tyler was in a motorcycle accident where a person in a truck ran a red light and hit him and mangled his bottom half, he almost died, it shook me, and I gained perspective, he's been learning to walk again and already rehearsing and writing our new LP, Resignation, with us. Although it's not mentioned in these songs, Tyler, Jasmine, and Chris are just as much family to me as my own and they are a huge reason why I stick around. Without them I wouldn't have much. We've been doing this for 19 years now it's fair to say we're never gonna stop because we love each other and we love playing music and traveling."
The After the Fall/Brutal Youth split 7" will be out on Oct. 18 via Paper + Plastick. Follow After the Fall on Facebook, Twitter, and Instagram.
Upcoming After the Fall shows:
Oct. 23 - Albany, NY @ Pauly's Hotel w/ Nasalrod, Postage
Oct. 24 - Brattleboro, VT @ McNeil's w/ Male Patterns, Postage
Oct. 25 - Trenton, NJ @ Millhill Basement w/ Donaher, Cassettes, Groomers
Oct. 26 - Brooklyn, NY @ Gold Sounds w/ Chilton, Original Sharks
Oct. 27 - Boston, MA @ O'Brien's Pub w/ Postage, Rude, Weaklings
***
If you dig No Echo, you can donate a few bucks to help with the site's operating costs:
Tagged: after the fall