Comprised of vocalist Joe Nelson, drummer Pat Longrie, bassist Mike Kenyon, and guitarist Joe D. Foster, Winds of Promise is a SoCal melodic hardcore band that formed in 2018. Collectively, the musicians in the group have also played in such celebrated outfits as Unity, Triggerman, and Ignite, to name a few. Winds of Promise's eponymous debut full-length came out the same year they formed, and the quartet played both local and European tour dates to support it.
Keeping with their fast workflow, Winds of Promise is gearing up for the release of their sophomore album, Cut. Heal. Scar.
"When we got back from our European tour last year we started writing new songs together," singer Joe Nelson tells No Echo. "Where as the first album was really just songs Joe Foster and Pat Longrie wrote together this album we were able to all write together as a band. It took about 5-6 months. We went into the studio in December to record and finished the album in January.
"Originally, we were going to release the album in May and then tour on it this Fall. Unfortunately, due to the pandemic, everything was pushed back. The album now drops worldwide on 8/28. We still hope to tour on it in the future, but we'll see how life plays out."
Driven by jagged guitar riffs, rumbling bass lines, and an overall melancholic yet melodic sensibility, "Breaking Free" is the opening track from Cut. Heal. Scar. Take a listen to the song below as you also soak in its lyrics in a No Echo premiere:
"The song is about being true to yourself, no matter your age or status," says the singer. "It's about finding what moves you in this world and then embracing that no matter what it is and without assigning some sort of monetary value to it.
"Too often I feel we place the dollars on things above anything else. If we decide it's not lucrative enough then we don't pursue it. Even when it's something we truly enjoy. I know I am guilty of it. In fact it took me a while to agree to even join Winds of Promise because in my head I was doing exactly that. So, I'm happy I went with my heart on this one instead of my head."
What Joe is saying is something many of us who have played in hardcore bands can relate to. "I had so much fun last year being in Winds of Promise, especially touring Europe. It made me truly realize that even though we spend way more money then we actually make being in the band, it's really fucking fun. I also just found an overall love and appreciation for this hardcore music scene I've been a part of for 37 years now.
"When you're actively in it, it still feels like you're part of something unique, and special. It still feels as if you're still living life outside the mainstream, which I take pride in. I would never have thought when I was 16 that I would still be here at age 50. Yet here I am."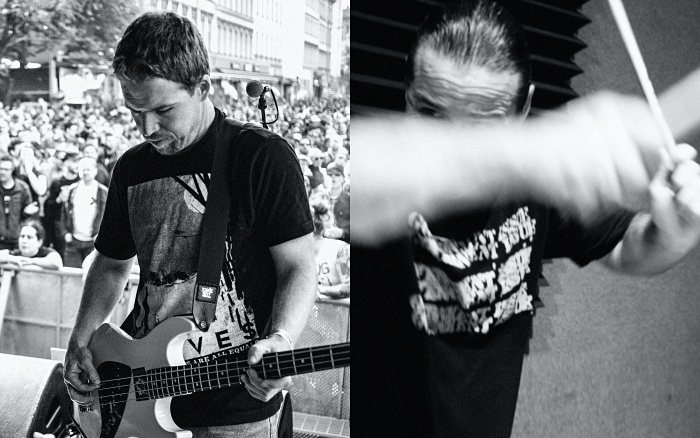 Cut. Heal. Scar. will be out on August 28 via Unity Worldwide Records. The European pre-order is live on CoreTex, and the US one will be coming shortly via RevHQ.
Winds of Promise on social media: Facebook | Instagram
***
Donate a few bucks to help with No Echo's operating costs:
***
Tagged: winds of promise