No Echo is sending a huge congratualtions shout out to Los Angeles grind machine ACxDC on their signing with long-running underground label, Prosthetic Records. For their debut release in the new union, the band teamed up with producer Taylor Young (Nails, Twitching Tongues), who recorded and mixed the sessions at his The Pit Recording Studio in Van Nuys, CA this past November.
Titled Satan Is King, the album comes 5 years after their last full-length and 4 years after their last EP, and No Echo got its hands on an advance of the LP and can attest to its ferocity.
Proof of the album's sheer brutality can be heard below on its relentless title track:
"The song is a sort of fuck you to Kanye West and any evangelical type," ACxDC vocalist Sergio Amalfitano tells No Echo. "His whole album is praising Jesus as king and this title track is sort of a 'so what? Satan is king too.' But in the lyrics, I see Satan as a rebellious liberator that's king of his own domain and Jesus is an authoritarian demanding submission over all.
"Basically I wanted to figure out a more solid foundation for my home/work life. Touring can be difficult at any point in time but my kids started school and I hadn't really taken into account the demands of that. So we took a breather not knowing if that was the end of it or what. We came back in a better headspace and just wanted to do things in a much less stressful and more enjoyable way."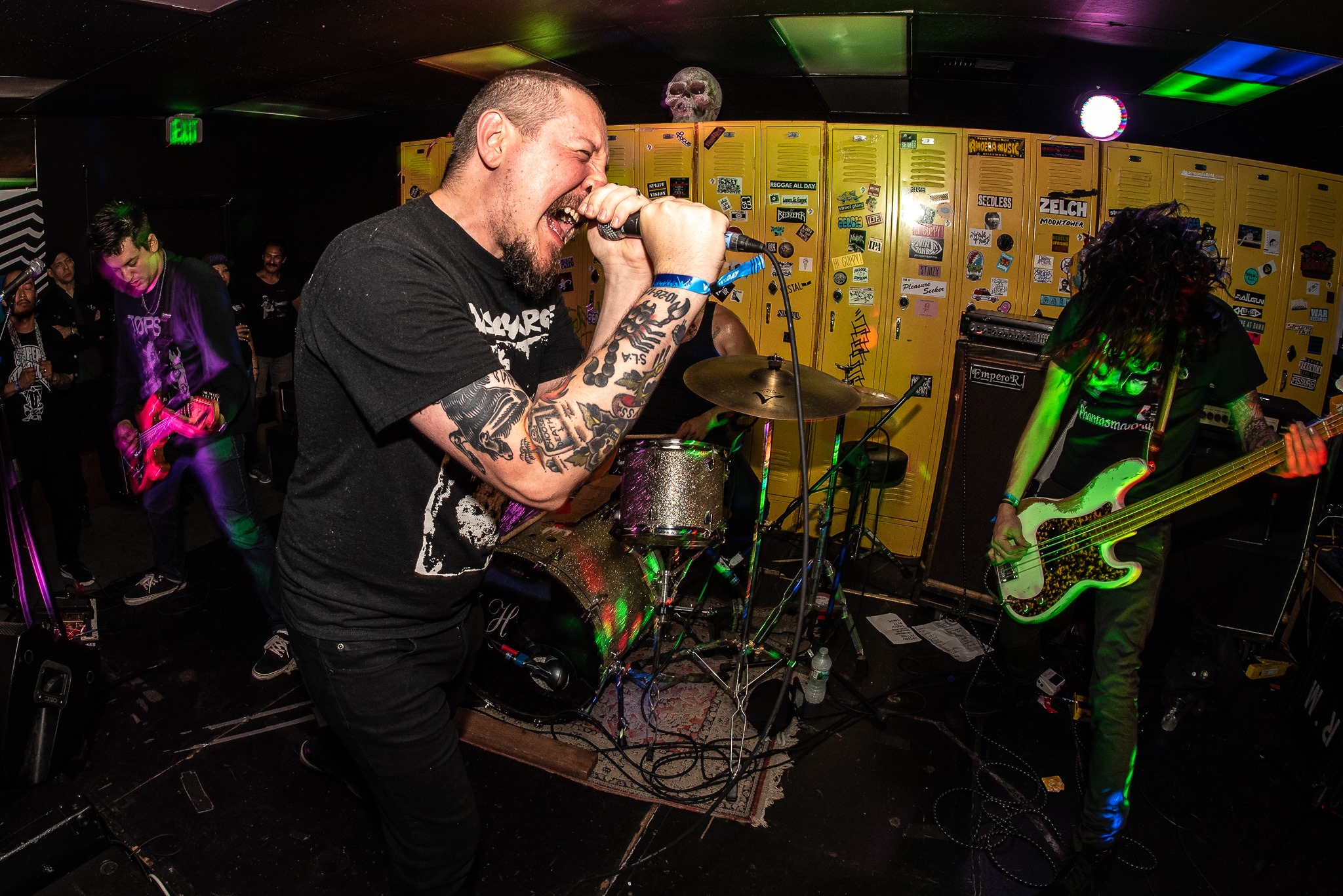 No Echo asked Sergio about ACxDC's new partnership with Prosthetic Records: "Prosthetic was a natural fit. We wanted to work with people that respected our very DIY way of doing things but had a more professional approach. It was interesting to us because we always want to work with friends or people we respect on projects and Taylor Young had suggested Prosthetic would do right by us.
"Then we came across connections to friends/other bands in the process leading up to this release that made us just feel more relaxed and at ease with our decision. It's always a bit nerve wracking working with new people not knowing if they want to honor your way of doing things but there's been zero issues and 100% support with everything."
Satan Is King will be out in May via Prosthetic Records and can be pre-ordered today.
ACxDC tour dates:
03/14 Los Angeles, CA @ Blue Spade 75 Studios (w/ Lower Class Brats & Naked Aggression)
03/19 London, UK @ Blackheart
03/20 Galway, IRE @ Roisin Dubh
03/21 Glasgow, UK @ Nice and Sleazys
03/22 Leeds, UK @ Temple of Boom, Dreadfest (w/ Gadget, Friendship, etc.)

04/09 Paris, FR @ Cirque Electrique
04/10 Tubingen, DE @ Epplehause
04/11 Rouen, FR @ Le Trois Pieces
04/12 Rennes, FR @ Neuronoise Fest
04/18 Norwalk, CA @ Norwalk American Legion, Grind Now, Die Later (w/ Found and Bound, Graf Orlock, etc)

05/1-2 Mexico City, Mexico @ Punkytud Fest (with Antisect, Narcosis, Hiatus, etc.)
05/14 Santa Ana, CA @ Observatory (with Negative Approach)
05/22 Baltimore, MD @ Maryland Deathfest (with Negative Approach)
05/23 Brooklyn, NY @ 66th Congress (with Negative Approach and Bandit)
05/24 Somerville, NJ @ Once Ballroom (with Negative Approach and Bandit)
05/25 New Haven, CT @ State House (with Negative Approach and Bandit)
05/26 Newark, NJ @ QXT (with Negative Approach and Bandit)
05/27 Philadelphia, PA @ Voltage Lounge (with Negative Approach and Bandit)
05/28 Buffalo, NY@ Mohawk Place (with Negative Approach and Bandit)
05/29 Albany, NY @ The Fuze Box (with Negative Approach and Bandit)
05/30 Montreal, QUE @ Foufounes Electriques, Earslaughter 5 Fest (with Repulsion, Demilich)

07/19 Sacramento, CA @ The Colony, Zesta Grande 2 Fest (with Fuck on the Beach, Slight Slappers, etc)
Tagged: acxdc