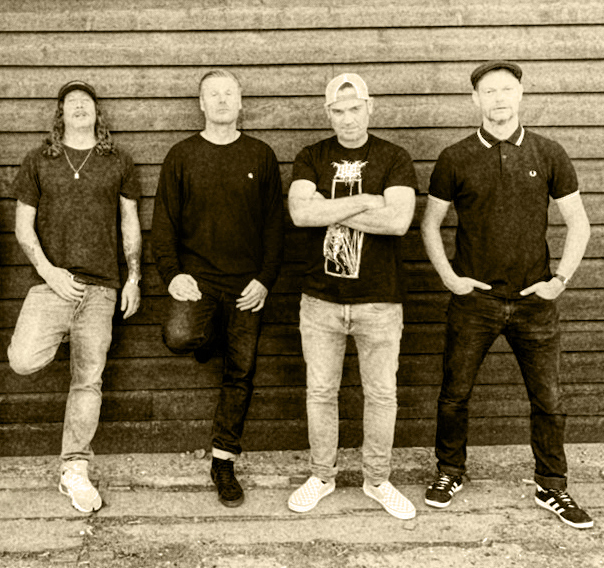 Above All's history can be traced back to the '90s, when some friends decided to start a band combining their love of hardcore and metal. Things moved quickly for the group, and after their Blood of Ages 7-inch got the attention of an A&R executive. they signed on with Roadrunner Records (Sepultura, Fear Factory). A huge deal for any young band.
1996 saw the release of Above All's debut album, Domain, but despite their momentum, the quartet decided to part ways to pursue other interests.
In 2020, Above All started a new chapter with the addition of guitarist Jay Rowe (Hexes), penning new material along the way. They eventually headlined the Then and Now Hardcore Festival'in the Summer of 2021.
But most importantly, Above All went into the studio to record Disarm the Gods, their first new material in over two decades. Check out the entire EP below:
Above All vocalist Tony Maddocks told me the following via email "Lyrically, the new EP is focused on how humans seem intent on self destruction, while not learning from past mistakes. Either in the name of religion, or a self appointed despot's self obsession and desire for greed.
"Other lyrics cover the topics of how the new and emerging world of technology and connectivity seems to be a double edge sword, and how easily we can find ourselves drowning in a sea of fake narrative.
While we corresponded, I asked Tony about his thoughts on the current UKHC scene. "The UK has a thriving hardcore/metalcore scene at the moment. But focusing on our hometown of Southend-On-Sea, Essex, there are a lot of proactive people driving the scene forward with shows being put on, and records being released.
"Local bands to look out for include, Raiden, My Cross to Bear, Epic of Gilgamesh, Splitknuckle, Deathskulls, Nasty Bastard, Throw Me Under, and Mugs Game. Looking slightly further afield to London, we have the UK hardcore generals Knuckledust leading the charge, followed by a host of other new bands such as xUntold Sufferingx, Borstal and Dropset."
Disarm the Gods is available now across all digital platforms and limited edition vinyl.
Above All on social media: Facebook | Instagram | Bandcamp
***
Help Support What No Echo Does via Patreon:
***
Tagged: above all