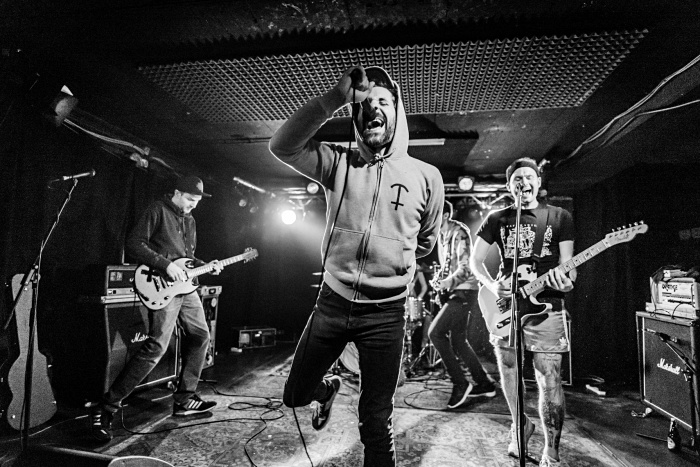 Paderborn, Germany's A Time to Stand are clever, a little whimsical, and a shot in the arm to pop-punk. They don't take themselves too seriously and in allowing for that the band crafts some really well-written songs on their Light Years LP. The band is celebrating 10 years together and, to hear them tell it, they're as strong as ever. "In 2010, 5 friends got together to make music, some of whom I had met in summer camp a while back and we kept running into each other at shows and later at university. Nils (vocals) then told me about this new project and asked me if I was interested in joining. And I was!
"So we met up in somebody's basement and instantly clicked as a band," offers Martin Mueller, the band's guitarist. That sort of earnest engagement is found throughout the LP too as Light Years is a record full of sincere and fun songs.
The opening song, "Generic Pop Punk Intro," is as tongue-in-cheek as the title suggests. But there's also a candor to the lyrics that shouldn't be overlooked. The Frank Abagnale reference is super clever and gives weight to the lyrical content: that so much of pop-punk (and other genres) is derivative, and why should we pretend otherwise. And yet, the band takes the issue one step further in the song's final lines, offering, "so go ahead and cross your arms while you stand in the back / It's not like I care too much / Because we've got the fun and you got nothing on us."
So, yes, the sound is derivative. But, no, that doesn't mean it can't still be engaging. That's a notion that certainly transcends just pop-punk, or any one genre for that matter. Moreover, there's something honest and clever in those ideas, and the song itself sets the tone for the entire LP.
"Ape-X Predator" is another standout on Light Years. The song combines tight guitar leads and thudding drums that allow for the vocals and lyrics to shine. The track clocks in at just over a minute, so we're getting a speedy Lifetime-esque tune here. While the drumming really shines in this song, again the lyrics give it great depth. The song tackles some interesting ideas about socio-economic statuses, standing up for oneself, and not allowing the insecurity of others to hold one down.
More to the point, A Time to Stand cover a lot of ground as a seemingly upbeat pop-punk band. Guitarist Martin reflects, "I guess it all starts with an issue Nils would like to address and then it's a matter of how to best package it musically. Most songs have a certain energy and aggressiveness to them, so despite the 'upbeat sound' more serious lyrics fit the mood of any given song anyway." That's important, especially in a genre that too often finds its bands avoiding serious lyrical content. In this regard, A Time To Stand sets themselves apart in a great way.
Another strong offering from the LP is "Gantville," a song the band also shot a video for. The video itself may seem straightforward but, as Martin tells it, there was a lot behind the concept: "It kind of works as a metaphor for life in general and that weird transition stage between adolescence and adulthood in particular. You plan and saw and hammer and weld and in the end it comes out all crazy and twisted but still beautiful." That speaks not only to the song's lyrical content, but also to the band's thoughtfulness.
"Gantville" is a strong track on the record, offering up catchy choral sing-alongs and wonderfully layered guitar leads. The song rocks along with all the catchiness of New Found Glory, but also with the grittiness of No Trigger. Even so, that's only one part of the band's creativity. A Time to Stand is precise and reflective in all they do, and the video reflects that ethos.
As for playing shows and touring, A Time to Stand does whatever they can whenever they can. And true to form, they're all about that diversity. "If you play in a hardcore band in Germany, the scene is small and intimate, bands and promoters know each other. In the beginning we could play a lot of hardcore shows through old friends from the Intruder era, which is why we came up with the slogan 'Pop music at hardcore shows.' The lineups at shows tend to be less homogeneous, I guess.
"Often we would find ourselves sandwiched between an Austrian crust punk band and a Croatian doom metal band, and I love that," Martin says. That too is refreshing and motivating. Perhaps that's even where the band came up with their song "[Insert Popular Hardcore Label's Name Here] Has A Really Big Parcel For You," another cleverly satirical track on Light Years that tackles the ironic groupthink that often pervades the hardcore scene.
Light Years is coming up on its one-year anniversary as a record just as the band approaches their ten-year anniversary together. That's a wonderful convergence for Paderborn, Germany's A Time to Stand. They're a pop-punk band with a wittiness that is at once humorous and insightful. Their record certainly deserves a bit more love on our side of the Atlantic, so give it a few spins.
A Time to Stand on social media: Facebook | Instagram
***
Donate a few bucks to help with No Echo's operating costs:
Tagged: a time to stand