This past Friday, August 18, I was one of less than 50 people who was lucky enough to catch the debut performance of FireBurn. The new outfit features guitarist Todd Jones (Nails, Carry On, Terror), bassist Todd Youth (Bloodclot, Warzone, Danzig), drummer Nick Townsend (Deadbeat, Knife Fight), and vocalist Ras Israel Joseph I (Bad Brains), and since dropping their Don't Fight the Youth EP on an unsuspecting public just a couple of weeks back, the band has been the talk of the hardcore scene.
To say that the performance was intense would be an understatement. During FireBurn's short set (after all, they only have an EP out), the LA-based band dished out their kinetic hardcore jams with a passion and a focused assault usually reserved for acts years into their career. Youth—who usually plays guitar when he's in a band—did a splendid job on the bass, and on "Jah Jah Children" laid down a reggae groove fit for maximum head-bopping. It was my first time seeing Townsend play live, and he impressed with both the punk-charged stuff, and the more laid-back rhythmic sections.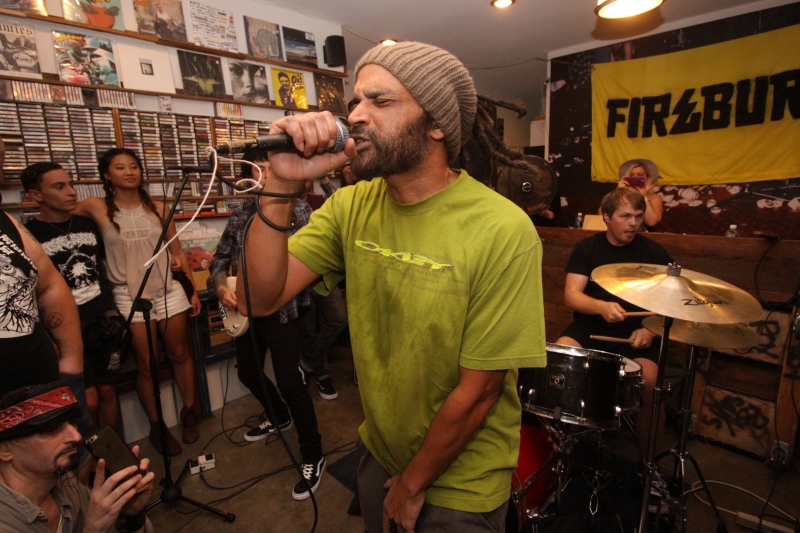 All in all, FireBurn lived up to not only the pedigree of its musicians, but also the strength of their EP material.
One of the other folks at the FireBurn gig was Dan Rawe, a longtime SoCal hardcore scene vet who has previously been profiled on this site. Dan has been kind of enough to share some photos from the night. As an added bonus, FireBurn singer Ras Israel Joseph I sent me his thoughts on his group's maiden performance.
Ras Israel Joseph I shares his thoughts on the night:
"Walking up to the show I couldn't help but think of my days working at Tower Records in the early 1990s. Record stores are a cool place to be in, and cool place to work in as well...Vacation Vinyl Records had that vibe as I stood outside. Carlos Ramirez from No Echo met me at the door of Vacation. Carlos by now is a very good and trusted friend of mine and I was happy to see him. A brilliant writer for our scene. Following a good conversation he took me inside to meet Nick (the manager) and Mark (the owner) at Vacation Vinyl. I could tell right away that Steve was really intuned and a very cool individual. We had a long conversation about everything from music to extraterrestrials. When you meet someone that thinks the same way you do it's always great."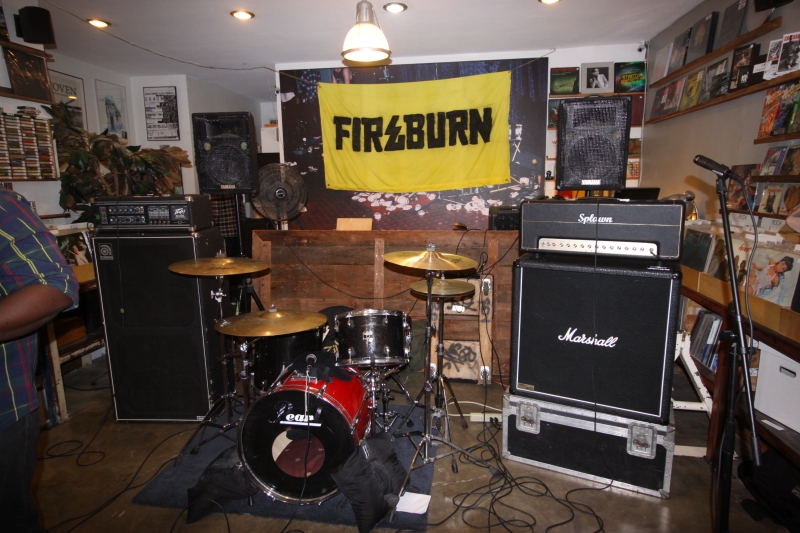 "The band showed up right around the same time and we all got ready to do our thing. Todd Youth was in good spirits and so was Todd Jones. The youngest of us Nick, one of the greatest drummers around, in my opinion, today, was in ready mode and ready to bring the noise. I was feeling really good anticipating getting on the microphone after not having done hardcore music and punk in quite some time. It's not that I wanted to get away from this music."
"I love the music of today that I hear from time to time, however I was dreaming of creating a hardcore style that was reminiscent of the early days for quite some time now. I even recorded some ideas on a 4-track. Todd Youth, Todd Jones, and Nick Townsend were apparently feeling and thinking the same thing. Much to my surprise the genius composer came up with some great material and when I heard it I knew it was a match."
"We got ready to do the show and the people began to come in and suddenly there were a lot of people there. It felt like being with an old friend seeing the audience. The frequencies in my brain changed the minute the brothers started playing, and we opened with "Break it Down," the first song on the EP, and then straight into "Suspect," the second song on the new FireBurn Don't Stop the Youth EP. It felt great to be playing real hard music in a live format. The audience really had a good time."
"The rest of the set was electric. It felt great and it was punk and hardcore in its original style with all the unabashed messages, ferocity, anger of youth, and rebellion against a system of inequities that we could muster. The four of us are really happy with how it all came out."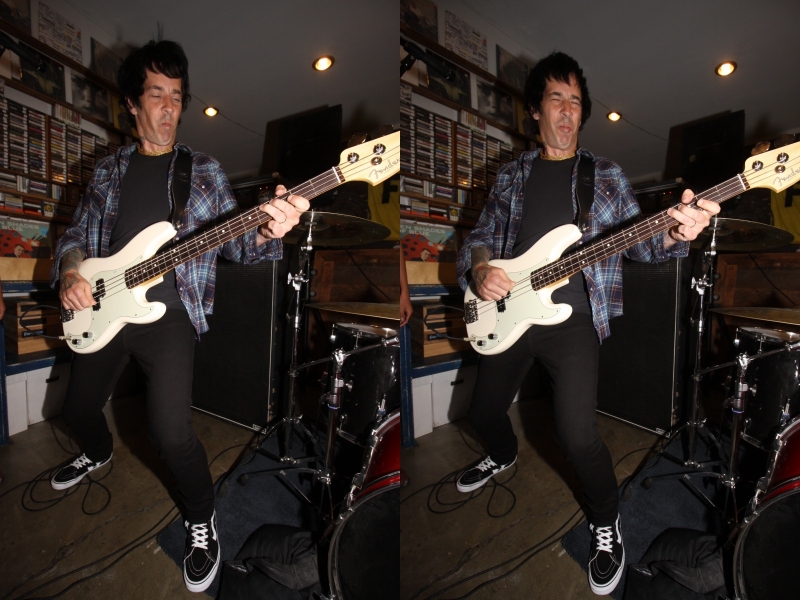 "We're happy with the response that the EP has gotten. Actually we're actually thankful for the response that the EP has gotten. We're also happy for the response that that show at Vacation got last night. It's the greatest feeling in the world to be doing this again for great people out in the audience, for punk rock, hardcore, reggae and music in general that's true to the heart and soul and that seeks to change the system of down-pression by inspiring young leaders that can change the world."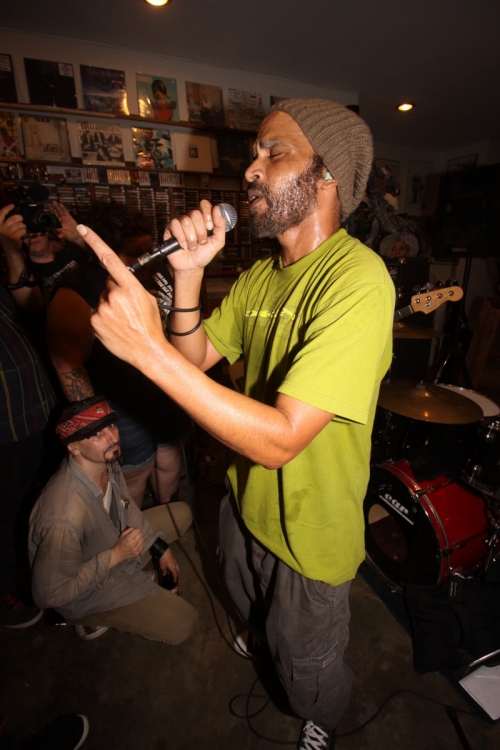 "FireBurn and bands like us are going to hopefully create a new era in music. An era where soul, passion, a positive message, feeling, emotion, rage, peace, and love can be heard and prosper in people to move this world in the right direction. Although hardcore, rockers, and punk rock is what we do, I really think that music in general can benefit from becoming more gritty, nasty, loud and fierce. There needs to be a resurgence of sweaty, dirty, funky, hard, grinding, thrashy, loud, solid music made again in all forms. We are doing our best to record what we hear in our heads."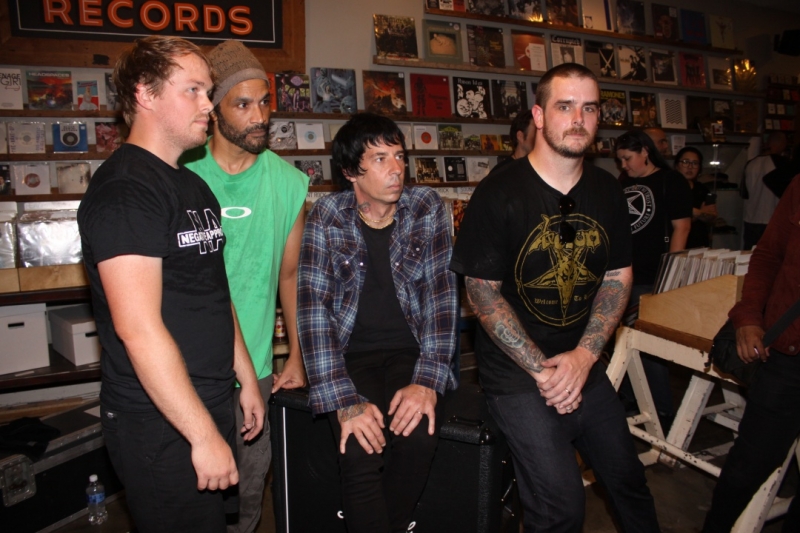 "Thank you guys so much for listening to FireBurn. Pre-order the Fireburn Don't Stop the Youth EP now online, and buy a colored vinyl when it comes out in September. Support local music and musicians, support independent music, support record stores, support small labels and support concert venues that promote music like that. Always read No Echo to get your real hardcore news."
Tagged: bad brains, bloodclot, fireburn, nails