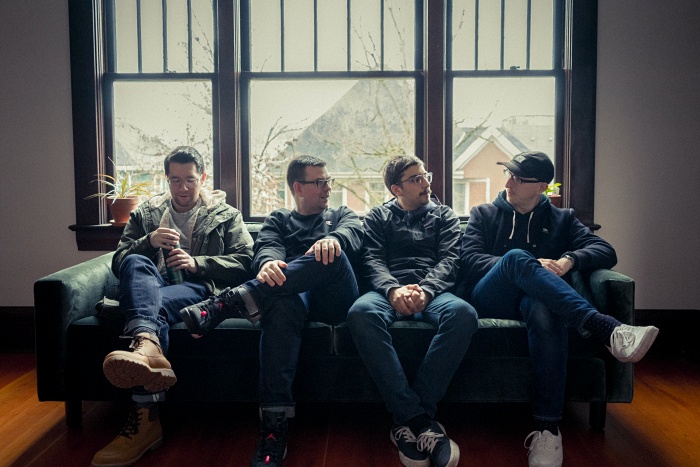 A couple of weeks back, several people sent me a link to check out "Reason," a track from a band called Change. Without knowing anything about the group, I clicked away and instantly was hooked in by the song's explosive energy. It turned out that Change is the brainchild of Aram Arslanian, a veteran of the hardcore scene who has played in such bands as Betrayed, Champion, and The First Step.
Coincidentally, Aram reached out to me a few days later about doing something on No Echo to help introduce Change to the site's readers, so we had a chat via email and I got the skinny on the new project, the forthcoming LP, and why he thought it was the right time to return to the hardcore scene.
Oh, we also have a new track to share with you, but more on that below!
Tell me how Change came together and what the catalyst was to start the band in the first place. I know that there is a different lineup of musicians on the recording than from the one we'll be seeing live.
For the last few years I've been focused on family and the company that I started, but I was still working on song ideas here and there. I love hardcore, and really enjoy being in a band, so the drive to create and be a part of it was always there. I started to get the itch to play again and decided to finish some songs that I'd been working on with friends, and that became the Change LP.
The recording was Dave Mitchell (Blue Monday, Keep It Clear, Burden, Circles, Applewhite, Titled) on guitar. Carl McBeath (Damages, Keep It Clear, Circles, Applewhite, Titled) on bass, Alex Schollen (Out of Sight, Keep It Clear, Prescriptions, Punitive Damage) on drums and me.
When the record was done, I knew I wanted to play shows, but these guys all have bands that are doing a lot and couldn't take anything else on. Dave and Carl are both in Applewhite and Titled and each band has an LP coming out this year that they'll be playing on. Alex is in both Prescriptions and Punitive Damage who are really active. So, I shared the record with a few of our friends and the live lineup came from there. The people playing and touring in Change are Chris Williams, Jeff Caffey, Matt Bertell, and Mike Jurek, and the door is always open for the other guys to play as they can.
As part of this interview piece, No Echo is presenting the premiere of "Beyond," a track from Closer Still. What can you tell us about the song's lyrics?
"Beyond" is about pushing past the isolation that can be caused by depression and anxiety. It's written in memory of those we've lost and in encouragement to those living with mental health concerns to reach out for support and help. Silence is the voice of death.
How would you describe what style of hardcore Change is about? The energy level is insane. I also love the gang vocal action!
The LP is 13 songs of fast hardcore that's influenced by Youth of Today, Bold, Sportswear, Uniform Choice, Verbal Assault, and Embrace. The goal was to be heavy and ferocious while also being able to bring in melody and groove. There's also a decent amount of metal and thrash influence in there as well. We worked hard on these songs and how they were put together. A lot of time was spent dissecting songs we love, figuring out what makes them awesome and then bringing that into the writing.
Vocally, I tried to give more on every level. I wanted to avoid repeating myself by doing the same thing in a new band. So, I took my time and tried a bunch of different approaches to each track. I was constantly pushing myself and kept blowing out my voice, which sucked, but I'm really happy how the vocals came out. It's definitely the most aggressive I've been, and I was able to do some new things.
Lyrically, I worked through a lot of personal stuff on this record. I went through a very difficult period for a few years and I put that into these songs. But I didn't want to create this disjointed mess of thought, so I put effort into the economy of expression and tried to say more with less. Every song is written with two meanings in mind: a meaning that's intended to be clear and relatable, and then a meaning that's specific to my life that's intended to be less obvious. The lyrics might come across like standard hardcore, but I thought a lot about what I wanted to say and how I wanted to say it.
Also, the band is all-straight edge and that's still an important thing for me.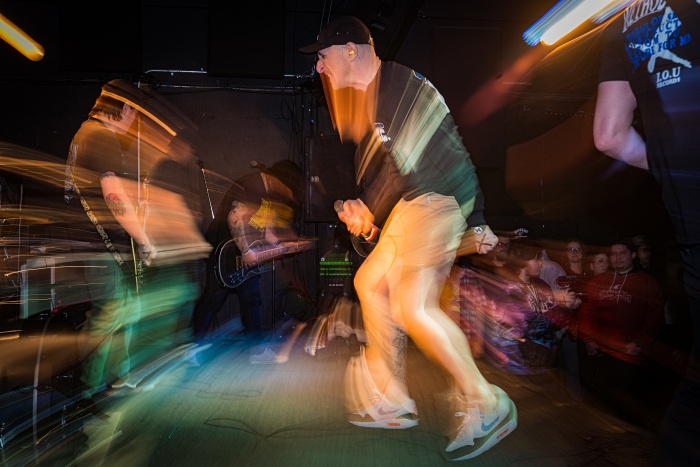 Where and with who did you record Closer Still? Again, since I've had a chance to listen to the entire record, I can attest to its killer recording/production. The bass tone is also incredible.
Jesse Gander at Rain City Recorders recorded the music, the backup vocals and mixed the record. He's an incredible engineer and made the whole process awesome. Jesse is the best on a personal and professional level. Also, the room he works out of in Vancouver sounds amazing. For tones, he worked closely with Dave, Carl and Alex on all of that. Those guys are great musicians and really understand how to get a good sound live and recorded. Everyone put a lot of effort into the record sounding solid.
Avrinder Dhillon at Ziyen Studios recorded my vocals, and they wouldn't sound the same without him. Avrinder put a lot of care and time into the process and encouraged me when I got frustrated. He also loves hardcore, so we bounced a lot of ideas around together on how to approach each song and what we could try. It was a cool process and he really showed up as a friend and engineer.
Interestingly, React! Records, the label you started but eventually sold to Evan Wivell, will be releasing Closer Still.
While I was working on the vocals, I wasn't sure what I'd do with the record when it was done. I mentioned to Ev that I was working on something and he was instantly supportive. We have one of those relationships where a lot can go unsaid, we just know we're there for each other. So, when it was done it was already on R! without us even talking too much about it. Deathwish distributes R! so Rich Rossi has also been very helpful with getting the record out.
I love that things have kinda come full circle with me and R! The label played an important role in my life when I started it years ago and it's playing an important role in it now. Ev and I have pretty different approaches to how to run a label, and it's cool to see how he does things.
The record is also coming out on vinyl in Europe on Refuse Records. Robert has been a friend for a long time and it's great to have him involved. Also, Life.Liar.Regret Records in Australia is putting the record out on tape, and they've been awesome.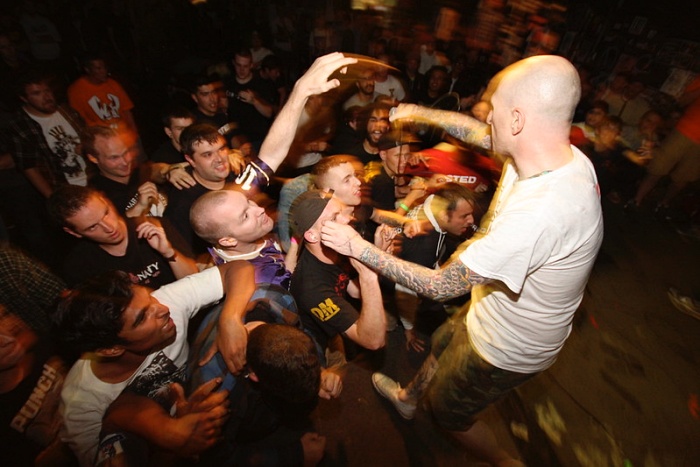 You've been part of the hardcore scene for many years now. How close do you keep up with the current scene and newer bands? I know it's tough to keep up sometimes, especially as you get older and get more responsibilities thrown your way. I think some younger folks don't truly understand that and can get critical about it.
I'm lucky to have Chris Williams in my life! Beyond being a great friend, that guy is a constant source of new bands to check out. He's always sharing new demos and records and that's helped me keep up. However, yes it gets really hard to find the time to be involved on the level we'd like to. All I can do is check out what I can when I can, be supportive and hope that others can do the same.
Closer Still will be out this spring via React! Records, in the US, Refuse Records in Europe, and LLR Records in Australia. You can find Change on Instagram and YouTube.
Change European tour dates:
02/01 Barcelona, Spain - Can't Keep Us Down Fest w/ No Warning, Spirit Crusher, Weight + more
02/02 Madrid, Spain @ Sala Rock Palace w/ Castigo, Underdog Smash
02/04 Berlin, Germany @ Schwester Martha w/ Eat My Fear, The Fog
02/05 Prague, Czech Republic @ Cafe Na Pul Cesty w/ Princip
02/06 Vienna, Austria @ Venster 99 w/ Malaise
02/07 Czestochowa, Poland @ Salka Sportowa w/ Heatseeker, ViciousxReality, Protein, Zawody
02/08 Leipzig, Germany @ Conne Island w/ No Warning, No Turning Back, Candy, Spirit Crusher + more
Change North American tour dates:
03/06 Seattle, WA @ Fusion Cafe w/ Berthold City, Scowl, Punitive Damage
03/07 Vancouver, BC @CBDB's w/ Berthold City, Scowl, Punitive Damage
03/08 Portland, OR @ Post 134 w/ Berthold City, Scowl, Punitive Damage
04/26 Calgary, AB @ Wild Rose Hardcore Fest w/ Madball, Knocked Loose, Never Ending Game + more
Tagged: betrayed, change, the first step