Drummer and engineer Sal Gallegos first appeared in my personal music collection via his work as a member of Some Girls, back in the '00s. These days, the San Diego-based musician and studio engineer is keeping busy with Secret Fun Club, his collaboration with bassist John Rieder, a project they've been doing for close to two decades now. "We are very lucky that we were able to be around and surround ourselves with people who took chances and pushed the boundaries of what music is/could be," Sal tells me about Secret Fun Club and the San Diego music scene.
Though Secret Fun Club is comprised of Sal and John at this point, it's still a very collaborative experience. "When we first talk about having other people playing on a song with us, it is always someone that we have 100% confidence in and know whatever they do is going to make the song better, so we just give them free range to do whatever they want. For instance, we have had W.T. Nelson (Geronimo, Bastard Noise) play on both full-length records that we put out (2000's Secret Fun Club, 2012's Skulls with Antlers). That guy is a genius and master of his instruments. I have never seen anyone able to control those crazy noises and harsh frequencies the way that guy does. At the same time, he never does too much and is always tasteful with how he applies it.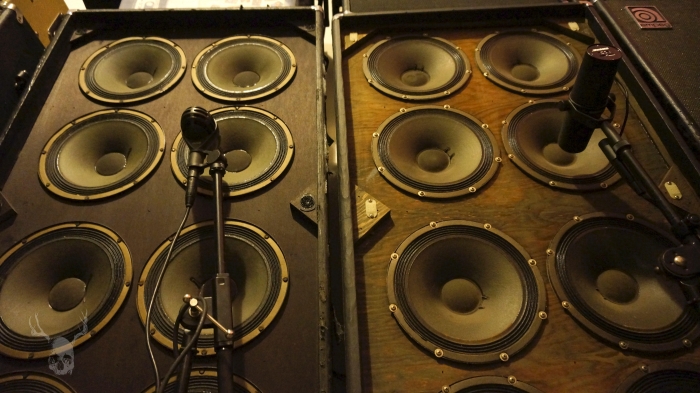 The next phase in the Secret Fun Club's mission is the release of 101, their third studio album. It's the kind of record that brings to mind the bass-crushing tones of bands like Sunn O))) and Godflesh, as well as the more experimental yet heaviest sides of Boris and Shellac. Today, No Echo is streaming "Orchestral Maneuvers in the Dark Throne," a driving track from 101 that serves a nice appetizer to the rest of the album:
In addition to "Orchestral Maneuvers in the Dark Throne," the new Secret Fun Club features songs with names like "Mastodon Rickles," "Pariah Carey," and "Ted Nugent Was Goth In High School." So, does the duo keep a list of potential title ideas and then pick through them once they're ready to commit them to packaging? "There is a whiteboard in the practice space that Sal regularly updates with new potential song titles," John says. "Most of the song titles are his—except for maybe 'Black Metal to English Dictionary' and 'Scott Baoiwülf,' I think—and have a particular sense of goofy wordplay that we both find amusing.
"Often the songs are around for quite a while before we officially title them; both 'Pariah Carey' and 'Pat Minotaur' had far less amusing titles while we were recording and only ended up with actual titles at the moment of truth—that is, when the record was getting mastered. I agree that there is a kind of counterpoint between the silly, almost afterthought titles and the somewhat labored-over songs. I think you'll see a similar tension between silly-ass song titles and complex music with bands like Botch and Don Caballero, both of whom we respect deeply."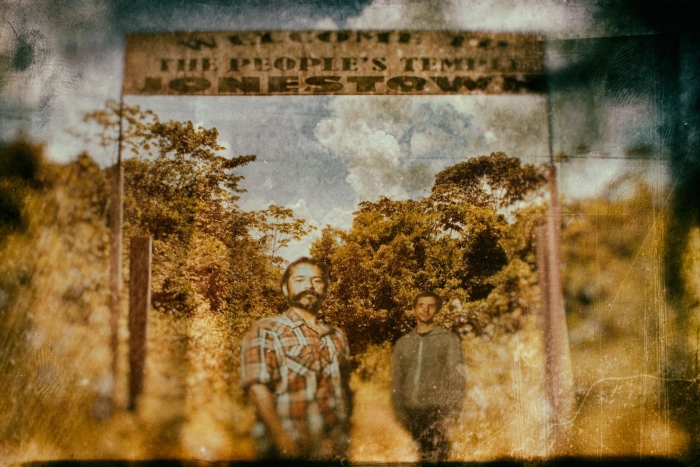 Listening to a track like the aforementioned "Black Metal to English Dictionary" from 101, the bass and drums thunder. It reminds me of early '90s Melvins and KARP in that regard. Man is the Bastard is also a good comparison in that department. Since Sal's also engineering the sessions, I ask him if he approached the drum and bass tracking much differently than he would a different band he's worked with. "First off, thanks for asking this. Not a lot of people realize that I engineer/mix almost all of our recordings. Also, thanks for the comparison, I like KARP and Melvins a lot. Secret Fun Club does make a conscious effort with the kinds of tones we use due to only being bass and drums. Live, John uses two different amps (a 1976 Ampeg SVT and a '90s Peavey Classic 400) so he can blend tones and fill up as many frequencies as possible. We carry that same philosophy to recordings.
"I have been recording my own drum set/playing for about 20 years so I know as long as I get a half decent tune on them, the drum tone will be OK. I spend more time and effort focusing on the bass tone. I'm always trying different mics and techniques with bass. I am a big fan of getting a good tone when you record the tracks so that you have to use minimal EQ and processing later. John is the best bass player I have ever played with and his technique is so good that it makes my job as an engineer a lot easier. Another thing that we did consciously with this record is that we didn't try to make it perfect. We left in tiny mistakes, and noises. We didn't want to quantize things so it sounds like a sequencer or robots. A lot of bands I like do that and you can tell it's not natural and will never sound like that when people play live. We left in spots where we weren't super tight with each other or there was a bit of amp noise. It reminds you there is a real band playing."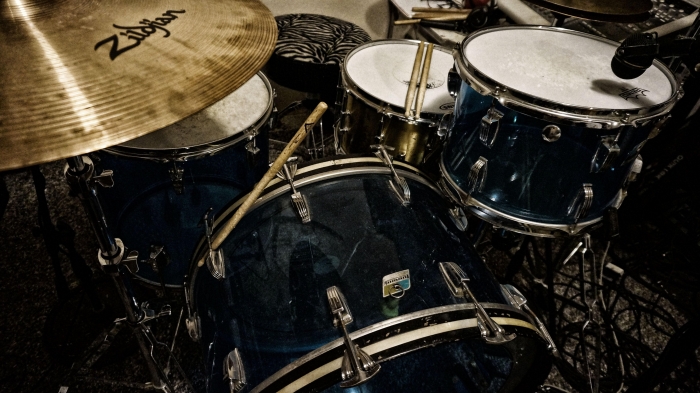 Seen below, the cover for 101 features a thought-provoking sculpture by Noelle Mason, an artist John tells me he and Sal have been friends with for many years now. "We've known Noelle since high school (though I'm a couple of years older than she and Sal)—we're all from Chula Vista, CA and tangentially connected to a larger group of punks, metalheads, artsy weirdos, and straight edge kids that coalesced around the band Unbroken in '94-'95. Noelle's sculpture, 'Extra Curricular Object,' is wonderful and we're super thankful that she let us use it for the record.
"Noelle could probably explain it best, but much of her visual art deals with themes of surveillance, institutional power and control, and expressions of violence. This piece resonates because it comments on the ways that public spaces like schools have become sites where private fantasies explode into mediated spectacles of profound violence and dread. She also made the untitled collage on the record's insert that brings together very San Diego-centric mass-media images of violence—Brenda Jo Spencer, James Oliver Huberty, and the Heaven's Gate cult. Her art design made this record all the better."
101 will be released digitally as well as on smoke-colored vinyl through Three One G on May 17 and can be pre-ordered here.
***
If you're shopping for vinyl, CD, and cassette hardcore titles, head to No Echo's partner store, Reverb LP, to see what they have available. Every purchase you make helps No Echo with site costs.
Tagged: secret fun club