Rod of Correction is a thrashy metal unit featuring musicians you might recognize from such bands as Narrows, Take Offense, and Godcollider. Last year, the San Diego-based combo issued an impressive EP called Lies, which I featured on this very site. At the time, Rod of Correction vocalist Colin Tappe said, "When [guitarist] Greg [Cerwonka] first hit me up to do the band, his pitch was 'Rest In Pieces meets Discharge,'" and that stylistic comparison perfectly captures what they're doing.
Next month, Rod of Correction will be releasing If Might Makes Right​.​.​.​Then the Rod Is God, a 4-track EP that builds on the strengths of the band's previous release.
"Cryogenic Demise" is lifted from the forthcoming collection and its tasty guitar riffs ride a steady rhythm that brings me back to a time when both the demo reviews in Metal Forces and Pushead's Puszone column in Thrasher meant the world to me.
Oh, and the mosh part that comes out of nowhere in the track's closing seconds is pure perfection.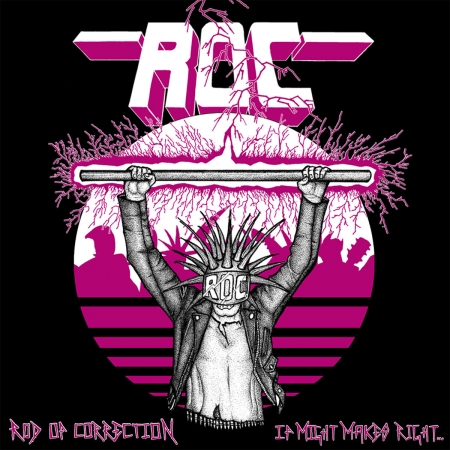 If Might Makes Right​.​.​.​Then the Rod Is God will be out soon via Indecision Records and can be pre-ordered now.
Tagged: rod of correction