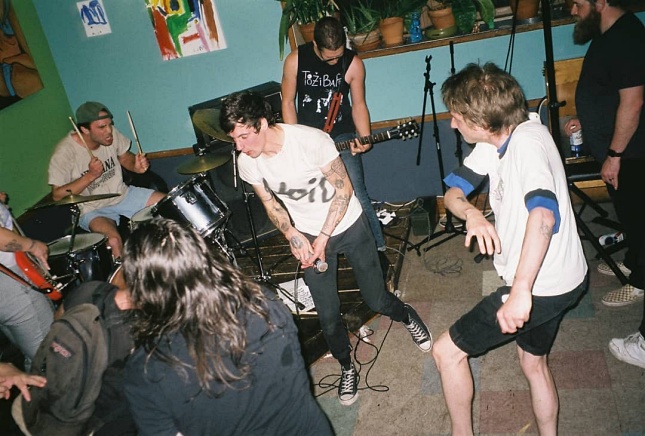 London's La Vida Es Un Mus Discos are, somewhat quietly, one of the world's finest purveyors of punk and hardcore. Their eye-popping cadre of artists has released some of my recent favorite records in the form of Chain Cult, The Comes, and Constant Mongrel.
Added to their stable is Fried E/M, who are quickly responsible for my favorite record in the nascent days of 2020. Released a few weeks back, Modern World marks the debut long player for the Missouri punks, after having dropped a 7" in 2016 and tour tape last year.
Both the band and their new label home have had some loving overlap with the likeminded folks at Lumpy Records and, sonically, that's not a bad reference point. If I did my homework, which I never do, I believe Martin AKA Lumpy is in this band.
The LP also owes a great debt to early USHC, albeit still glancing fondly back at the sneering brattiness of their snottier predecessors of 1977. There are bits that recall the primitive, teenaged blasts of Wasted Youth or Ill Repute with the requisite brashness and rambunctious charm of weirdos like The Crucifucks or Feederz.
They flirt a bit with the sound of both Beach Impediment and Static Shock Records, though they know their way around a toe-tapping melody. They still manage to inject the affair with enough of their own bizarro, scrambled worldview that it feels new. I've heard the Flipper tag thrown casually around with regards to these St. Louis weirdos and, while they certainly have the antagonistic flippancy down, they play at a far more reckless pace.
There's a self-described Group Sex vibe and they nearly manage to match the first wave classic in both brevity and sheer number of pogo hardcore classics. Much like their label mates Kaleidoscope or their contemporaries in S.H.I.T., Bib, or Baby's Blood; they're content to bash away sloppily but can't run from their buried melodic streak.
Look no further than the title track. "Modern World" rips through a minute on a hardcore punk riff that seems to have been cadged from a long lost Rust Belt classic EP. It's blazing fast and snotty hardcore that tosses in moments of isolated scuzzy bass and affected vocals that feel as if they're personally flashing the "v-sign" at the Queen.
Elsewhere on the record, they're just as likely to stop and change direction sans notice, but the straight-charging 4/4 incarnation of this band is damn near impossible to beat. Though they mine the classics to power their future, their take is decidedly unique given the zeitgeist. Much like Hank Wood and The Hammerheads, Chubby and The Gang, Larma, or Loose Nukes, Fried E/M is right now.
Modern World is available on both vinyl and digital from La Vida Es Un Mus Discos.
Fried E/M is gearing up to take the mania overseas. Should you find yourself lucky enough, catch 'em with the equally awesome EKE BUBA at as few of these shows.
Fried E/M EU Tour 2020:
4/30 Barcelona
5/2 Granada
5/3 Murcia
5/4 Alicante / Benissa TBD
5/5 Madrid
5/6 Valencia
5/8 Zagreb*
5/9 Belgrade*
5/10 Budapest*
5/11 Brno* TBD
5/12 Prague*
5/13 Bratislava* TBD
5/14 Ljubljana* TBD
5/15 Rijeka*
5/16 Postojna*
*with EKE BUBA
***
Donate a few bucks to help with No Echo's operating costs:
Tagged: fried e m