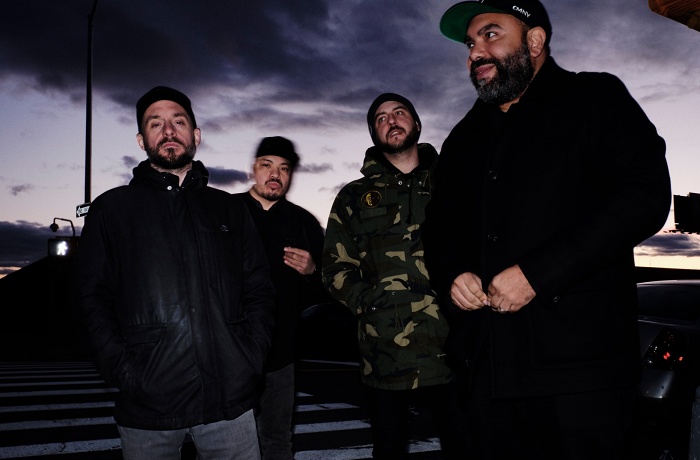 2020 going away can not come fast enough. I think we all are dying to go to live shows and I've been wondering if the turnout will be timid at first or will everyone and their mother come out for live music. I hope once everything starts back up, it will be the later.
I have been texting with my buddies in NYHC band Meltdown over the year, about how their year turned out. I feel terrible that they weren't able to debut their awesome new record for a live crowd. They missed out on some amazing shows, but the Saint Vitus Bar record release show they did this summer is definitely something everyone should check out.
I interviewed the singer Ralph Torres about the Saint Vitus show and got into just what an insane year it has been for him and the band.
Introduce yourself.
Hello, everyone! My name is Ralph Torres, I am a born and bred product of New York, the son of immigrant parents from the Dominican Republic. I am also the lead vocalist of the New York hardcore outfit, Total Meltdown.
I first featured Total Meltdown pre-COVID on March 3, 2020. I know the band hasn't been able to play shows to promote the record. Tell us about the Saint Vitus live video you guys just did.
So, Total Meltdown isn't like a typical band, in the sense that we didn't play a few shows then release a demo. We went at it a bit backward and recorded an EP before we even played our first show. The reality of it is that we wanted to have songs that were fine-tuned and near perfection before we even thought about playing live.
Over the course of the winter, we recorded our debut EP. We released a digital version of the EP with the intention of doing shows to get our name out there and get some funding behind putting out a vinyl version.
Sadly, COVID got in the way so we had to go fully grassroots here and rely on you guys, other music outlets, social media, and word of mouth to promote the band and the EP. Over the summer we were able to get some money together to get the vinyl printed and we needed a way to promote the physical release.
We had seen the proliferation of livestream shows and figured out that would be the best way to have people hear music and perhaps wanna buy the vinyl. We've been going to shows at Saint Vitus since they opened and consider it to be our second home.
In a romantic way, I've always wanted our first show to be there, so it was only fitting that we try to livestream in that hallowed space. We reached out to one of our very good friends and co-owner [of Saint Vitus], David Castillo, and he was able to help us out.
He let us "borrow" Saint Vitus for a night so we could record our record release show. He coordinated with Jeff Filmer, their Head of Sound, and gave us a few hours one Thursday night. We put together a setlist with all of the songs on the EP, plus a couple of new jams we worked on over the summer, and played them live on a stage for the first time.
We were fortunate enough to work with Frank Huang of Max Volume Silence to do video for the show and Mario Quintero of Audio MQ to mix/master our sound. We're proud of how it came out and while there wasn't a crowd in front of us for our debut show, we rocked out hard!
One of my favorite songs from that set was "De Serve." Can you explain the inspiration behind its lyrics?
So, just so everyone is aware, "De Serve" is a new song that isn't on the EP. "De Serve" is a play on words, it can mean "deserve" in the traditional sense where the recipient does something worthy of reward or punishment, or it can mean the opposite of serve where the recipient does not perform duties or services for a person or organization.
From the lyrics of the song, you can probably guess where this is going. The lyrics were written back in June of this year and they were inspired by the murder of George Floyd at the hands of the Minneapolis Police Department. It's a song written from the point of view of a person of color walking down the streets of New York City and the harrowing experience of interacting with the NYPD.
Just for some context, the majority of the lyrics on the Total Meltdown EP deal with anxiety and the resulting mental anguish. Once that anxiety is mixed with a group of people who are looking for any excuse to target people of color [NYPD], the anxiety only exacerbates.
In "De Serve," the narrator questions the authoritarian's reaction to their presence and wonders if it's a product of their hypersensitivity. The sad reality of our current situation is that the harassment is real and there are countless examples the ensuing interaction with police has lead to death or incarceration.
But it's not all doom and gloom here, by the song's end the hopefulness brought upon by protests creates a hopeful and anthemic note where the police get what they deserve.
I'm in Louisville, Kentucky right now, and we have had intense protests in our city for over 200 days, because of the Breonna Taylor murder. How are you, and the New York community, dealing with the massive unrest?
I'm actually not in New York at the moment, COVID has allowed me to work remotely and as a result, I've actually been down in Houston, Texas for a bit. Even though I'm not in New York, my family and my community are still there. We are taking things day by day.
In the beginning, there were those who would be at the marches and rallies, but as time went on that waned. The focus has now shifted towards activities that can be done while following appropriate social distancing protocols. Whether it be through reading up and learning from those with first-hand accounts of injustice or sharing relevant articles with those in my community.
Another major way I've been dealing with it has been through the financial support of the organizations that are at the front lines dealing with this bullshit, whether it be through buying merchandise that's supporting these organizations or donating to causes that educate and support those directly impacted.
A few good sites include the ACLU, National Lawyers Guild, and Know Your Rights Camp.
What can we look forward to for Total Meltdown in the near future?
Total Meltdown can't wait to play some live shows! Until that happens we are still going to flex creatively, so be on the lookout for more music! We have subscribed to the, "less music, more often" mantra and are working on material for our second and third EPs.
Total Meltdown on social media: Facebook | Bandcamp | Instagram
***
No Echo has launched a Patreon with 3 tiers offering all kinds of hardcore-related goodies to help support the site:
***
Tagged: total meltdown