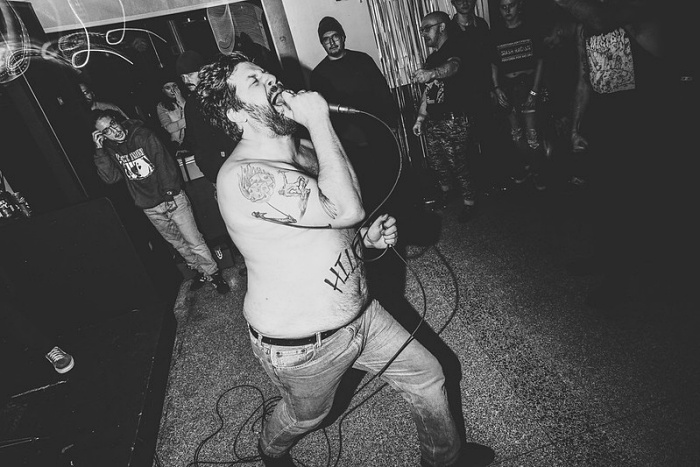 Welcome to 2020, y'all. No better way to slide into the decade than with a little lean into the classics. It's be easy to lob the '80s USHC tag at Bato, the fearsome Virginia Beach crew getting the Song of the Day treatment.
While there's certainly a hefty dose of the brevity, unhinged jangle and melody of American hardcore's halcyon days, this shit is infinitely more intense than a large swath of said bands. Fittingly released on Not for the Weak Records, the members have collectively served time in RDHP, Restless, Reckoning Force, and the alliteration-ruining monikered Frat Boys. On the back of double demos in both 2016/18, one hopes this is only the first ante in Bato's hand moving into the decade. To the song!
"Dead End" condenses the fury found across this sub-nine minute ripper into 90 seconds. Simple isolated bass drum intro and it drops two separate but equally killer guitar riffs.
There are certainly nods to the more scattershot bands of the first wave like Jerry's Kids and Gang Green, they also touch on the glory gifted us in the 'oughts by Direct Control and Government Warning.
Their most glaring influence, however, is hiding in plain sight. The last groove on side B's wax brings the listener to a note perfect rendition of "Out for Blood." While they owe a hefty debt to YDI, their updated and muscular sound feels contemporary all the same. In keeping with the genre's chosen "mastery", Bato lives on the proper end of blown out, trebly chaos.
Year in and year out, there always seems to be a rad cadre of bands that peddle blasts of backward glancing hXc fury. Bato sits right alongside the gnarlier stuff on Grave Mistake or the scene stranglehold we've come to expect from the Beach Impediment family. After the "blink or you miss it" blast is over in about 8 minutes, they tack on ripping covers of the aforementioned YDI and Poison Idea. The latter is also an apt reference, as Bato also take the time to stomp like Cave people when they're not speeding recklessly.
The commonwealth delivers again, y'all. Bato and their current home at NFTW Records are both on the watchlist this year. Get rad. Stay rad.
Tagged: bato