Bands break up and eventually come back together to create new records, for the better and worse.
Usually, the circumstances leading to a reunion are not intriguing enough to require an in-depth explanation — Rotting Out is the exception.
A year after breaking up in 2015, vocalist Walter Delgado was arrested for carrying 500 pounds of marijuana. It was a side hustle gone wrong. He would then go on to spend 18 months in prison. That isolation, while unjust and unneeded, allowed time for self-reflection that would not have come about otherwise for Delgado.
Ronin, the first record from Rotting Out in seven years is a reflection of all the internalized trauma of growing up and overcoming in spite of it; whether its an abusive father figure, being a person of color, or seeing a person overdose on your front lawn.
The realities of being a POC have only been accentuated during the past few weeks of protests. Each day, walking out of your home is a labyrinth of traps that is impossible to traverse through.
There is an incessant nagging that sticks to you when a shade of blue passes by. Even going out for a walk feels like a possible risk when there is a real threat of proud boys terrorizing local neighborhoods.
The aptly titled track "Last Man Standing" is the siren call when the world that surrounds you is too persistent. Hearing the chorus of "Eyes wide, I won't go away/you can't kill me" is a balm and protective covering that has made hardcore absolutely essential for Delgado and many other POC before him.
While Ronin is deadly serious, it is not without its pure joy and catharsis. It can work as pure escapism if that's what you're looking for. Delgado has provided his best vocals as of yet. They sound Donald Duck-like, spittle filled and are for that reason memorable in its distinctiveness.
It's a marked move from previous releases that sounded more beholden to skate punk, to a sound that embodies the hardcore of the '80s. Everything sounds beefier, creating a wall of punishing noise that makes you wistful for the days when hardcore shows were still a certainty and bodies could bounce off each other without repercussions.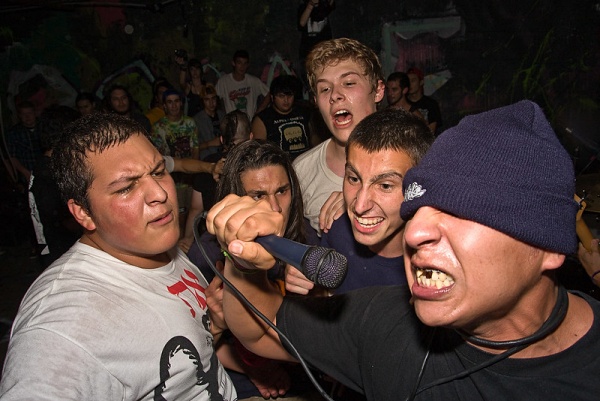 No topic is unpaved. Delgado leaves everything out for anyone to see, no matter how painful it may be. This is his life and he really doesn't care what anyone else thinks. There's a lot to be admired in his forthright outpouring emotions.
This is most apparent in the closing track, "Boy," which identifies one of the main lingering traumas—childhood abuse. It lumbers its way through, in what can be called an epic 5-minute closer, in comparison to the compact songs that surround the rest of the record. The closing lines, "here I am roaming alone," may seem dour, but it's not meant to be.
The characters that surround the world of Ronin are lone wolves, trying through sheer will, to overcome whatever roadblocks were put in front of them no matter how insurmountable they seem.
Get It
Tagged: rotting out