Certain albums court a rare magic that makes me nostalgic for things yet to come. Case in point is Lonesome Valley, the debut long player by Montreal's Mundy's Bay. For me, this LP will forever be inextricably linked to the wildly unpredictable winter we've weathered this year.
Having "virtually" spun the record countless times, it's a fitting soundtrack to the merciful death of these crueler months and the spiritual detritus we're left to reckon with come springtime. The part Franco, part English act forged their musical bonds in Montreal and penned a pair of EPs in the form of 2017's Wandering in Blue and 2019's excellent Control Room.
Dropping via Pure Noise Records, a label most known to No Echo readers for placing a recent premium on signing hardcore bands, Mundy's Bay have only bolstered an already impressive cadre of bands. Alongside another personal favorite, Spanish Love Songs' spectacular Brave Faces Everyone, this album might perhaps mark the beginning of another golden run for the label.
Among the myriad things we've been gifted by the hosts of the excellent Axe to Grind podcast, chief among them is the "noncore" tag. The relatively recent proliferation of scene-adjacent bands with wildly divergent sounds have all somehow found a home under the wide umbrella of a (sub)genre tag. Having cut their collective teeth in the MTL punk and hardcore scenes, Mundy's Bay sit comfortably alongside Turnover, Fiddlehead, and countless others with the beating heart of DIY still at the core of their DNA.
Having recently graced stages on a US run with the likes of Defeater, they're clearly a going concern for the hardcore inclined. In keeping with these roots, they've enlisted the help of one Kurt Ballou, who again proves there's nothing he can't do in the realm of sonics at the helm of GodCity Studio.
Lonesome Valley manages to capture as many moods as it does sounds. At once a melange of post-punk, dream pop, shoegaze, and alt.rock of days past; it results in something far bigger and wide-reaching than the sum of its parts. Thematically bold, it's a tightly wound collection of songs rich in metaphor and inspiration, chief among them are Makthaverskan, Alvvays, and their contemporaries in Westkust. Insomuch as influence, I'm reluctant to venture a guess, yet there are flourishes that recall The xx, Wildhoney, and Newmoon.
For the more "noncore" inclined, Mundy's Bay sit well in the land of latter day Title Fight and Balance and Composure. I'm also struck by elements unheard in any of their clearly voluminous music library of influences. Vocalist Esther Mulders also plays the keyboards, sprinkling subtle touches of laser-tinged synths or the plink of delicate keys low in the mix. These almost-hidden rhythms are treasured moments.
The band vacillates between sparsely arranged, propulsive, and explosive with little warning. The rhythm section being drummer Yann Therian and bassist Willy Love, are as wont to play four-on-the-floor propulsive grooves as they are to air it out and highlight the space between notes. The band is rounded out by guitarists John Donnelly and Victor Beaudoin, whom wrangle dreamy and emotionally wrought melodies as bittersweet as they are driving.
Enter the Lonesome Valley, where goodbye is hello. There's a reason "Goodbye" was the album's lead single. After a bass plucks to presage the song, it takes but 30 seconds before we're at the mercy of the first of countless vocal hooks. Mulders' vocals, as you're quick to find, can make triumphant and floaty ear worms seemingly out of thin air. There are sneaky pulses of washy synths that periodically peek through the song. It's added adornments like these that bely a band onto something truly special.
Weather plays an enormous role in the album in its entirety. First glimpsed on "Seasons Pass" which plays as a hymn beckoning the warm weather ahead to pull us from the seemingly eternal pause of winter.Metaphors abound and Mulders sings as if attempting to humanize the dull ache of distance and loss. Fittingly, the album's "not quite spring" release coincides with the cold season's inevitable retreat. Like spring itself, the album is given to wildly swinging moods at a moment's notice, oftentimes within the course of the same song.
"Wash Over Me" is where we first feel the weight of their heavier vibes, as a fleeting neo-grunge riff opens the affair. Yet, it's quickly ditched in favor of impossibly catchy, synth heavy dreampop, which is done to perfection on the subsequent track "Heavy Bloom." Therrian clearly knows the importance of the hi-hat and oftentimes propels the entire song forward with shuffling beats. They expertly walk the line between immediately accessible indie rock stylings and something far more dense. To the the untrained ear, aka both of mine, they also seem to throw in drum machines before the thicker guitars circle back.
"Visions of You" follows hazily, a mood piece full of universal longing and devastating lyrical lines like "I never been so low." As gorgeous as it is resigned, "Dreams" opens in booming fashion. With just bass and drums, the tone instantly perks up, feeling like a cross between Gouge Away and Warpaint. By the time Mulders stretches her voice and hits a higher register, it's a cathartic listening experience akin to seeing the first hint of spring, the buds and blossoms we're promised each year."
Starting encased in sheets of reverb, "Window in the Shade" could be a lost Galaxie 500 riff. After a table setting minute of swaying melody, the keys tack themselves artfully to the end of phrases, again beautifully lost in seasonal metaphor. Thematically and musically, they're clearly well versed in a litany of '80s college radio and esoteric '90s alternative. The explosive nature at the heart of Mundy's Bay at last plays its hand, as a crushing release of noisy punk at the midway point. Paired with their poppier textures, it feels absolutely crushing. Much like storm clouds or waves, however, it almost instantly recedes back into the calm. They play both serene and intense tempos perfectly. Their aggressive nature temporarily retreats into shadow, gnashing and baring teeth only when called upon.
Mundy's Bay are full of nuanced tricks and unexpected turns, but "Heaven's Close" packs my favorite of the bunch. They detour what's a down tuned, lovelorn song into decidedly sunnier climes. This casual subversion of their own song structure is masterful and, for me, it results in the album's latter highlight. They're at their best when digging deeply for the payoff. This song and the proceeding one play like a momentary rainstorm when the sun is out… two acts of beauty more alike than not, battling for top billing.
The band seems to revel in this dichotomy, as again the bright textures give way to the song's final sixty seconds. It's a desperate and purgative sounding reach for something gauzy and undetermined.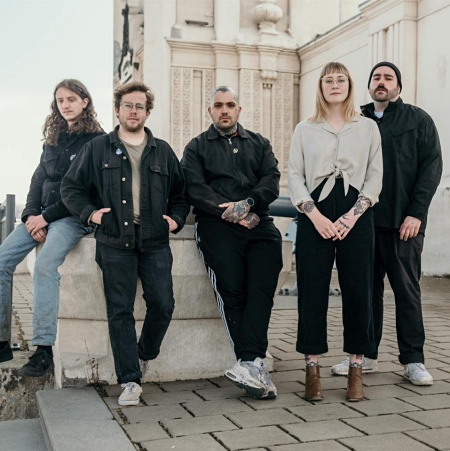 "Sleep Away the Summer" is all ambient noise and creaking floor sounds before giving way to their most unguarded track. Unabashedly romantic, they find a way to sadden even as they bolster an uplifted mood. Repeated throughout, the lyric "pick me flowers from the side of the road" becomes a joyous jolt of triumph, as Mildred finally acknowledges the song's namesake. Providing her own backing vocals, it's another stunner buried late in an LP crammed with them.
Both "Moonlight" and closer "J'ai tout perdu" allow us final glimpses of the band as they cycle back through their aesthetic arsenal. The latter is as beguiling and unresolved as emotion itself, promising nothing if not the resolve to stay awake and aware as the world turns. Translated to "I lost everything," the bookend reassures that we've also gained an album that's likely to leave its mark regardless of the natural world's whims.
Having recently embarked on another US run, this time with Bay Faction and Hunny, you'll have a chance to catch 'em in March and April.
Get It
Tagged: mundys bay