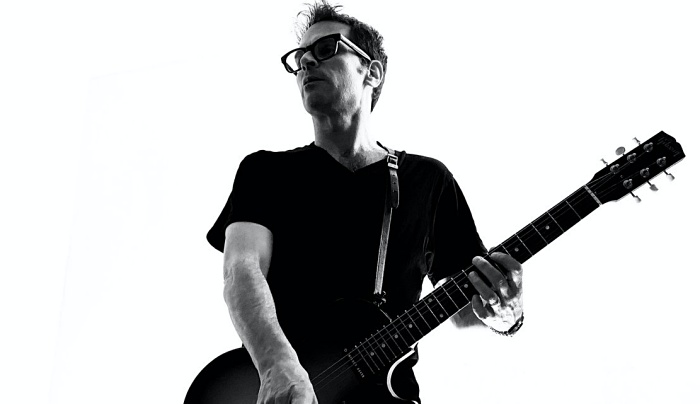 It's obviously not uncommon for musicians to go on extended breaks away from recording and playing shows, but Rob Moss wasn't fucking around when it came to this subject. A former member of hardcore punk bands Artifical Peace and Government Issue, it's been 35 years since we last heard from the guitarist/vocalist.
His return is marked by We've Come Back to Rock 'n' Roll, the debut album by Rob Moss and Skin-Tight Skin. Comprised of 14 tracks, the record features guest performances from a host of killer musicians, including members of such bands as Dinosaur Jr, Scream, Wilco, and Generation X.
In this new interview, No Echo chats with Rob about his punk roots, the reason for his long break from playing, and the impetus behind his new album.
First off, tell me about your entry into the punk scene.
When the first Ramones album came out in '76 and Never Mind the Bollocks in '77, it was a shock from a music perspective. My friends and I were listening to hard rock like Deep Purple and jazz fusion guys like John McLaughlin's Mahavishnu Orchestra. However as far as we were concerned, the Ramones and the Sex Pistols were on real record labels. So neither band seemed to be saying, "Hey, you can do this!"
It wasn't until 1979, when we first saw bands in small venues, did the idea of a scene or starting a band become real. But back then there were almost no all-ages shows. We had to have someone sneak us in.
We saw The Slickee Boys, Bad Brains, Sorrows, Tina Peel, and bands like that. They were on stage having fun. We wanted to do that! So we formed our own bands. That's how I got into the scene.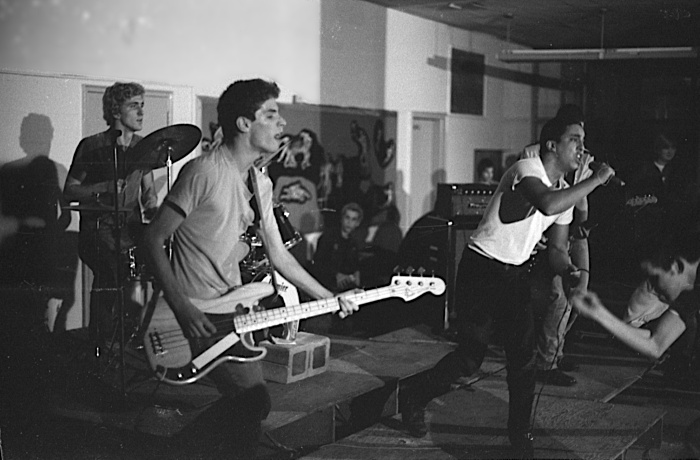 You were in Artificial Peace. How did the band start?
Well before all that, Brian Gay and I started writing songs together in '79. Him on guitar, me on bass, and in 1980 we formed a band called The Indians. Brian was also playing bass in Government Issue. Both bands started around the same time. Mike Manos went to the same high school as us. He mentioned his brother had a drum set. That qualified him to be our drummer, but none of us could sing.
Then one day this punky-looking girl from New York shows up at our school. We asked if she wanted to be our singer. Sandra something-or-other, I don't remember her last name. She agreed, but kept making excuses for missing practices. So the first time we heard her sing was in front of a crowd at a basement party. It was bad. John Stabb said she sounded like a dying farm animal or something. After that night we asked Steve Polcari, who also went to our school, to take over and we changed our name to Assault and Battery.
Assault and Battery played shows with S.O.A., Minor Threat, the GIs, and others. That was during our last year of high school and the summer after we graduated. In September 1981, Brian Gay went to art school in Chicago. So we tried out a couple of guitarists, but no one seemed to fit until we got together with Pete Murray from Red C, which had just broken up. That's when we changed our name to Artificial Peace.
As Artificial Peace, we played the DC area as well as Baltimore and New York City. In addition to being on the bill with many early hardcore bands, we opened for the Bad Brains at the Peppermint Lounge and Black Flag on their Damaged tour.
We went into the recording studio twice. The first time was at the old Inner Ear. Three tracks from that session are on Flex Your Head and that entire session was later released as an album on Dischord. The second time we recorded was at another studio. Pete had trouble getting a tone he liked. That led to a poor mix, which sucked because the songs were good.
What led to Artificial Peace's early demise?
All this time I was going to the University of Maryland. Miike and Pete were going to community college, I don't think Steve was going to school. Anyhow, on weekends I'd come home. I didn't have much time, I wanted to work on new songs, I was driven. The other guys didn't have that time pressure. That led to us breaking up.
They formed Marginal Man, and I joined Government Issue and played on their '83 USA tour.
In Government Issue, you appear on a bonus track on Joy Ride and on Live. What led to you joining the GIs, and why were you with them for such a short time?
I'm also on the Legless Bull EP doing gang vocals and that moo in the intro to "Cowboy Fashion." I was friends with the GIs and I knew Marc Alberstadt since kindergarten. So it was more of when, not if as far as me joining the band.
Boycott Stabb came out around the time I became a GI. And there were no immediate plans to go back into the studio, even though we were already playing a lot of songs that are on Joy Ride.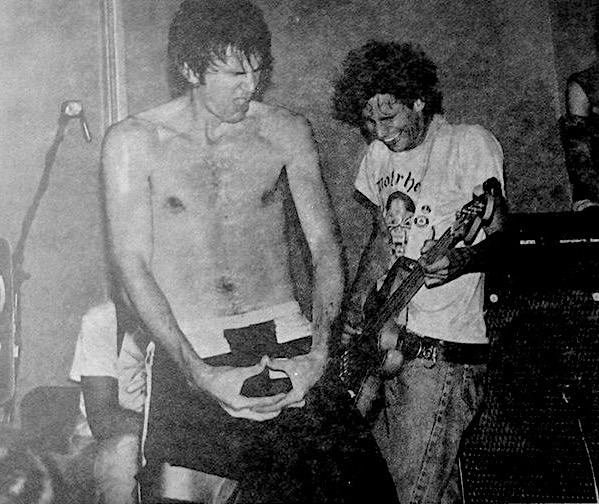 Touring then was tough. It was just the four of us in John's Dad's old Buick pulling a U-Haul full of gear. No driver, no roadies. Tom and I did nearly all the driving. Some nights we'd finish playing, load up and drive to make it to the next show on time.
After we got back, I got an acceptance letter from a school in Boston. I'd applied as a transfer student that spring, but hadn't heard back till then. John and Marc understood. Tom wasn't happy, because he'd have to break in a new bass player. But had I stayed, I would've been on Joy Ride and who knows what other records?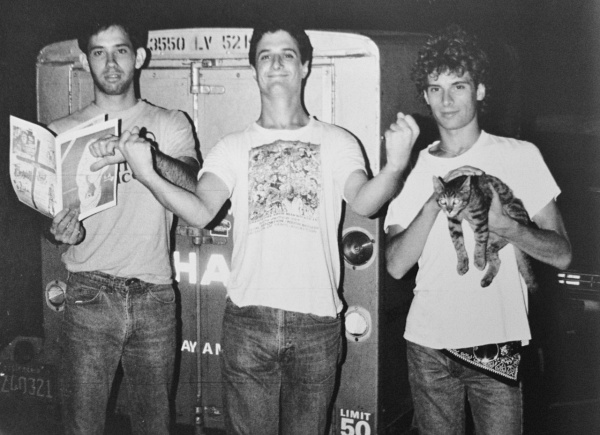 Of all the musicians I've chatted with for No Echo, you might have the record for the longest gap of time between releases. Why were you gone so long?
I had zero expectations to play music again after being in the GIs. I focused on other things, and the longer I was away from music, the less likely it seemed I'd come back.
Four years ago my son wanted to learn guitar. He'd already been playing clarinet and saxophone. So I did a dumb thing, I got him an acoustic. The neck was too fat for his fingers, and he didn't take to it.
But since there was a guitar in the house, I picked it up. And about six months later I got a Gibson Melody Maker, which was an unexpected gift from a friend. I taught myself some covers and went right back into songwriting. I wrote most of the songs for Assault and Battery and Artificial Peace. And perhaps all that time away from music produced a reservoir of songs inside me. The damn done burst!
How did you go from that to making your album, We've Come Back to Rock 'n' Roll, and how did you get all of these guys to play on it?
Well, I posted some videos of me playing my songs on Facebook. A friend of mine, Dwight Reid, asked if I wanted to record them in his studio. The thing is, I love songwriting. But I wasn't sure I wanted to form another band. And while I can play rhythm guitar and sing, I'm no lead guitarist.
The problem was how do I ask a guy to come up with lead guitar parts for an album's worth of songs, as a favor, and for what might not be a touring band? The solution was to ask 14 different lead guitarists to come up with and record parts just for one song, each. That made it easier. Only two guys turned me down. And two more were unable to take part due to timing.
But the great thing about making the album this way was that it let me recruit guys that inspired me to play music in the first place. Many are old friends, or friends of friends.
Marshall Keith of the Slickee Boys – the first band I saw in a club –- plays on a song. So does my first song-writing partner, Brian Gay. As well as Bob 'Derwood' Andrews from Generation X, one of my favorite bands from back then. There's also Nels Cline, Franz Stahl, Stuart Casson, Don Fleming, Saul Koll, Billy Loosigian, Chris Rudolf, Mario Monterosso, and a bunch more great musicians. Spit Stix drums on two songs as well.
For the younger No Echo readers who might not know where it's coming from, who are some of your musical influences that inform the material on We've Come Back to Rock 'n' Roll?
As far as specific bands, overall I'd say The Stooges, Dead Boys, Slade, Brownsville Station and Sweet. It's the music I loved as a kid, both before and just after I started playing. Before there was hardcore. The sound is more proto-punk, rock 'n' roll, glam and glitter rock, and hard rock.
There's one song with a Hammond organ. Oxygenate. Franz Stahl plays lead guitar and Bobby Madden, who played organ with Scream, plays on it, too. Bobby and I talked about Jon Lord, the organist in Deep Purple, which was the first band I really got into. In the end, Bobby's solo sounds more like Ken Hensley of Uriah Heep, which was another great hard rock band from that era. But the overarching sound and approach to the album is proto-punk rock 'n' roll.
Now that you're playing music again, do you regret being away so long?
When I first started playing, everything was new. Bands formed and ended quite quickly. But by the time I left the GIs, the scene was no longer as fun as it had been. For me, at least.
But by being more than 35 years away from music, it gave me the chance to really enjoy songwriting again when I got back into it. That might not have happened had I continued on through the '80, the '90s and so on.
So there's no regrets. I'm glad I could do it again, and that many of my favorite musicians play on my album and that people dig listening to it.
***
We've Come Back to Rock 'n' Roll is out now and available on Bandcamp.
Rob Moss on social media: Instagram | Twitter
***
Donate a few bucks to help with No Echo's operating costs:
***
Tagged: artificial peace, government issue