Karma. It comes and goes. Kharma, though?
If the furious 5-track EP, Most Dangerous Game, tells us anything, it's that the Chicago crew are here to stay.
With Midwest hardcore having already been bolstered by the likes of Buggin', Life's Question, Porcupine, and C.H.E.W.; Kharma is as essential and unique a boon to Windy City hardcore as any.
Off the back of their 2016 and 2018 EPs Survival and Moment of Violence, respectively, the metallic hardcore act has returned with their clearest and most definitive sonic statement, the aforementioned Most Dangerous Game.
The Chicago troupe's game is dangerous and, all things being equal, never ending. There are hints of Billy Club Sandwich's reductionist stomp, but I also hear hints of Next Step Up and Everybody Gets Hurt. They deftly blend the primitive pugilism of beatdown with a more nuanced take on metallic hardcore.
It's a thrilling step forward for an already exciting band. Most notably this go round, the band's cutthroat lyrical attack is ramped up. Setting their sights on oppression in its myriad forms, they fire well assembled barbs at every comer, be it police or those upholding racist and classist policy.
Launching into the maelstrom after a The Departed quote courtesy of Jack Nicholson's twisted turn as Frank Costello, "Forced Out of Heaven" wastes no time with pummeling. It's immediately evident that Kharma has doubled down on what makes them an essential going proposition.
Everything rumbles with a distinctly menacing energy, even the verses seem to sport breakdowns that'd be the song's apex in the hands of lesser bands. They toss in backing vocals at precisely the right time, putting the nihilistic bark with an upper register that feels particularly unhinged.
The final minute finds the guitars having saved some tricks, as near solos rise from the mix. As expected, they bludgeon with their singular stuttering and choppy riffs.
The title track bounces along violently, riding heavy groove-laden hardcore, barely letting up until the final thirty seconds. Once the frenzied vocals drop off, we're left unguarded in the barren space of highlighted, devastating breakdowns. Much like the story from which the EP cribs its name, the bone crushing bass tone at the end suggests the big game hunters have won.
Elsewhere, "Jester" suffers no fools, mixing the street level pugilism of Neglect or even Built Upon Frustration with a current flare. It'll sit nicely between your Detain and Three Knee Deep records. Again, they employ killer vocals, some a raging staccato and others a freelanced hardcore scream. Either way, they command at every corner.
"Guilty by Association" finds Kharma at their absolute best. Their full arsenal of tricks and savagery on display peaks at the riff right before the minute mark.
Fuck, that pick hand knows its way around a thrash record. Though it's but a fleeting moment, it's one of my front runners for riff of the year. You can't stand still when it goes… and it goes hard.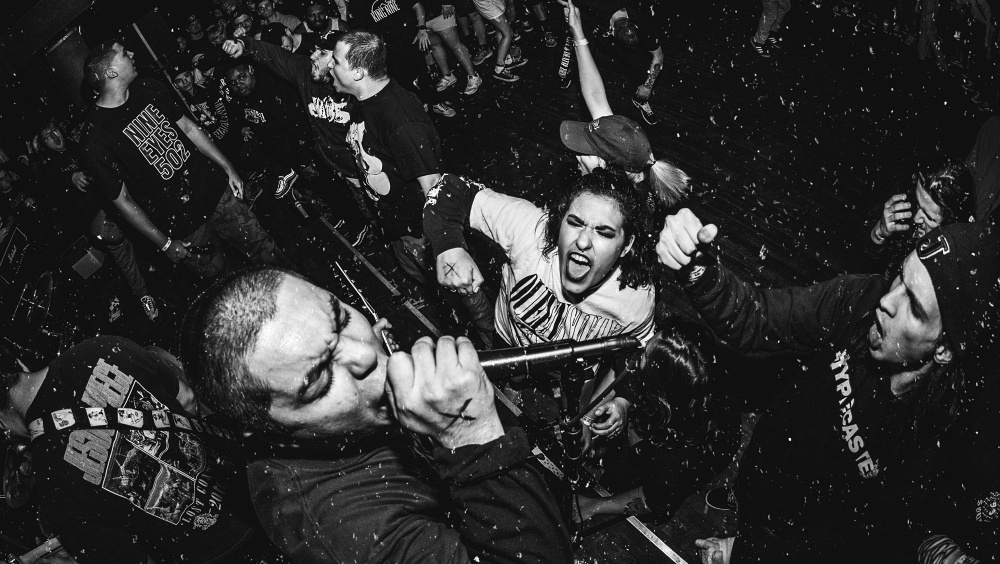 As a closer, you could do no better than "Slave 2 Society." The guitars are constantly churning and the low end is burly and intimidating. Where elsewhere they might keep the pedal depressed for speed, there's a subtle shift of pace that feels absolutely glacial by comparison.
Much like the rest of the EP, the drums are a force of nature, and the fills competently run all over the place. There's a downer vibe to this particular passage of punishment, but Kharma wears it well.
While we all wait for shows to return, get yourself acquainted with Kharma. I can imagine they're pacing impatiently, set to attack much like the hounds of Zaroff (read the story, y'all. You've got the time).
Get It
Tagged: kharma