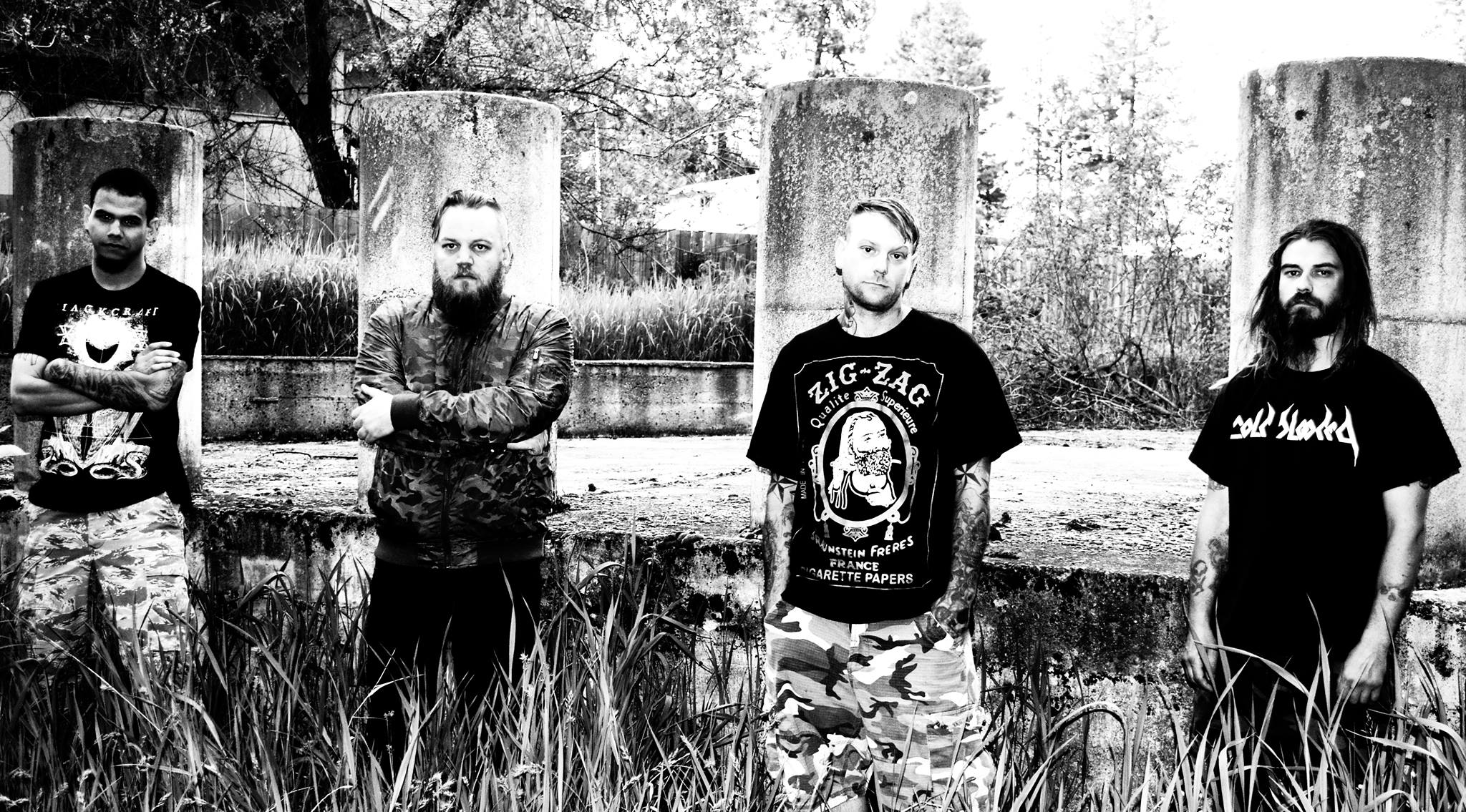 Ethan Kennedy here, vocalist of Spokane, Washington metallic hardcore band Cold Blooded. We have our debut full-length, Throneburner, dropping July 21 on Blackhouse Records. I celebration of our record coming out, I wanted to share six bands from our scene—The Inland Northwest Underground as I call it—that the rest of the country should be raging. So here you go!
Hallows
Rising from the ashes of the like-minded Raised by Wolves, Hallows picks up where that band left off. This rock 'n' roll infused hardcore (think Cancer Bats meets Every Time I Die) has just enough off time antics to keep it interesting and tons of pissed off rageaholic lyrics. Ken Wolcott is one of the most explosive frontmen in the Inland NW underground. His sardonic lyrics will be stuck in your head and have you hating yourself for signing along to such filthy (in all the right ways) shit. Check out "Reckless" above and catch them live on one of their upcoming tour dates. Their debut EP arrives on July 14.
Faus
These dudes have been making dirty hardcore in this neck of the woods for almost 10 years now. I credit them with inspiring me to pick up the mic and join Cold Blooded. After hearing their first record an seeing them live, I was impressed such a beast of a band was from my hometown. I had recently moved back from Seattle, and seeing them made me realize not all the bands here were stuck in nu-metal 10 years too late to the party. After that first album, bassist Alex Chaffin switched to the lead singer position. Watching him play live it almost funny that he would even consider playing the bass, as he is obviously born to scream into a mic. Taking a bit more serious and political approach with Chaffin on vocals, these dead beats released Technical Jargon and Partisan Rhetoric and blew everyone away. If you are in Eastern Washington check them out August 5 at Octopalooza in Spokane, along with Hallows and Snakes/Sermons supporting Every Time I Die and He is Legend.
Snakes/Sermons
Full disclosure, this is my punk band I started with original Cold Blooded guitarist Rob Bosaaen. With an aim to write fun, catchy music in the hardcore punk vein, we started Snakes/Sermons. Equal part Murder City Devils and Minor Threat, this music will make you pound a beer and then smash a bottle on your head, all why remembering the lyrics. Our debut EP is available digitally through Blackhouse Records. We are currently recording out follow up.
Sentient Divide
Formerly known as East Sherman, these guys and gal already have made a huge mark on the scene an outside it as well. Playing a form of blackened hardcore, this is pure unadulterated rage. No need for catchy choruses, just outright violence only slowing down long enough to very carefully batter your skull. They have already toured outside the scene a few times and are gearing up to hit the road again. FFO: old Code Orange and Nails.
Dark White Light
Heavy low end sound that reminds me a bit of older Mastodon, the riff is king on planet Dark White Light. Another band I have played with a million time but never get sick of hearing them. None of the dudes in this band drink anymore, which explains why they are so pissed. Check out the dates they have on the road and at home, as well as the track above.
Narrow Minded
Straight outta Walla Walla, Washington, these are the masters of the dark art of hardcore. Pound for pound the most pissed off band this side of the Mississippi. Keep your head on a swivel in a NM pit, lest it kicked off by a flying Van Dam kick. Get a taste of their art from their Bandcamp, but to get the full experience you need to see these maniacs live. FFO: Integrity and Knocked Loose.
Tagged: cold blooded band