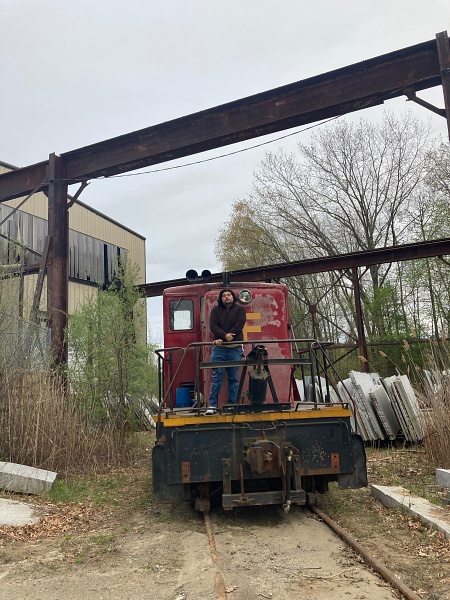 Jonathan Vahid is a photographer chronicling the hardcore punk scene in the Massachusetts region via his camera lens. Though we've certainly used his images on the site before, I didn't know anything about Jonathan so we set up a Photographer Spotlight to remedy that.
Where were you born and raised, and were your parents into the arts?
I spent the first 19 years of my life living in Chelmsford, MA. It's a generic outer-suburb of Boston located in the Merrimack valley area of New England. The only arts my parents were into was gardening. Not a traditional art form per say, but the way they treated our front yard and meticulously mulched and tended to plants was way more of an art form to young me than music or painting.
Besides that, the only concert my mom ever went to was Alice Cooper in 1978 and my dad mostly listened to Iranian contemporary pop when I was young and formed my own tastes.
What was your first musical love?
Pop-punk, for sure. My older brother was on our High School's cross country team and he picked up the music the other cross country kids listened to; Sum 41, blink-182, The Offspring, Avenged Sevenfold, etc. He used to blast all of the Need for Speed video game soundtracks in my dad's Toyota Camry while bringing us to the Savers in Nashua NH, where we would buy all the CDs with edgy names and provocative album art.
My favorite band out of all the usual punk/alt bands I found out through my brother was Sum 41. I genuinely think that the band alone is what got me in the right mindset to listen to Minor Threat and Gang Green and all the other hardcore stuff that's accessible before you get into the underground stuff. Ever Listen to their album Chuck? The whole album is straight up a melodic hardcore project. I genuinely think without Sum 41, I wouldn't have gotten into hardcore.
What is your camera and post set up?
I've been using a Nikon D850 since 2018, and for the first year or so with it I only used a 16-35 Ultrawide lens with it. I wanted to go for that fisheye effect you see throughout skater/punk culture since the '90s. A Lot of the iconic skate/BMX photographers in the '90s went heavy on their fisheye lenses and off camera lighting (I'll get to that in a bit) and I really liked the look made by those guys.
Starting in mid-2019, I got a 24-70 which I use about half the time now along with the 16-35; I think the First Have Heart reunion show was the first concert I used the 24-70 at.
Things start to get tricky when it comes to flash. I'm a big admirer of the wicked well lit "rock star" photos you see from the '70s. It doesn't matter how lame the person in the photo is, the lighting pops and complements the idea that "I'm a wicked cool rock star." Trust me, Lighting can change the mood or context of a photo drastically. That being said, I exclusively shoot with 2-4 off camera speedlight flashes being wireless triggered from my camera.
I normally screw my speedlights onto clamps which I attach to any clampable infrastructure the venue I'm at has. A lot of new technology has come out within the last few years that makes this much easier than it used to be.
I recommend checking out Godox products if you want to do any sort of off camera lighting, music related or not; they're cheaply made of plastic and break easily, but they work much better and are way cheaper than other industry standards like Pocket Wizards.
Who are some of your favorite bands to shoot?
Any band that puts the "BHC" logo on their merch [laughs]. But Seriously, all the contemporary Boston bands have gained enough of an audience that the same people will travel all across New England to see a basement show on a weeknight, just so they can mosh and sing along to their favorite bands. This creates the dynamic for the ideal photos I wanna take, both the band and the crowd rocking out together.
I guess I should say that its not necessarily Boston hardcore bands themselves I like taking pictures of, but also all the kids who go off when they play.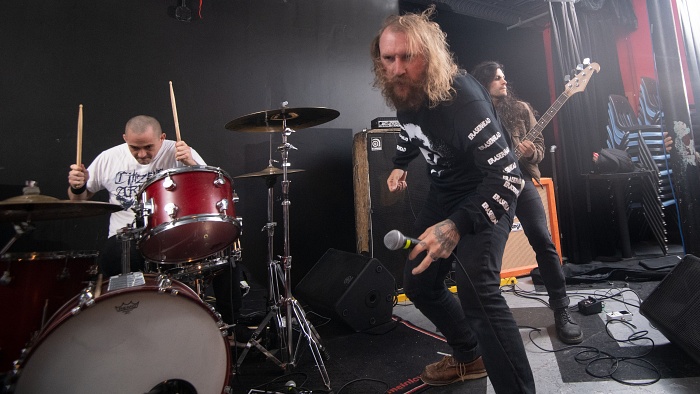 If you could go back in time, who are some bands that you would have loved to shoot?
Bridge 9 hardcore bands in the late '90s, early '00s. So many people have told me wild ass stories and crazy situations they and their friends got into while going to the Tiger's Den in Brockton and the ICC Church in Allston. I hope I'll have crazy stories like theirs I can tell to kids my age in 2041 when I'm old and jaded [laughs].
Before the pandemic, it was getting tougher to carve a space out at venues since there are so many more people shooting these days. How do you feel about that?
I think this is only true at the types of shows that are big enough to be held in an actual nightclub but are held at an Elks Lodge instead. Most DIY shows I go to in Boston usually only have 3-4 of the same photographers that understand how to not get into peoples' way.
When you have a bigger band playing at a DIY venue, lots of people who normally never show up to local gigs bring their camera because they know they don't need a press pass like if it was at a nightclub. This can be wicked annoying, but I don't think it's the new photographer's fault.
A lot of y'all piss me off sometimes, but I was just like you if not worse when first started showing up. Someone who is more articulate than me should write a zine or something detailing how to go about shooting at shows, because there is no how-to guide of how to act. I'll be the first to apologize here to everybody I got in the way of when I first went to shows.
I guess what I'm trying to say is that the reason people get pissed off at new photographers, including myself, is because they genuinely have no resources on how to go about keeping your space on stage, we just end up learning from trial and error which isn't the right way it should be happening.
Tell me about some newer bands that we should all be on the lookout for.
Check out all the bands being put out by Youth Distribute, a label putting out bands by youngheads, for youngheads. Also check out Higher Dimension Records, the tape label run by Matt McCarthy of Pummel, the Ill Communication demo is heat.
Who are some modern-day photographers that you admire?
Define "modern day." Art gallery directors consider stuff from the '70s as modern [laughs]. With that in mind, I have to shout out JJ Gonson and Phil 'n Phlash, the 2 OGs of Boston hardcore photography. JJ's post-Boston work with Kurt Cobain and Elliot Smith is wicked Iconic too, I'm a big fan of her work.
A modern modern day photographer I don't need to shout out but will anyway is Todd Pollock. The guy has been photographing bands since the '90s and still shows up to almost every local show. I admire that dedication a whole lot.
If you had to pick one of your photos that best encapsulates why you love shooting bands/artists, which one would it be and why?
Probably my Ecostrike photo from May 2019. I was having so many technical issues with my flashes; my key light wasnt triggering. I ended up taking one of my favorite pictures I've ever taken with those technical difficulties.
Murphy's Law (no, not the band) is very real, and sometimes when you work with what you have, you find out a lot of cool ideas you never thought about before, Ecostrike being an example.
***
See more of Jonathan's photos on Instagram.
***
Help Support What No Echo Does via Patreon:
***
Tagged: photographer spotlight