One of the things I love most about hardcore is that feeling you get when you get to watch a band from your area grow over time.
Fiddlehead has grown exponentially not only in popularity since their inception in 2014, but sonically and creatively. My journey with them begins at America's Hardcore Fest 2015, in the basement of the Elks Lodge of Cambridge, MA.
I remember being taken aback by how different they were from everything else going on that weekend. Without commanding the intense crowd reaction they do as of late, they managed to blow me away with a tight performance and a well-chosen Rites of Spring cover.
All in all, they established themselves as a pretty good band to me right away. Then in 2018, Fiddlehead dropped their debut LP, Springtime and Blind, at which point they graduated from "pretty good" to "fucking great". And if the transition from their first 7 inch to Springtime and Blind saw them go from good to great, then Between the Richness sees them go from great to iconic.
Every aspect of this record is dialed in to the millionth degree, thanks in no small part to producer Chris Teti, whose handiwork here deserves applause because he makes every song sound huge. The songwriting is sharper than ever with both the guitar work and vocals having an anthemic earworm quality to them. And the rhythm section is putting on a clinic the whole time.
Whereas some drummers are content to just lay a rhythmic foundation, Shawn Costa adds layers of rhythmic accents and tasteful fills that elevates every song while Casey Nealon seems to know perfectly when the song calls for a simple root notes bassline and when something more complex is what's needed. The dueling Alex's, Dow and Henery, are in rare form with their guitar work, blending into one another effortlessly.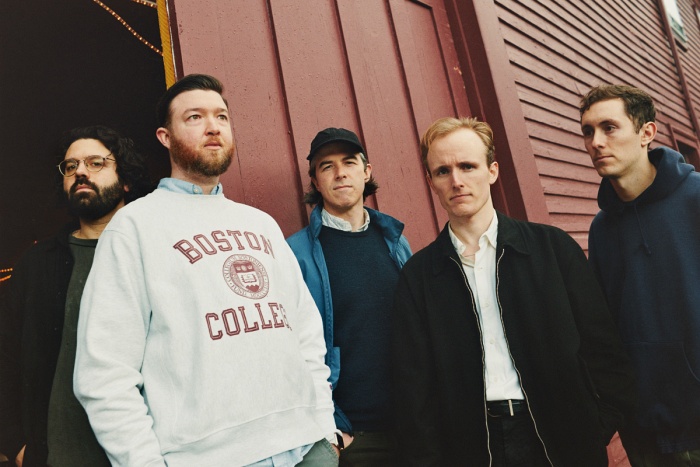 Henery also provides backing vocals much more prominently on this record, adding another layer of personality to the music.
But the real crown jewel is Pat Flynn's vocal and lyrical performance. Pat has never been shy about getting personal in his lyrics and this record is no different, touching on familiar territory such as his father's death and the uncharted territory of his own journey into fatherhood.
His vocals are also top-notch, with him truly belting it out on some tracks while also incorporating a gruffer style on tracks such as "Life Notice" and "Heart to Heart."
I'm going to start in a weird place with this record and that is at the end. Closing track (and second single) "Heart to Heart" is not only my favorite song on this record, and not only my favorite Fiddlehead song, it's one of the best songs I've ever heard period. I'm not joking when I say that this song is so good that I sent it to my parents and even they liked it.
The band is firing on all cylinders all over this record from track 1, but they had the good sense to save the best for last and I can only hope that this song becomes a live staple as a set closer when shows resume. I can only imagine how big the bridge and outro of "Heart to Heart" will go over live.
"When moon cracks in two/and sun freezes to blue/and winter burns up dry/with fireclouds for a sky/and night's without its stars/know you'll still have my heart"
These words, delivered by Pat in a snarl more reminiscent of his work in Have Heart, crescendo into a melodic sing-along that I can't hear without picturing a flurry of stage-divers flying at my head. But moreso than that, the weight of the words resonates with me.
The entire song reads like a letter to Pat's child and any future children he might have, a time capsule through which he hopes to always be with them even though time and death make fools of us all. It's a moving song in an album that is full of moving songs.
The ending of "Heart to Heart" brings us neatly back to the beginning of the record. A sampled voice saying "I carry your heart, I carry it in my heart" is the same voice that opens the record. "Grief Motif" serves as more of an intro clocking in at 1:13, but it's an effective one. A simple ode to falling apart in the wake of the death of a loved one, it flows neatly into "The Years" which continues this theme of carrying that pain while trying to move on.
"Million Times" tugs at the heart strings with its tale of on-again off-again romance, over shimmering guitar lines courtesy of Dow/Henery. "Eternal You" starts out with a driving verse and chorus, but goes into a coda that seemingly calls back to an old Fiddlehead riff, from the track "Stay in the Blue," over which via spoken word, Pat tells us of his friendship with his best friend Ryan that goes back to middle school and of hoping to watch his own child have a friendship like that.
"Loverman" starts out with a bass intro that recalls the best post-punk of the '80s and even manages to sneak in a quick simple guitar solo over a mid-paced groove. "Life Notice," which debuted to the world via a live video of the band playing LDB Fest, is possibly the most sonically aggressive song on the record, returning to the theme of grief via cathartic celebration of the life of a friend gone too soon.
"Down University" and "Get My Mind Right" impress with big choruses and big riffs while a track like "Joyboy" hits you in a much more understated manner, acting as a mellow palate cleanser following the aggression of "Life Notice." Which more or less brings us back to the end but this record has a replay value that feels instantaneous so it almost never really ends. It ends when you choose to walk away from it which is not a moment I foresee for myself anytime soon.
Fiddlehead didn't just successfully follow up their impressive debut, they topped it and are now in the rare position of having two classic records back to back. Get on board now because when shows come back, this will be one of the bands to watch for sure.
Get It
Tagged: fiddlehead