The pandemic lockdown has yielded the formation of so many bands covered on No Echo in recent memory, and California's Caged View is no exception. "I had been itching to play music again for a number of years and had songs written that weren't exactly comparable to anything that I had done before; basically, it was more aligned with '90s post-hardcore than some straight-up hardcore," guitarist Duane Harris tells me.
A veteran of such bands as Allegiance and Internal Affairs, Duane is joined in Caged View by fellow guitarist Ross Trenary (ex-Allegiance, Some Still Believe, Sacred), bassist Mike Quirk (ex-Allegiance, Some Still Believe, Set Your Goals), vocalist Pat Piccolo (ex-Embrace the End, Beneath the Ashes), and drummer Joey Raygoza (ex-Skin Like Iron, Lies, Crucified), who is also currently playing in King Woman.
Duane picks up the story: "Years before, I played in a band with Joey that never quite got off the ground and I knew that I enjoyed playing with him, plus I love all of his bands, so naturally, I hit him up to see if he was interested. For the longest time, it was just Joey and I jamming in my practice space and during this time, we wrote a lot of music. Hell, there are songs written that didn't even make the demo. Once people started getting vaccinated and everyone got a little more comfortable being social again, we began the process of putting a band together, which took a long time, due to a variety of reasons.
"Long story short, Ross (guitar) and Mike (bass) joined the band—we all played in Allegiance and SSB together, so I already knew that they are great musicians and that we work well together. Vocals were the last piece of the puzzle, and the most difficult. It took some time but we eventually recruited Pat to sing. We were all familiar with his vocals in Embrace the End and Beneath the Ashes, which were more aggressive in a metal sense, so we didn't know how they'd translate in this style, but after a couple of practices, he started getting the vocals dialed in and it was apparent that he was what we were looking for!"
Since forming, Caged View have released two demos, one in September and the second in October:
Duane offers his take on the group's sound: "I can only speak for myself, but I know that when I started writing the music, I wanted this to be a band that was very much rooted in hardcore, but could play any kind of show—hardcore, punk, metal, rock, etc.—and it wouldn't be weird. From the feedback I've received, I feel that we may have done just that, or at least we're moving in that direction.
"While writing the music, I'd say that I was listening to a lot of early Quicksand, Fugazi, Fuel, Into Another, late-Turning Point, Samiam, Statue, Revolution Summer bands, and even Jawbreaker. Joey and I were also listening to a lot of Helmet and Hum while writing a lot of the early tracks, so those bands definitely influenced us as well."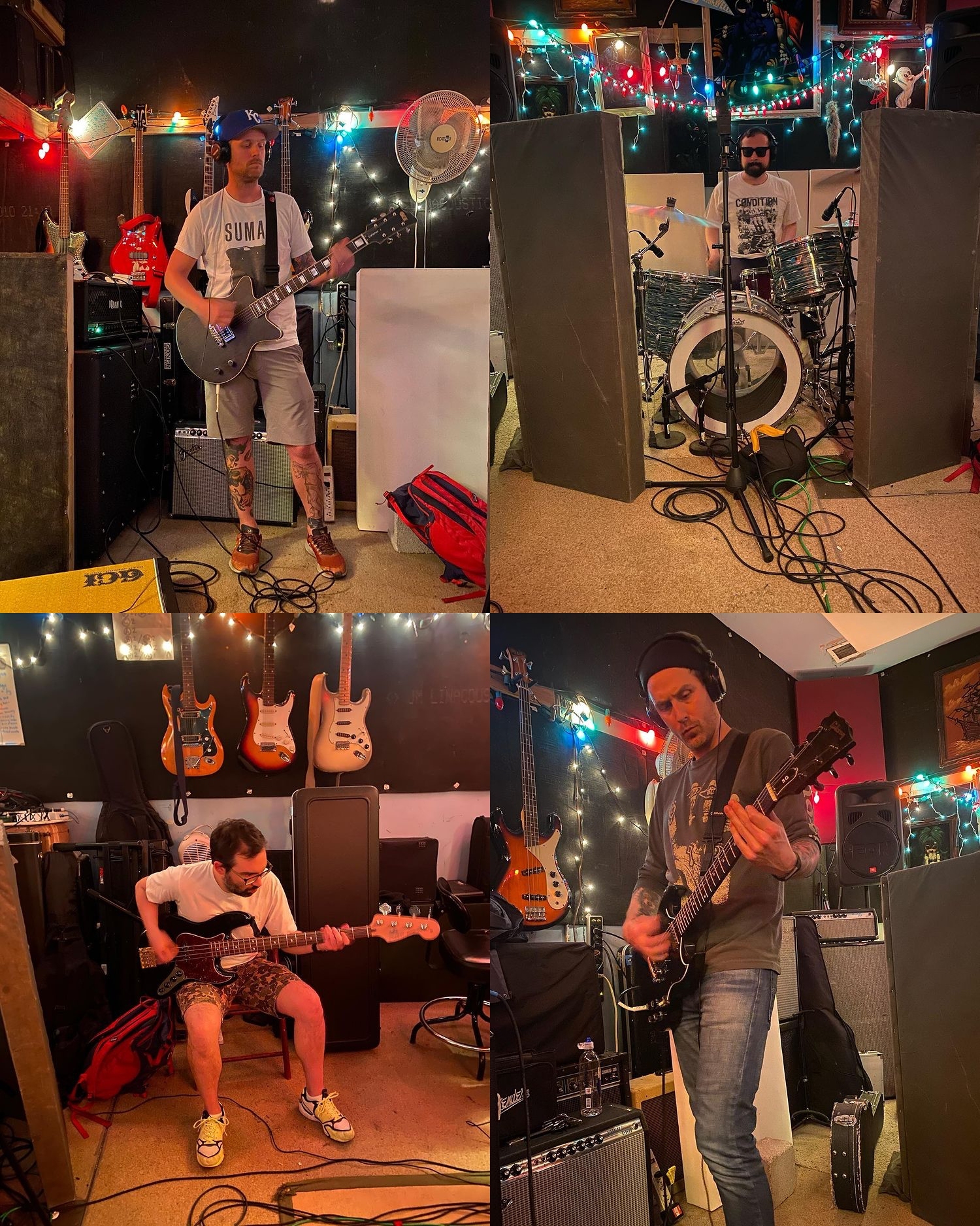 Vocalist Pat Piccolo says the following about his lyrical contributions to the Caged View project: "I really wanted the lyrics for this demo to be positive and optimistic, but not ignoring the rough or dark. I hope anyone listening to these songs hears the lyrics as specific, personal, relevant, and authentic.
"I know the songs focus on ideas that are important or personal to me, like community building and compassion; or things as mundane as paying rent, or as specific as writing on trains, and the ongoing search for a place that feels like home."
Going back to Duane, I asked him for his thoughts on the hardcore scene in his neck of the woods. "It seems as if the Bay Area/NorCal always seems to have great bands. My favorite local hardcore band is easily Urban Sprawl, who have a record on Revelation that rules. Some others that come to mind are Tørsö, Scowl, Defective Chain, and Discourage. I recently heard a new band Bay Area band called Bite the Hand and they rip. Also, we have the one and only Powerhouse back, which is so awesome. I don't believe that they are going to be regular functioning bands, but Second Coming and Sabertooth Zombie have shows in the future, which should be a lot of fun.
"Lastly, I wouldn't necessarily call them hardcore bands, maybe more 'hardcore adjacent,' but Spice, No Lights, M.U.T.T., Spiritual Cramp, and even King Woman are all great Northern California bands. I'm not sure where Caged View fits in with all these bands that I've mentioned, but that's entirely cool by me."
Caged View on social media: Instagram | Bandcamp
***
Help Support What No Echo Does via Patreon:
***
Tagged: allegiance, caged view, internal affairs