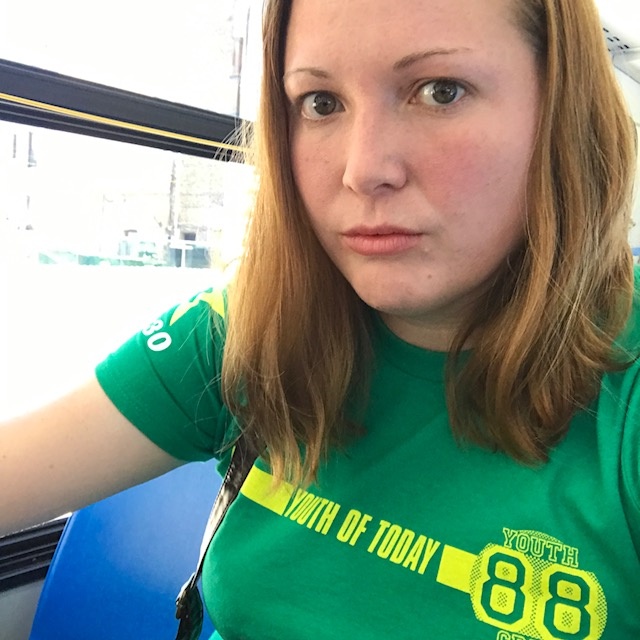 Shandelle Schirmer currently resides in Chicago, but after spending 34 years in the Midwest, she's soon relocating to the Pacific Northwest where she's looking forward to making a new home in Portland. She's been active in the Instagram vinyl community for about a year and a half where she shares photos of her ecelectic music collection.
It was my pleasure getting to know Shandelle better in this new Record Collector piece.
How long have you been collecting records?
I started buying records in the mid-'90s as a teenager but that was mostly for novelty reasons, so a lot of them I never even opened because I had them on CD or cassette. I got back into record collecting a few years ago after about a decade of not buying any. My father is an avid music fan and gave me a turntable and component stereo when I was only 13. Around that time, he also started taking me to record conventions around Indianapolis where I grew up. Like most kids my age at the time, I was very into alternative rock and my absolute favorite band was The Smashing Pumpkins. I was a big collector of their merch in general including vinyl and would seek it out online in the very early days of the internet, often mail ordering stuff from record shops all across the US. I recall ordering from Amoeba in California a lot back then. Today, many people know me on Instagram for posting a lot of old, original press Pumpkins records even though I mainly buy and collect hardcore and metal records now. I stopped buying records around 2001 when I started college and started back up in 2015, so I've been trying to find a balance between picking up new releases and back buying old favorites.
Where/how do you usually find your records these days?
I buy way more than I should on Discogs because I find myself trying to make up for so many years of not buying records and wanting the immediate gratification of having something rare or hard to find. Of course, I love digging at shops around Chicago, where I currently live. Reckless is probably the most well known to people as they have three locations here. When I travel, I try to seek out local shops to see what I can find. I mail order fairly often from Deathwish, Revelation, Southern Lord, etc., and pre-order directly from labels/bands as well. I've even bought a few things off eBay. Since I'm still building my collection, I haven't really traded with other collectors yet even though I've had tons of offers to trade and/or purchase some of my old stuff. But honestly I don't think I could ever sell any!
What is the most you paid for a single record, where/how did you obtain it, and what was it?
I have a few things I've paid quite a bit for. Even though I mostly post hardcore records on social media, my music taste is really extremely varied. I paid around $150 for a original press Trainspotting soundtrack a few years ago. It's a franchise I've been super into since the '90s and it's one of the best soundtracks of all time, in my opinion. As far as hardcore records, I really don't have too many rare things. I paid $90 for my Document #5 LP by Pg.99 earlier this year and quite a bit for my Hope Conspiracy and OP Cave In albums. It seems like everything eventually gets repressed so I try to only shell out a lot for stuff I really, truly want to have.
Of everything in your current collection, what is your most prized record and why?
Probably my second press copy of Life. Love. Regret. by Unbroken just because that is such an influential and important record to me. In my opinion, one of the top hardcore records of all time!
Is there anything that frustrates you about the current record collecting scene?
Like many, I can't stand it when people buy things just to flip them for huge profits and take advantage of collectors. I appreciate it when labels or shops put limits on online orders to try to prevent that. I'm just as guilty as most of over paying for items on Discogs just to finally have them but I hate seeing people deliberately listing things for 3 or 4 times the average selling price just because they have the only copy up for grabs at a given time.
Are there any records that you've had a tough time tracking down?
Well, I think Discogs makes it pretty easy to track down just about anything you could possibly want. That aside, the hardest to obtain records for me were the first two Hope Conspiracy albums. They only get put up for sale a few times a year and they sell virtually immediately every time. I just got very lucky that Coldblue and Endnote both came through in my for sale email late at night when I was still up and I acted quickly. Obtaining the Pg.99 Documents 2 through 14 was quite the project. One record that is forever missing for me is Beyond Hypothermia by Cave In. But that's just because it's so expensive.
***
Follow Shandelle on Instagram.
Tagged: record collector