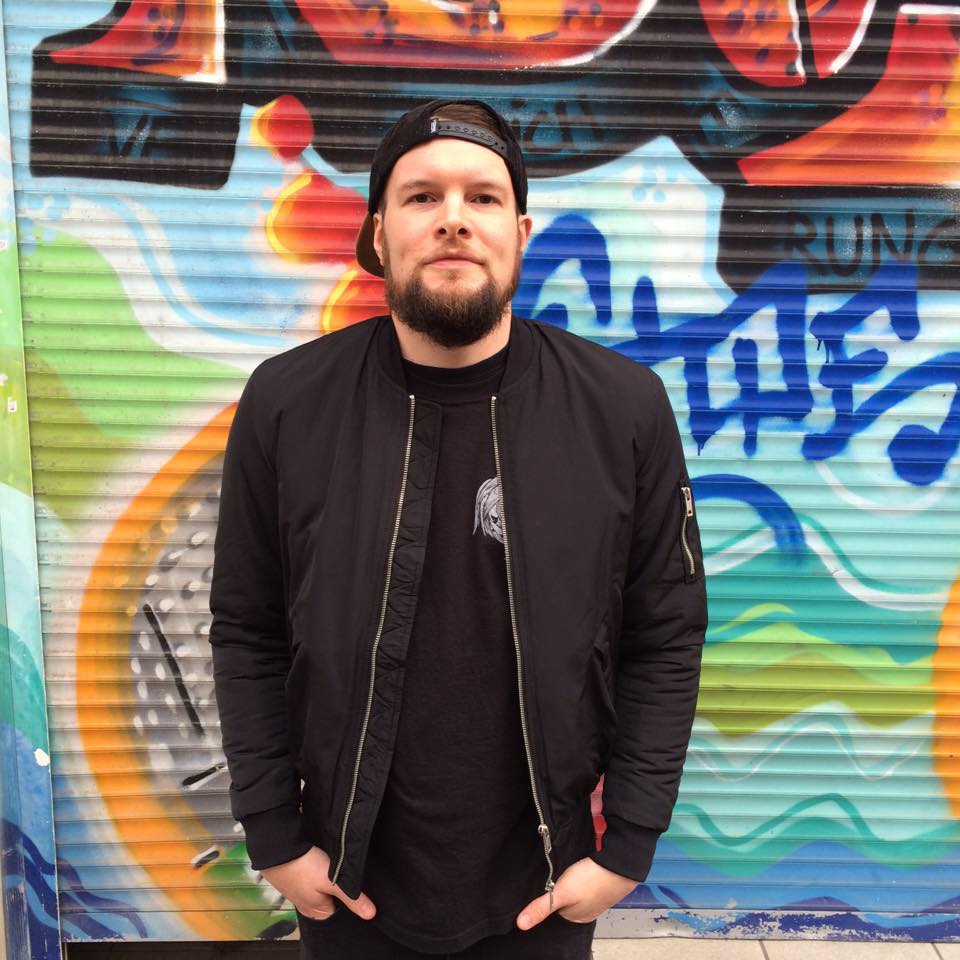 Pol Linster was born and raised in Luxembourg, and currently lives in the artistic epicenter of Berlin. An office manager for a communication agency called Zum goldenen Hirschen Berlin Gmbh, Pol loves collecting vinyl, so he's the latest person to join our little club.
How long have you been collecting records?
I've started collecting records almost 10 years ago, around 2009, back in the days when I was working for a German record store and mailorder (Flight13). It all started with The Alchemy Index from Thrice, which Vagrant put out as a nice 10" book with four different colors, representing the four elements: fire, water, air, and earth. It was easy for me back then to put my hands on that record because of my workplace. From that point on I slowly started buying more and more records. Again, working for a mailorder did help the cause, because I could get the records for a decent price. Not only did I buy new releases on vinyl, but I also bought more and more releases I already did own on CD. It all started with CDs when I was a teenager. I did buy so many punk rock, hardcore, and emo CDs, so that my collection grew more and more. At one point I stopped buying CDs and switched completly over to vinyl records.
Where/how do you usually find your records these days?
I think besides Facebook, Twitter, and/or Instagram, the forum Vinyl Collective is my main source to find out about new releases/pre-orders. This year, for example, I did find out about Fiddlehead through Vinyl Collective (by the way, you def. should check out their latest output). As for buying/ordering records, I mostly buy them directly from the label or their European distribution. More and more record labels like Run for Cover Records, Pure Noise Records, Hopeless Records, and Fat Wreck Records have European partners nowadays, where you can buy the most limited version of a record without having the trouble to go to the customs office. But I also support independent mailorders and record stores in Germany like Flight13, Per Koro, and Bis aufs Messer. And then the usual Discogs/eBay or vinyl forum thing when I want to get an out-of-print record.
What is the most you paid for a single record, where/how did you obtain it, and what was it?
Well, the most I paid for one single record was 110€ (about 130USD). I didn't want to pay that much for it, but it happened twice. I did bid on two Alexisonfire records, self-titled and Watch Out!, and I didn't think I would end up as the winner of the auction, but somehow I did. That's the story behind the most expensive records I did buy. Alexisonfire was and is one of my all-time favorite bands. Their first two albums were released by the now defunct German label called Defiance Records and the pressing was limited to 500 for each album. Funny thing about it is, that Dine Alone Records re-released the albums a few years later, which of course I had to buy as well.
If you had to pick one record label you feel had/has the best track record of quality releases, who would that be and what are some key titles you love?
It's Run for Cover Records for me. They've released some of my most beloved records and somehow, they did that when I really started buying more and more vinyl records. RFC did have a strong roster back in the days with bands like Transit, Title Fight, Man Overboard, Fireworks, Basement, Turnover, Citizen, The Wonder Years, Daylight (Superheaven), Hostage Calm, and so on. There was a time when I would buy everything that was released by them, even without knowing the band. As you can see, I totally dig that emo/pop punk sound and so RFC was like a gold mine for me.
My top Run for Cover picks are:
Basement's Colourmeinkindness, which is a record I could put on every day and still wouldn't be bored. I was so happy, when I did manage to snag the record release version of it directly from the band.
Man Overboard's Real Talk is one of the best pop-punk records out there, with incredible hooks. "World Favorite" was one of the first songs I put on a mixtape for my fiancée, so every time I hear that song I immediately think about the beginning of our relationship.
Daylight's Jar is another perfect record from the beginning till the end.
Of everything in your current collection, what is your most prized record and why?
Man, that question is a tough one. I believe there isn't that one most prized record in my collection. I have a few one, and almost every time, there is a story connected to it. One of the most prized records for me is the first pression of the first City and Colour record called Sometimes. That one was tough to get, because it was a Canadian and American-only Record Store Day release limited to 500 pieces. I was lucky enough to have a Cacebook friend (Hi Zeek, if you are reading this) who got me the record. I was so excited when I got it two months later. Vinyl forums are a good way to connect with people who can help you out getting a record, without paying the prizes on the secondary market. I made a few great deals through these forums.
Is there anything that frustrates you about the current record collecting scene?
Well obviously like most collectors would say, flippers frustrate me the most in the current record collecting scene. They take away the chance for the collectors to get the most limited variant of a record in order to make big money for themselves.
Which records are still on your want list that you've had a tough time tracking down through the years?
There are way to many records that are still on my want list. Lately I've became obsessed with the albums Fat Wreck did put out in the early '00s. I'm tracking down the colored versions of these records, which are hard to get because normally only around 200-500 were pressed at that time.
My main wants at the moment are probably these two:
Basement, I Wish I Could Stay Here (Record Release Cover and Tour Edition Cover)
Alexisonfire, Watch Out! (Pink Marbled)
For other wants, you can check out my Discogs.. you'll find me there under "Putol."
***
Follow Pol on Instagram.
Tagged: record collector