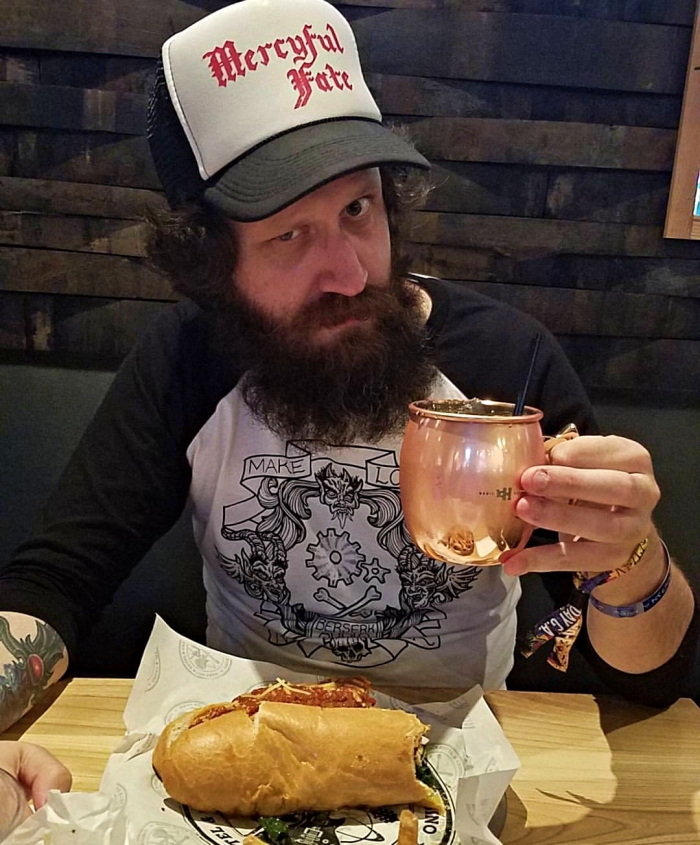 John Bultena resides in Merced, CA where he's a Merritt Writing Program Lecturer and Social Media Manager at University of California Merced and Merced College Reference Librarian. Yes, John's a smart dude, but he's also got great taste in music. One look through his vinyl collection will show you he's into everything from trad-metal to soundtrack scores to industrial, and other micro-genres in between. In addition to his musical loves, John's also passionate and knowledgable about Dungeons & Dragons, so much so that he runs OnlyPlayWizards.com, a blog dedicated to that world.
Today, John's joining No Echo's Record Collector club, surely a highlight for any music head. Right? OK, just kidding.
How long have you been collecting records?
Surprisingly not long, but I use to have a large CD collection of mostly industrial, EBM, goth, deathrock, and the like. There were a few vinyl records I had, but just to collect, never played them. I started genuinely collecting vinyl in 2014. I would go record shopping with my buddy, J.H. Williams III, before I got my own table and it was a blast. Loved seeing the artwork big, the different pressings and the like. I gave him a record, Usnea's album, Random Cosmic Violence. He did not care for it and gave it back to me to give to someone who might like it. Well I bloody love that album, so got a cheap turntable and started up. From there I was hooked! But I have always had something I've collected: stickers, cards, comics, what have you.
Where/how do you usually find your records these days?
Mostly online, either from the labels direct or Discogs. But there is a killer local record store, Tigers & Daggers, that my buddy, Travis, owns. I have gotten some good finds there. If I'm in the mood to dig, I'll hit up the local antique mall, managed to snag a lot of early L7 and Hole, all original pressings, for peanuts. That was a good day. My wife is big into thrift and antique stores, so when we go together I can dig in whatever the shop may have. But when in the Bay Area or Los Angeles, I'll almost always hit up Amoeba, Rasputin, and other small shops like Bionic Records in Buena Park or Red Devil Records in San Rafael.
What is the most you paid for a single record, where/how did you obtain it, and what was it?
KMFDM's Kickin' Ass. Got an original pressing of that back in 2003 from a bloke in Germany who just had it on his store shelf for the last 15 years. Think I paid $120 for it. Snagged it via eBay. I was a diehard KMFDM fan back then and was trying to get my hands on then. I got it signed by Sascha Konietzko and Raymond Watts in 2004. Sascha said he had not seen a copy in person in 15 years.
If you to pick one record label you feel had/has the best track record of quality releases, who would that be and what are some key titles you love?
Ván Records out of Germany. I have nearly 60 items from their catalog. Bloody great service, the most reasonable shipping prices from Europe to the US, and always well packed. Key releases are all the (Dolch) stuff. Gold is a crucial band that everyone needs to listen to, their entire discography is just riveting. Atlantean Kodex's The White Goddess is an epic. That Nagelfar 11-disc box set is insane! Both the Attic albums are masterpieces. By far the best thing they have put out is Tarot's albums, The Warrior's Spell and Reflections. And of course everything King Dude does is pure sex. I could go on...
Of everything in your current collection, what is your most prized record and why?
Current 93 - Lucifer Over London. That song absorbs me emotionally, spiritually, aesthetically. Took me a while to find a copy of that in reasonable shape and for a solid price, but I did. Think I got it from Permanent Records out of Los Angeles. I love this track and David Tibet so much! I even have the cover art tattooed on my left shoulder.
Is there anything that frustrates you about the current record collecting scene?
I could go on about flippers, but we know the issues with that, though I believe it is diminishing. My main issue is with labels, online shops, and individuals that do not know how to pack records well. There are good practices and there are awful practices. At the same time, it is the lack of understanding about how records travel and the standard damages that will occur. It is all just part of the game, but some folks can do a lot better. I have literally gotten international packages with vinyl records in it where they were not even taped/glued shut and by some grace did not come open in shipping. Mind boggling!
Which records are still on your want list that you've had a tough time tracking down through the years?
None. One of my masters degrees is in library and information sciences. I work as a librarian, meaning I got trained how to be a search ninja, to use Nicolette Sosulski's phrasing. That means that if I don't know where or how to find it, I know how to find someone who can. I grasp deeper resources and alternative, non-conventional methods of research. There are about six shops online I check once a week for records I'm keeping an eye out for. But if I really need to find something I resort to my librarian resources and skills to track my quarry down. That is part of why I dig collecting vinyl so much, it fosters my want to curate, catalog, and acquire, so as to fully enjoy a collection.
***
Follow John on Instagram, and if you dig Dungeons & Dragons, make sure you check out his Only Play Wizards blog.
Tagged: record collector