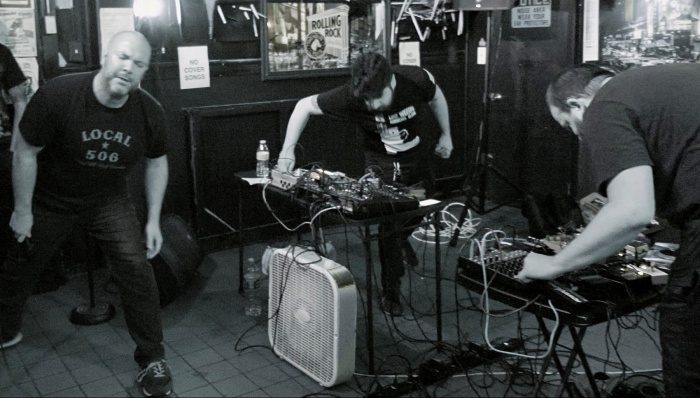 Bricks is a trio based out of Pennsylvania conjuring a sonic attack that fuses elements of industrial, grind, and noise. Their latest collection, Opposite of Icarus, just dropped a few days ago, and if you're into any of the stylistic worlds No Echo just used to describe the group, Bricks deserves your attention. "Chris and I have been friends and collaborators since about 2013," says Bricks member Billy Pizarro.
"We were on our first tour together as solo acts when we played a show in Pottstown, Pennsylvania with Ry's project (Italics). Fast-forward a bit: after the dissolution of our guitar noise trio, Arterial, Chris [Christopher S. Feltner] approached me ab out a new project he wanted to pursue under the name Bricks."
Chris takes over: "I really enjoy Sissy Spacek's grind albums and wanted to do something like that, but instead of using instruments, the noise would be the instruments except for beat patterns made on a drum machine. I had a third member in mind, but I was really disappointed in a live performance by this person, and it made me doubt whether they'd be right for Bricks.
"At a fest we played, Italics was killing it, and Billy texted me from across the room, 'What about Ry for Bricks?' It made perfect sense!"
Each of the guys in Bricks have their take when No Echo asks them to describe their collective sound. "Our influences are all over the place among us," Chris says. "The only common one would be Sissy Spacek. I had two people describe us in very different ways. One guy said we sounded like Godflesh. Another said we reminded him of Full of Hell." Billy keeps it simple: "Noise rooted in grind, power violence, and '90s hardcore."
Meanwhile, Ry Sikora goes deeper when explaining the Bricks sound: "Three disparate souls howling into the same chasm. A soundtrack for an apocalypse."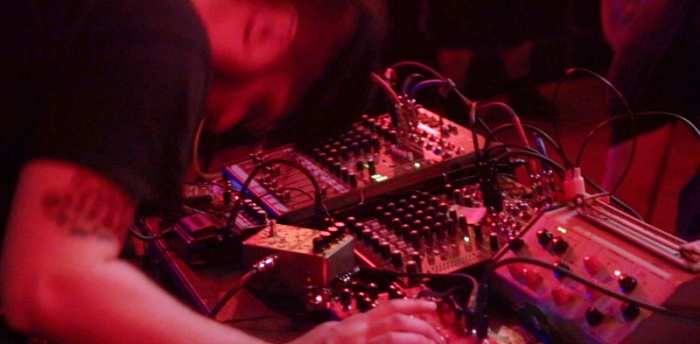 Billy talks a bit about the Opposite of Icarus EP: "I had expressed interest in doing a straight up power electronics EP, so we got to work. It started with Chris sending me vocals and samples. After that I started building layers to go around that. I mostly used the Alchemy synth for drones and percussion, a Trogotronic 669cv, field recordings and tape loops. Once I had a solid foundation, I added Ry's contribution to the mix which really glued everything together."
After Billy explains that the band hasn't had a chance to play out often yet, Chris offers up some thoughts about Bricks and their future in that regard. "We were going to pick up the pace more this year, but COVID took care of that. Bricks is a band that shouldn't work. We don't write together or practice since we live a a distance apart. We rarely perform. When we do, it's up to each of us to do our part in preparing alone. But, somehow it works, and increasingly so."
Bricks will be releasing a new record called Humanity Is a Sinking Ship coming out soon via Flag Day Recordings:
Opposite of Icarus is available now via Forever Escaping Boredom.
Bricks on social media: Facebook | Bandcamp
***
Donate a few bucks to help with No Echo's operating costs:
***
Tagged: bricks