"My previous band, Break Away, had broken up, and the project I was working on, Neuromancer, had fallen apart," says vocalist Ace Stallings about his latest band, ​Mutually Assured Destruction. "I thought I wasn't going to play in bands anymore, but even just a few months of not playing and writing started to get to me. The previous fall I had done a Misfits cover band with some friends and because of this, people told me I should sing in a band akin to how Danzig sounds. I thought doing something in the vein of Life of Agony, Only Living Witness, or War Hungry would be a nice cross section sonically.
"To make a medium length story not overly detailed, I ended up thinking of the most talented (while also having free time) people in Richmond hardcore and hit them each up individually to see if they would be interested in doing something like this. Groater [Ryan Groater] had a lot of experience between Down to Nothing, Fire & Ice, and Bracewar. Tyler [Wall] had written some really prolific stuff while he was doing Holy Land. Eric [Hoyt] and I had played with for years in Break Away (he was also in Holy Land) and J.D. [Cichocki] was practically a member of Break Away towards the end as well. These guys just seemed like the proper combination of people and it has been a dream playing with them."
I'm speaking with Ace (who is also a No Echo contributing writer) on the eve of the release of Fever Dream, Mutually Assured Destruction's new EP, and their second collection of songs since forming in May of 2019.
Like Ace mentioned, Mutually Assured Destruction is melodically-minded when it comes to the vocals, something very different from his previous vocal work in Break Away and the short-lived Neuromancer. "For about 8 years I was in a very straight-forward hardcore band," the singer tells me. "This was on purpose. From the name, to the imagery, to the content; I wanted to do something that was definitely straight edge hardcore in sound and presentation. After doing that for so long, I personally wanted to do something that was entirely the opposite.
"I wanted to do something that draws influence from many different genres and ideas. Albeit it isn't in the sound, a few of us listen to a fair amount of black metal; we like doom metal, stoner rock, traditional heavy metal, the list goes on. We try to incorporate these influences into our music while maintaining at least some kind of footing in the world of hardcore."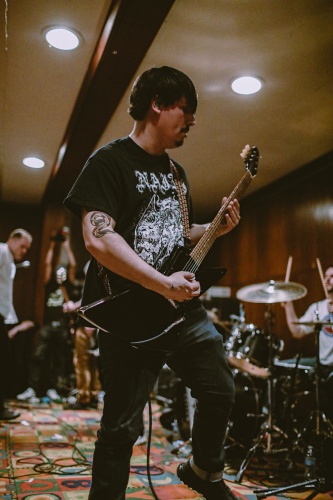 I nudge Ace for share some thoughts on where he was pulling from for the inspiration behind songs like "Master of Misery" and "Exhale" on the new EP: "Last year was a fairly tough year for myself mentally. 'Master of Misery' was essentially about being self destructive, being the master of one's own misery. 'Find me a prize and I'll smash it to hell' is like saying 'Present me with some kind of opportunity or good choice and I'll find some way to sabotage it subconsciously,' 'Exhale' is about not wanting to exist and the exact moment of making a decision to take one's own life. It seems trite, but I've struggled with this here and there and never really expressed this in song.
"What's interesting about this release is that so much of the lyrical content is about conversations with oneself that are bleak and nihilistically contemplative, but because of how much personal power m.a.d. has given me and how well it has been received, I really feel like I'm in the best place I have mentally been in some time and I owe it to the power of expression through this band. Sometimes just getting something out you've locked away is helpful. The time that has elapsed since these lyrics were written has been one of growing and changing into a better and more aware person."
Fever Dream is available now on Mutually Assured Destruction's Bandcamp page. Check out the band's upcoming shows below, and Ace also told me that a weekend is also in the works for the Northeast in late April.
Mutually Assured Destruction live dates:
2/20 - Richmond, VA @ The Camel w/ Bracewar, Division of Mind, Combust
2/21 - Nashville, TN @ The End w/ Incendiary, Division of Mind
2/22 - Atlanta, GA @ The Bakery w/ Incendiary, Division of Mind
3/9 - Chapel Hill, NC @ Local 506 w/ Terror, Kublai Khan, Magnitude, Restraining Order
4/3-4 - Richmond, VA @ United Blood Festival
5/9 - Richmond, VA @ The Camel (record release party)
***
Donate a few bucks to help with No Echo's operating costs:
Tagged: mutually assured destruction