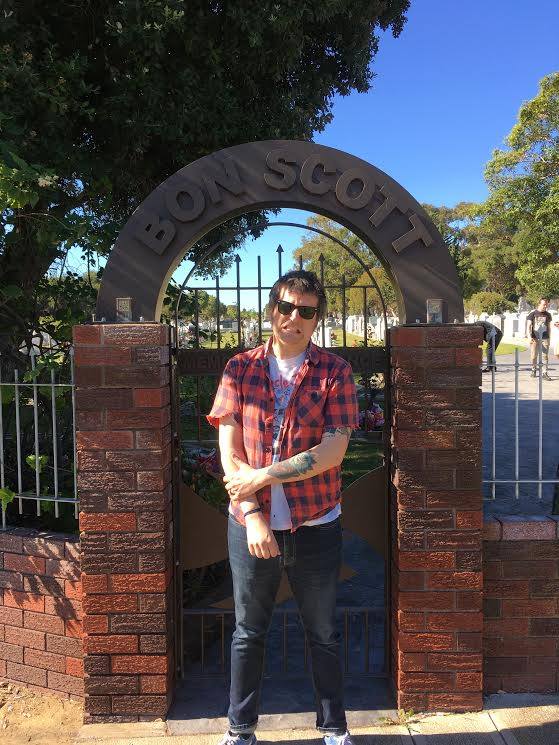 Brian Gorsegner is the vocalist of Night Birds, an American punk band with hooks for days. Their latest album—2015's Mutiny at Muscle Beach—was produced by my old friend (and collaborator) Chris Pierce and got a ton of play in my house, and also inspired New Noise Magazine to call it "the most important release" from Fat Wreck Chords "in many years."
In addition to his work with Night Birds, Brian is also an avid punk collector, and he shares many of his finds, plus stuff he wants to sell, on his AncientArtifax Instagram page. Stumbling upon both his memorabilia and personal pages recently, I knew it would be killer to have Brian join No Echo's Record Collector club.
How long have you been collecting records?
I had started acquiring punk records in 1997, but not actively collecting until more like 2002.
Where/how do you usually find your records these days?
eBay and word of mouth. Buying a collection from someone and treating them well/giving them a good deal and then they pass my info to a friend.
What is the most you paid for a single record, where/how did you obtain it, and what was it?
I bought two copies of the Misfits Cough/Cool single in the same week, each for $900, because even at that point that price was a steal. Other copies were selling around that time for $1,500, each. I bought it off of eBay, and the guy mentioned in a message he would be listing another, so I just asked if I could buy both. I kept one and traded the other to my friend for the original (and only?) set of acetates for Black Flag's Damaged album which he had gotten from Spot.
Of everything in your current collection, what is your most prized record and why?
Big Boys' Frat Cars single. Purchased from an old roommate of Biscuit's. At the time, Biscuit was doing all the hand coloring of the back sleeves. This guy was a huge fan of Biscuit's art, but didn't care about the Big Boys music, so it was never played. He said he chose his three very favorite ones out of all the copies that were sprawled all over their house and held onto em for a bunch of years, and a friend and I each bought one. I'm a huge Big Boys freak and fan of Randy "Biscuit" Turner's artwork, so that's as good as it gets in my opinion.
Is there anything that frustrates you about the current record collecting scene?
No, not really.
Which records are still on your want list that you've had a tough time tracking down through the years?
Dicks' Hate the Police and I really want a GG & The Jabbers Bored to Death to wrap up my early GG collection.
***
Follow both Brian's personal and Ancient Artifax Instagram pages. The Night Birds can be found on that thing known as Facebook.
Tagged: brian gorsegner, record collector