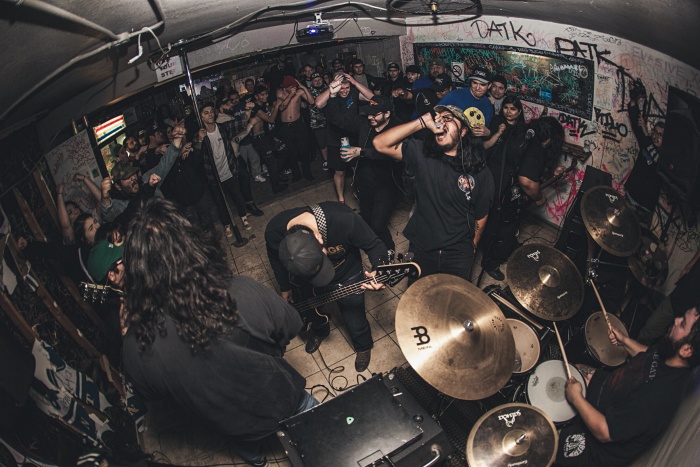 When I ask Lower Depths guitarist Josh Tramel how he would describe his band's sound, he hits me with "crossover sludge." I've never heard that descriptor used before, but I instantly understood what homeboy meant. "The original concept of sound was something like 'groovy crossover,' mixing what we loved in classic crossover/thrash and adding hints of groove metal and modern hardcore," said Josh.
Formed in 2015, Lower Depths recently dropped a record, Purification Through Self​-​Sacrifice. "The record was written over the course of two years. On the instrumental side, most of what we did was bring a certain idea or riff to the table that we individually worked on, and then improvised with each other, sort of like a freestyle session, until we produced a basic song skeleton. We would either revisit that same song over and over until we felt like it was complete or move on to another song. Some songs came from a completely improvised jam session, and some songs were stemmed from riffs that were fully composed and just constructed, or re-worked, into a full song."
Going back into their influences, Josh gave me some background on he and his Lower Depths bandmates developed their shared musical tastes: "Growing up, most of us listened to a lot of metal. Eventually, our tastes branched out, some more drastic than others. At some point in our lives, though, we stumbled upon hardcore. That was our common ground.
"We all wanted to meld our love for metal, and our love for hardcore. As our writing matured, and our need for originality grew, we naturally experimented with our other influences. It's a basic formula, but if you're ignorant to the sound or elitist with the genre, it doesn't work. We make it all work somehow."
Josh also wanted to let No Echo readers about some of Lower Depths' friends from the San Antonio scene: "Locally, we'll always have a deep connection with SA bands like Blackhand, Bloodhound, Heathen Prayer, Afflictive Nature, Life Cycles, Surplus, Nemesis, Backlash, and Sheer Force. Some of these guys we've known for forever. Some are younger cats that we've met over past few years, and have grown on. Sledge, from Oklahoma, was one of those newer bands that we constantly played with when they came through. Even though our styles are different, we somehow meshed well with those guys.
"Many many bands that we've met, and bands that we've gained friendships through. Barbarian, from El Paso, is one of those bands that we go way back with."
Lower Depths social media pages: Facebook | Twitter | Bandcamp
***
Donate a few bucks to help with No Echo's operating costs:
Tagged: lower depths