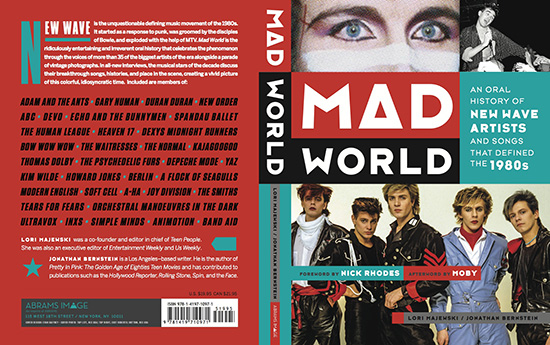 When I was a little kid, in the early to mid-'80s, I was a huge fan of the new wave artists that radio stations and MTV had in constant rotation. Radio formats weren't so fragmented back then, so it wasn't uncommon to hear, say, A Flock of Seagulls song after the newest single from the J. Geils Band. In other words, it was music geek nirvana.
Co-written by veteran music journalists, Jonathan Bernstein and Lori Majewski, Mad World: An Oral History of New Wave Artists and Songs That Defined the 1980s is a new book that documents the era via new interviews with 35 of the most notable artists of the period. The book features members of acts such as Duran Duran, New Order, and Thompson Twins, sharing their firsthand accounts of the new wave music explosion. Mad World is stuffed with the kind of trivia-filled stories that will appeal to anyone who misses Night Tracks, Trouser Press and John Hughes films.
With Mad World recently hitting stores, I chatted with Bernstein to get the skinny on the book.
I love musical oral histories when they are focused on a specific scene/era. What made you and Lori decide to go the oral history route on Mad World?
We actually didn't think we were writing an oral history! Our intention was to concentrate on the people directly responsible for the songs rather than mold a narrative from a multitude of voices. But it says "oral history" on the front so I guess that's what we did.
How long did it take you to finish the book from concept to delivery?
It felt like 800 years but it was a reasonably efficient 18 months.
You interviewed 35 people for the book. Were there any musicians you wanted to chat with that either declined your offer or you just couldn't track down?
Pet Shop Boys, understandably, don't see themselves as an '80s group, so I never really expected them to play ball. Scritti Politti and Japan both declined, which pained me. Bananarama, or Bananarama's person, made it clear his clients were too big for our little book. There were others, like M of Pop Muzik fame, and Wang Chung, that we made cursory attempts to contact and probably would have locked down had we tried harder. We'll get them next time.
By the way, I also loved that Gary Kemp explained to you the "seaside arms" lyric in Spandau Ballet's "True." I had always wondered what he meant by that. What was a moment that really surprised you during your interviews for the book?
Gary Numan's story about going into a London studio to record a punk album with his band Tubeway Army and coming across a synthesizer left over from an earlier session. It was on a setting he would never have found on his own and when he touched a key it produced a sound that made him immediately decide he wasn't making a punk record anymore.
One of the things Kemp said about the early days of Spandau Ballet in the book really made me think: "Nowadays you can't have a mystique. Somebody videos you on a phone, they put it up on YouTube, and someone else writes 'bollocks' underneath."
I think that's definitely true. The combination of social media and TV singing shows have played a huge part in demystifying the allure of musicians. The main example of that is the patron saint of the new wave era, David Bowie, who for the past decade, has lived in New York without performing or putting out any new music. But just because he doesn't tweet or put up pictures of sunsets of Instagram, his influence hasn't waned. If the reaction to the album he released without prior warning last year is any indication, interest in him has only increased in his absence.
The other artist worth mentioning in this respect is Sade, who was a contemporary of Spandau Ballet. Sade took 10 years off. No one wrote about her. No one photographed her. No one knew if she was married. No one even knew if she was still alive. Then she put out a new record which sold exactly what her previous record from 10 years earlier sold. Then she went on tour and that tour outgrossed Bon Jovi's. And that, to cut a long story short, is what you can do when you have a degree of mystique.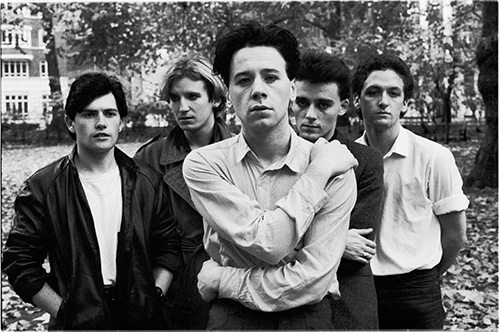 Many of the artists featured in the book are considered one-hit-wonders in the States, but had bigger careers in other parts of the world (Simple Minds, A-ha, etc.). What do you attribute that to? A-ha, for example, certainly had the great-looking singer and catchy tunes. You would think MTV would have embraced them post-"Take on Me."
The prime example of this is Dexys Midnight Runners, who in the UK are revered, in some quarters, for a career filled with powerful, emotional, sometimes ridiculous music. But in the US, they begin and end with "Come On Eileen." To bring up David Bowie again, I think his '70s discography, which went from "The Man Who Sold the World" to "Hunky Dory" to "Ziggy Stardust" to "Aladdin Sane" to "Diamond Dogs" and "Young Americans" and so on, really laid down a blueprint for a generation of European musicians. You're supposed to change. You're not supposed to keep making the same record. You're not supposed to look the same every time. I think constant change is not something either MTV or American radio at the time was built to accommodate.
There are songs mentioned in the book ("Don't You Want Me," "Take on Me," "Cars," etc.), that at this point, I consider modern standards. Why do you think critics deride the music from the new wave era?
Authenticity. I think the fact that these records weren't made by rock bands and that some of the artists were more suited to a studio scenario than a live situation made them easy targets. We say in the book that disco didn't suck in the UK. I think the influence of dance music was a tough pill for detractors to swallow.
Another aspect about the book that I really enjoyed was that you and Lori included your personal stories on how you first heard/found out about the artist featured in that chapter. What was your experience like being into the new wave movement as a teenager?
I was very much a "What's the next thing?" guy in those days, so the '80s was a perfect period for someone as stylistically fickle as me. I worked weekends at a record store so my new wave experience was largely being the snobby guy who mocked customers for their mundane tastes and felt smug about how hip and up-to-the-minute I was. However, I sported a colossal Jewfro so I was, in actuality, hipper than no one. I'm probably more of an outcast now than I was then.
You've launched a fun website for Mad World which features playlists and blog entries from you and Lori. Are you enjoying that aspect of the promotion of the book?
Lori's a promotional steamroller. I'm a little more reluctant but I enjoy the blogging and some of the tweet-related activity.
What are your five desert island new wave albums?
The Lexicon of Love, ABC
A Secret Wish, Propaganda
Searching for the Young Soul Rebels, Dexys Midnight Runners
Penthouse & Pavement, Heaven 17
Cupid & Psyche 85, Scritti Politti
Mad World: An Oral History of New Wave Artists and Songs That Defined the 1980s is out now via Abrams and available on Amazon.com.