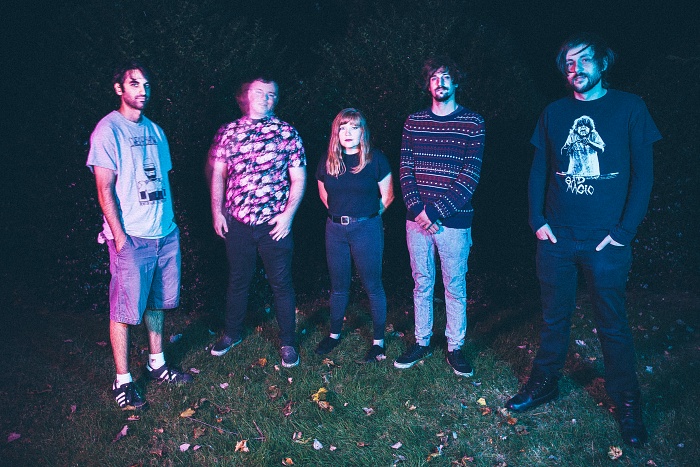 The Tin Can Collective's origins date back to 2011 when musician John Warren started the project with a rotating cast of musician friends and family. With a sound that walks the line between everything from '90s emo to indie pop to melodic punk, John solidified the lineup with Jess Warren (his sister and frequent co-writer), Ken Russo, Brian Kish, and Nick Femister.
Based out of Long Island, The Tin Can Collective has a slew of releases out, and later this week, they'll be issuing their 4th studio album, Axiomatic Alarm Clock. Dealing with such issues as the perils of adulthood and the struggle to find meaning in a 40-hour work week, the 15-track collection is the group's most realized work yet.
No Echo has the early jump on Axiomatic Alarm Clock for you below:
"This album came out of a chaotic time in my life," says John. "I was in a pretty bad car accident that laid me out for almost a year. I fractured my elbow, couldn't play guitar for months and was forced to move back in with my parents. I had surgery on my elbow and had to hope I was healed enough for a tour that was booked the following month.
"The band hit the ground running after that and was touring/playing a lot. I was also working a regular joe kind of job and It felt like I was living a double life. The more I pushed myself with music, the harder it got to get up and go to work in the morning. The dread that I felt going to work on Monday was overwhelming.
"Axiomatic Alarm Clock loosely chronicles a week in my life. It starts with Sunday night staring off my porch. listening to the neighbors dog bark his head off outside. I would let the dread of the upcoming week consume me. It ends with 'Nothing Gold' where the cycle is broken by an untimely death. So while we are here we must get up and face the day. Turn off the alarm and get out of bed because that's what living is sometimes. Whether we like it or not."
Axiomatic Alarm Clark will be released this Friday (July 16th) and can be pre-ordered at this link.
The Tin Can Collective on social media: Facebook | Instagram | Twitter
***
Help Support What No Echo Does via Patreon:
***
Tagged: the tin can collective