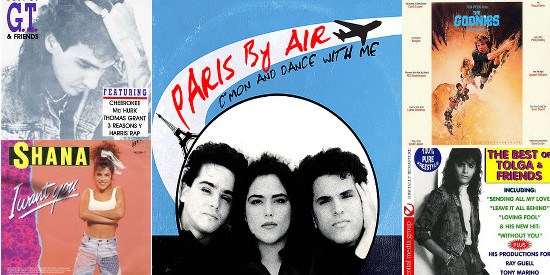 I get excited whenever I meet someone and they tell me they love freestyle music. Growing up in NYC in the '80s, the genre had a huge presence on the radio (and at handball courts throughout the boroughs). Freestyle isn't nearly as popular as it was during its late '80s and early '90s heyday, but based on the popularity of the touring package shows held in arenas in New York, California, and Florida every year, there's still an audience that holds the musical style close to its heart.
Being the freestyle geek that I am, I wanted to compile a quick list of some of its lesser-known gems, since it seems like many folks only know the hits from acts like TKA, Cover Girls, Lisa Lisa & Cult Jam, and Stevie B. Again, if you're into the stuff as much as I am, you'll already be familiar with most of these tracks, but I think it's a great entry point for others who aren't as versed on the genre.
Paris by Air, "Voices in Your Head" (Columbia Records, 1989)
Of all the selections on this list, "Voices in Your Head" is by far my favorite. Produced by the one and only Lewis A. Martineé (Exposé, Pet Shop Boys), the track is performed by Paris by Air, a Florida trio led by vocalist Haydee Rivera. Like their group name, Paris by Air's stylistic delivery on "Voices in Your Head" has a European flair to it that brings to mind a darker bent on Italo disco, albeit with freestyle production. When I would DJ at a bar from time to time in Brooklyn back in the '00s, I would play this track and people would always ask me who it was. "Voices in Your Head" is that kind of song.
Monet, "My Heart Gets All the Breaks" (Ligosa Records, 1987)
Ligosa Records was an indie label co-founded by Mark Liggett and Chris Barbosa, two producers who had massive success working with Shannon on her Let the Music Play album in 1984. "My Heart Gets All the Breaks" found the New Yorkers collaborating with singer Bernadette Suarez, a.k.a. Monet. The driving drum and keyboard patterns that open the track are pure freestyle ecstacy, while Suarez's R&B-styled vocals are miles ahead of most of her peers at the time. The delicious keyboard lines on the song were provided by C.P. Roth, a musician who would later find mainstream success as a member of pop-rockers Blessed Union of Souls.
Dimitri From Paris & DJ Rocca (featuring Fred Ventura),
"A Reason for Living" (Gomma, 2011)
"A Reason for Living" is a collaborative track between super-producer Dimitri from Paris and Italians DJ Rocca and Fred Ventura. The song was just released a few years ago, but it's clearly an homage to the freestyle sounds that dominated NYC urban radio in the mid to late '80s.
Cherokee, "Calling on Your Love" (Bianca Records, 1988)
I don't know much about Cherokee, but what I can tell you about the group's "Calling on Your Love" single is that it was written and co-produced by Gary Peter Tutalo, a Florida musician who also issued some solo material in the late '80s and early '90s under the "G.T." moniker. For "Calling on Your Love," Tutalo brought in Tolga Katas, a gifted producer who also worked with Stevie B. on such freestyle classics as "Party Your Body" and "Dreamin' of Love."
Yvonne, "What About Me" (Cutting Records, 1988)
The same year that "Calling on Your Love" arrived in stores, Katas also left his production mark on Yvonne's irresistible dance jam, "What About Me." The 12" was released by Cutting Records, an influential NYC-based freestyle label headed by Aldo and Amado Marin. Some of the artists that recorded for Cutting include Coro, Sa-Fire, and Corina.
Concept of One (featuring Tony Moran),
"Dance With Me" (Cutting Records, 1989)
Speaking of Cutting Records, the label was also responsible for 1989's "Dance With Me," a song sung and produced by Tony Moran for his Concept of One project. The track is propelled by a pulsating rhythm track and relentlessly hooky vocal melodies. "Dance With Me" was written by Andy "Panda" Tripoli, a legend in freestyle circles for his work with The Cover Girls, Nayobe, TKA, and Seduction, to name a few artists. These days, Moran is a globe-trotting DJ, while Tripoli works as a staffing executive.
Shana, "I Want You" (Vision Records, 1989)
In 1989, Shana Petrone reached as high as the 40th position on the Billboard Hot 100 with "I Want You," a track written and produced by Steve Gordon, a session musician who has appeared on albums by the likes of KC and The Sunshine Band and Regina Belle. Petrone went on to sign with Epic Nashville and released a few country music singles in the late '90s.
Goon Squad, "Eight Arms to Hold You" (Epic Records, 1985)
Goon Squad was a studio group assembled by producer Arthur Baker (New Order, Freeeze) and "Eight Arms to Hold You" was written and recorded for the 1985 film, The Goonies. The name of the song comes from The Beatles, who were originally considering it as an album title before settling on Help! Veruca Salt would go on to use Eight Arms to Hold You as the title of their 1997 sophomore album. Soul singer Will Downing was one of four vocalists who appeared on the Goon Squad track.
Sequal, "It's Not Too Late" (Joey Boy Records, 1985)
If the opening keyboard part in "It's Not Too Late" reminds you of Exposé's "Exposed to Love," it's probably because both songs were written and produced by the aforementioned Lewis A. Martineé in 1985. "It's Not Too Late" was cut by Sequal, a duo comprised of Angie Vollaro and Maria Christensen. The latter singer went on to join a dance group called 3rd Party in the '90s, releasing one album before breaking up. Jennife Lopez later had a big hit with "Waiting for Tonight," a Christensen-penned song that first appeared on 3rd Party's Alive album.
& More, "You'll Never Find Another Love" (Micmac Records, 1988)
Like some of the other best freestyle songs, & More's "You'll Never Find Another Love" perfectly captures the drama and naïveté of teenage love. Sung by Wilfredo Delvalle and written by Juan Lazaga, "You'll Never Find Another Love" was originally released on Mickey Garcia's Micmac Records in 1988. Garcia was also behind freestyle staples from Johnny O ("Fantasy Girl"), Cynthia ("Change on Me"), and Judy Torres ("No Reason to Cry"). Not too shabby, Mickey!