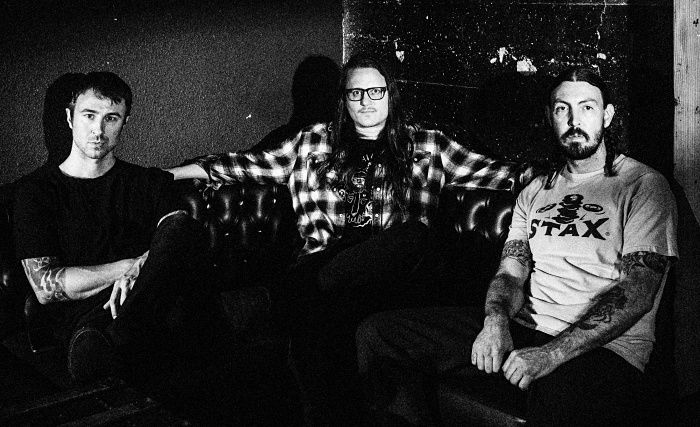 Comprised of bassist Chad Fjerstad (Ass Life, Dead to Fall), drummer Andrew Black (The Explosion, Good Clean Fun), and guitarist/vocalist John Henry (Darkest Hour), the Primals is a Los Angeles-based band playing riff-crazed punk hard rock oozing with melodic hooks. They sound like something Sub Pop would have released back during the label's golden phase in the early '90s.
A couple of years back, the Primals dropped their debut album, a rocker called All Love is True Love, and worked the record on the road, including a tour stint with Cave In. Great stuff all around.
Today, I'm checking in with John and Andrew to talk about the Primals' cover of Unbroken's "Absentee Debate," a previously unreleased track recorded during their All Love is True Love album sessions. Check out the premiere for the music video the dudes made for the cover below.
As you'll see, it looks like the kind of thing someone would have made at a Six Flags park in the '80s, albeit if said person had severe mental issues. Again, great stuff.
Tell me why Unbroken had a big impact on you back in the day.
John Henry: Unbroken always stood out to me as something special in the world of mid-'90s metallic hardcore. Everything they did seemed so pure and honest. They were one of several bands that opened my eyes to the whole idea of DIY music and straightedge hardcore. That was a big part of my coming of age.
Andrew Black: Their sound was different from all the Youth Crew hardcore bands at the time. And, they were friends with Ken Olden (Worlds Collide, Battery, Damnation A.D., Better Than a Thousand) so they felt like West Coast allies, even though I wasn't personal friends with them at all.
I always thought [Unbroken bassist] Rob's [Moran] hair looked sharp and knowing that they were from San Diego, home to many great bands, they caught my attention more than just another East Coast Youth Crew band. It added variety to a bill, and they were really great live.
What was it about "Absentee Debate" that compelled you to cover it? Did the lyrics strike a nerve for you?
John Henry: Compliments to the interviewer. Great question. I remember hearing this song later in their career and being completely blown away by it. And still, to this day, it's my favorite song of theirs.
The lyrics were something that stood out to me when I first heard the track — so simple and yet so effective. My interpretation of them is that some arguments are simply not worth having, and I think that's certainly something people can relate to nowadays.
Andrew Black: The fact that it was recorded by Ken Olden compelled me. The 7" itself looked fucking awesome — it had a cool '70s retro vibe that attracted me. The lyrics were fitting for an angsty teenage hardcore kid who knew the absurdity of our systems of infrastructure. So, I got their message and it made me kind of want to think for myself too.
How did you go about getting the Unbroken guys to give you their blessing? From my experience, they're all really nice dudes.
Andrew Black: Initially, I was introduced to Rob Moran around 1999 while on tour with Good Clean Fun. When the Primals first recorded this cover, the Unbroken guys didn't know about it. We were in the studio doing the sessions for our All Love is True Love LP, in San Diego with John Reis (Rocket from the Crypt, Hot Snakes) — we had all the mics set up and some time to spare, and it felt like the right thing to do.
After our full-length came out, we sat on the cover, waiting for the right moment to release it. I told Rob we had covered the song, and after he heard it he was stoked and gave us his blessing.
***
All Love is True Love is available now via Southern Lord Records on vinyl/CD and digitally on Bandcamp.
The Primals on social media: Facebook | Instagram
***
Donate a few bucks to help with No Echo's operating costs:
***
Tagged: the primals, unbroken