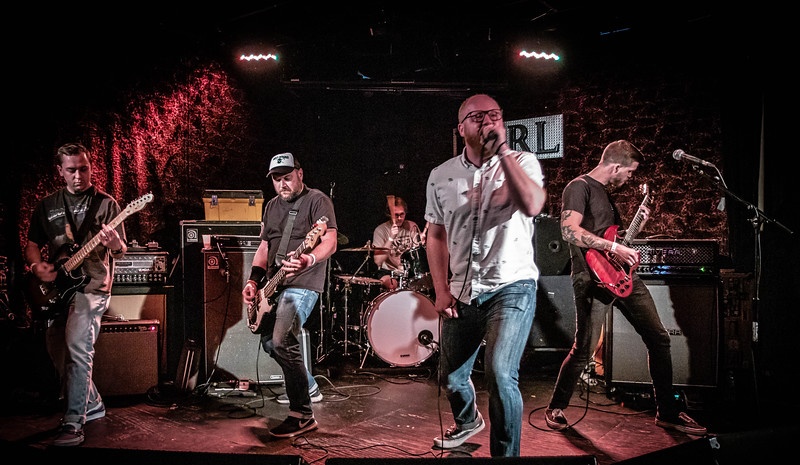 Qualifier is melodic hardcore punk outfit based out of Birmingham, Alabama that you might have heard on No Echo's 2021 Hardcore Releases playlist on Spotify via their split EP with Florida's Burning Strong.
"We started back in 2017 with [vocalist] Andrew [Schwartz] showing me a couple of songs he had written on an acoustic guitar in my living room," guitarist Kevin Davis told No Echo via email a few weeks before Christmas. "Once we knew we had something, we rented a storage space to practice and brought in the other pieces.
"Our first EP [2018's Dirty Looks and Cheap Attacks] actually had a different drummer and it was only me on guitar, and you can tell. I love those old songs but [drummer] Reagan [Bruce] and [bassist] Tyler [Frazier] really completed the sound for us." Qualifier's sophomore EP, Breathe In, Bleed Out, came out in 2019.
When asked about Qualifier's stylistic approach, Kevin offered the following: "Musically speaking, I'd like to think we take you back to mid-'90s to early '00s New Jersey. [Laughs] We obviously draw a lot of influence from Kid Dynamite, Lifetime, and None More Black.
"The goal was always to make fast and melodic hardcore punk that you can sing along to. I was really happy that on this split we were able to dig even deeper into the hardcore side of our sound. Someone once said, 'I could see Qualifier being the defacto punk band on a hardcore show or the hadcore band on a punk show,' and it couldn't be more true."
It's not often No Echo gets to cover a band from Qualifier's region. "Birmingham is an awesome place to be and has been since I was coming up in the scene. We have so many talented musicians here and shows are always a melting pot of punks, hardcore kids, metalheads, etc. We're right by a major university (UAB) and there's a young crop of kids always coming up.
"As far as other bands from here, there's so many but one that stands out to us is Penny Circus. They're all old hardcore kids writing some of the best damn power-pop/punk songs I've ever heard. Start with the song 'Didn't Mean To' (which our singer Andrew has a guest spot on) and tell me it doesn't get stuck in your head."
Kevin wanted to make sure he gave some props to the bands and labels that helped make 2021 a great year for Qualifier: "We just really want to thank Burning Strong, Patient Zero Records, From Within Records, and everyone else that made this split possible. We pressed our second EP ourselves right before the pandemic started and like a lot of bands, it really stalled us. So, to be able to come back and hit the ground running was really fucking cool.
"Andrew and I have been playing shows in various bands with Robert from Burning Strong for 10+ years and the fact that we're still all going is just a testament to how awesome and infectious this scene and music is."
The vinyl version of the Qualifier/Burning Strong split is available to pre-order from Patient Zero Records and CoreTex Records (Germany). Cassettes are available via From Within Records and Nuclear Family Records (UK).
***
Help Support What No Echo Does via Patreon:
***
Tagged: qualifier