Steve Choi is a multi-instrumentalist, producer, writer, engineer, and long-time member of post-punk/hardcore band Rx Bandits (RXB.) In addition to RXB, Choi has spent time playing with the Bruce Lee Band, the Sound of Animals Fighting, Trust Foundation, Machines, J MOON, Peace'd Out, and most recently, The Chinkees.
The California native has produced or engineered albums for Peace'd Out, The Chinkees, The Velvet Teen, Vinnie Caruana (The Movielife, I Am The Avalanche,) Weatherbox, Anthony Raneri (Bayside) and more.
I recently had an opportunity to speak with Steve about everything from 2020's Peace'd Out's Feelings Blade album and the Chinkees' K.A. Music EP, working on Lil' Peep's posthumous album, Come Over When You're Sober, Pt. 2, to his new podcast, the Musician's Guild.
All of the aforementioned Steve Choi-related releases are currently available on streaming services, so cue one of 'em up and delve into our career-spanning interview below!
What was it like working with Lil Peep on "Runaway" and "16 Lines" from what would end up becoming his posthumous 2018 album, Come Over When You're Sober, Pt. 2? Also, how did you two initially meet?
Never actually met Gus [Lil Peep]. An old manager of mine managed him, so he asked me to work on some music for the album that would become Come Over When You're Sober, Pt. 1. Peep's beat-maker, Smoke, and I got into a cozy little studio in East LA and hung and vibed out.
Smoke started playing beats and I would just start playing stuff on the stuff I was connecting with on both guitar and keyboards and we just kind of went back-and-forth like that all day. I guess, they liked what we did enough to make two singles for the record out of what we did.
How did Rx Bandits end up getting the gig as the second iteration of Mike Park's the Bruce Lee Band for their 2005 Beautiful World EP?
I had toured with Mike substantially in the Chinkees when I was fresh outta high school, so we knew each other very well. Years later, Mike organized a Plea for Peace bike ride that Matt [Embree] and I both participated in that had us riding from Olympia, Washington to San Diego, where we would ride 50-80 miles a day, camp every night, and, sometimes, play acoustic shows at the campgrounds. I think, after that is when he asked us to be the band for a recording and a trip to Japan to play a festival.
Both you and Roger Camero (No Motiv, Detoxi, Ill Communication) are featured within the 2020 lineups of both the Chinkees and Vinnie Caruana's Peace'd Out. Tell me about working both groups.

Peace'd Out is not, actually, "Vinnie's band." He is the singer and thought of the name, but it's an idea that we had started together back in 2007 hanging at my house in Long Beach. I write most of the music for Peace'd Out, so there's not really much of a story on how I got involved, since I was a founding member and part of the conception haha.
As far as the Chinkees thing, I just began writing this punky/new wave/ska EP and didn't know what I was gonna do with it, so I hit up Mike asking, if he wanted to sing on it and he came down to our studio to record vocals, but we still didn't decide what entity we would release [it] as. We, eventually, just decided to make it a Chinkees release, since it had been so long since that entity had done something.
As far as Roger goes, he's one of my best friends and we do a lot of projects together, as he is an engineer/producer by trade, so things happen as they do. Roger and I have made a lot of music together.
When was Peace'd Out's Feelings Blade (2020) originally recorded? I thought I read somewhere it was recorded around the same time as your self-titled 2012 EP. If so, what made you guys decide to finally unleash it now, about eight years later?
Feelings Blade was originally recorded in 2013. We just took our time letting it brew properly and making small tweaks here and there. When it was ready for release, it was released.
What can you tell us about the unique black-and-white artwork accompanying Feelings Blade? Also, did I read somewhere there's a mini-illustration for each track on the album?
I can tell you that I love it and it was created by a very talented artist called Mr. Gordo based in Leeds, UK. All of the images on the album artwork are the actual illustrations for each song, but he has, also, posted them separately on his Instagram.
So far, you've produced Feelings Blade and the Chinkees' K.A. Music, correct? What else can we expect to hear your production work across next?
I've been producing since 2011, so there's a lot more than my own releases that I've produced. From things like Anthony [Raneri] from Bayside's solo EP and a Vinnie [Caruana] EP, to working with bands, like the Velvet Teen or Weatherbox.
Not sure of any dedicated producer roles coming up, as I've been doing that less and focusing on my own music more [and more], but since I've been upping my creative output, the need for production-minded approaches will always be there for me.
How did Rx Bandits go about selecting the inclusions for their 2013 Covers EP? If you were to ever do a proper follow-up, what sort of tracks would you include and why?
That was so hard. So hard. We had a pool of 10-15 songs we really loved and wanted to play and just that was difficult to narrow down to. I think, we just started playing and re-arranging a bunch of them and picked the ones we felt like we could expand on and felt good to us. "Surf Wax America" would be an exception, as we didn't change it up, but Matt [Embree] was really feelin' it, so I was down.
Personally, there were other Weezer tunes I would've preferred, but that was still fun.
What's the current status of The Sound of Animals Fighting and how exactly would you describe your role in said supergroup?
Does anyone actually know the status of the band? I certainly don't [laughs]. I call Rich Balling "The Commissioner," as he's the ringleader, but it really is a collective. My role is "The Koala," most often deployed for live performances.
In addition to what we've discussed here, do you currently have anything else in-the-works or soon forthcoming you might like to mention within this space?
I have a new podcast coming out on The Sound Talent Media podcast network that I've been spending most of my time working on. It is called The Musicians Guild and will be intimate conversations with my musical friends and peers, which most people don't normally hear.
The aim is to give the listener a real eaves-dropping or fly-on-the-wall experience for these conversations, akin to pro athletes being mic'ed up and hearing their dialogues, which are normally never heard.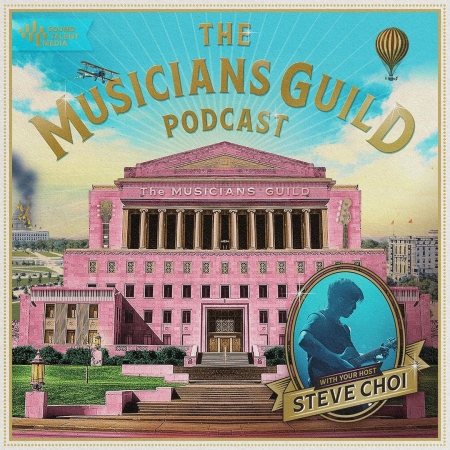 How did Rx Bandits decide to record a cover of Megadeth's "Holy Wars" that appeared on the the Fearless Records' Punk Goes Metal compilation?
Hard to say what the motivation was, other than being Megadeth fans. That would've been recorded over 20 years ago for the 2000 release.
What's the current status of Rx Bandits? Do you have any plans to record and release some new music once the world finally starts to get back to "normal?"
RxB is just chillin' enjoying whatever work we've done. We played an awesome sold out show at House of Blues Anaheim back in [January] and I feel so lucky to have played one of the only shows in 2020. We had other dates in major US cities planned, but, obviously, that had to be postponed.
***
Steve Choi on social media: Instagram | Twitter
***
Donate a few bucks to help with No Echo's operating costs:
***
Tagged: peaced out, rx bandits, the chinkees