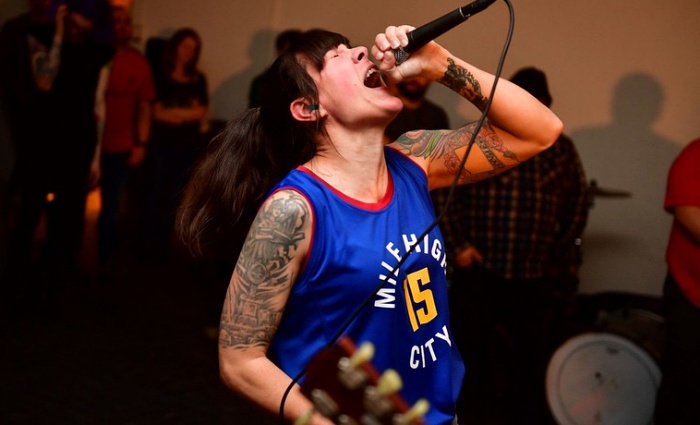 One of the most rewarding aspects of running No Echo is collaborating with the contributors who help me create content for the site. Without their input, this site would be more of a personal blog sort of thing, and while that's fine for some, I love having different points of view on here.
With that in mind, some of the contributing writers of No Echo have sent me their picks for Hardcore Record of 2020. As you'll see below, "hardcore" means different things to different people, and I'm fine with that.
Support these following artists/labels!
Adam Yoe's pick:
Be Well, The Weight and the Cost (Equal Vision Records)
I'm going to try band sidestep the collective and ongoing conversation about the endlessly recalculating woes of 2020. Firstly, I want to express my gratitude for the musical artists, labels, and every creative that keeps this thing going.
I'm no critic and don't consider myself to be much of a writer, but participating from the sidelines is an endlessly rewarding endeavor. Much respect and love for making this calendar year tolerable and, at times, cathartic.
In this or any year, though, Be Well's The Weight and the Cost would stand alone atop my year end list. Certain works of art compel me to feel things long buried, oft-ignored, and hard to face.
As lively and essential as anything this set of lifers has ever created, I've said everything I need to say in my glowing No Echo review. "They are calling for rain. Baltimore, you get lonelier everyday…" Thanks for giving me cover, Be Well. Stay well.
Hugo Reyes' pick:
Rotting Out, Ronin (Pure Noise Records)
My opinions on Ronin are largely unchanged from when I wrote a review of it in June for the site. It's the kind of record that only comes around every couple years for me and is a rare phenomenon the older I get.
When "Last Man Standing" hits, I feel like I'm 13 once again, when music mattered way too much to me. Rotting Out came at the exact moment I needed them this summer. I was trying to unpack my place in the United States as a brown person.
Singer Walter Delgado's screams were a protective covering and helped me find some inner strength, as he was interrogating his own traumas and struggles across ten songs. I can't wait until live music returns so I can belt out the closing lines of "Thief":
It's been thirty years and it's getting old
I don't want to feel like this anymore
I want to run towards the sun, find me in myself
Smile more, wouldn't that be something else?
Todd Manning's Pick:
Faucet, Bitter Insane Melting (Self-Released)
Compiling year-end lists can be difficult, but picking my favorite Punk record for the year was easy based on the sheer number of listens, and this is one that hasn't left my rotation since it came out.
Faucet's Bitter Insane Melting was originally released as a limited edition cassette and a Name Your Price download on Bandcamp which came out right as COVID-19 was hitting hard the first time around. This release gave me something to be excited about despite all the anxiety.
The band concocts a sound that is as weird as it is abrasive, but the material is also insanely memorable, if not downright catchy. They marry punk with the more obscure end of noise rock, and throw in some Power Electronics as well.
The vocals expertly change to suit each song, the guitar is wildly unpredictable while the drums and bass construct the architecture that truly defines each song. It sounds like these folks are already hard at work on their second full-length, and I, for one, can't wait.
Anthony Allen Begnal's pick:
Crazy Eddie, Eddie Goes to Night School (Self-released)
Easily my favorite hardcore release of 2020 is Eddie Goes to Night School by NYC's own Crazy Eddie. This is their second release and if ya didn't know, Crazy Eddie plays old school hardcore punk. I can hear some West Coast and even early Boston hardcore influences going on along with NYHC, of course.
Recorded by Andy Guida in his basement studio in Queens, New York, the production really stands out on this. This EP features 5 songs guaranteed to make Quincy and Erik Estrada jump in the pit and slam dance all over each other till the ice picks come out.
My favorites are "Bored with Life" and the cover/homage, "The Ballad of Cheech and Chong." Check 'em out on Facebook and bandcamp and all streaming sites. Singer Chucky Brown also documents lots of awesome NY bands on his Hood TV page.
Thomas Vanderpol's pick:
FAIM, Hollow Hope (Safe Inside Records)
While COVID attempted to throw off the plans many bands in 2020, one band that successfully pivoted was FAIM, who worked harder than ever to record, release, and promote my favorite LP of the year, Hollow Hope.
I feel like SNL's Stefon when I say "this record has everything," while following that statement with a list, but it's true—it has intense buildups, powerful breakdowns, frenzied blast beats, and unforgettable lyrical motifs.
In a time where the genre is predicated on clichés and continues to be dominated by white men who only serve to further the status quo, this band refuses to accept what's expected of them and sets a new standard for what's acceptable in hardcore.
Quite simply put, hardcore needs more representation, more outspoken voices, and can no longer exist in a vacuum of recycled themes like unity, brotherhood, and the glorification of violence. This record is a breath of fresh air and a glimpse into what that world can be like.
FAIM, has members in Washington, Colorado, and New Mexico. As a person who understands the logistics of attempting to operate a band across state lines, I can certainly appreciate the lengths the band has gone to make this record happen.
In 2020, they also released a cassette of previously recorded material, made multiple comp appearances, and have coordinated their own fundraisers and even did a live stream where they played the record in its entirety.
Mike Mussili's pick:
Somersot Thrower, Paint My Memory (Triple B Records)
Somerset Thrower is a constant work in progress. Having been lucky enough to watch the band's evolution unfold, I am at once totally impressed and not at all surprised that their Triple B Records debut, Paint My Memory, is my favorite record this year.
They continue to sharpen their modern mix of grungy alternative punk (apologies for the labeling), and Paint My Memory plays as a cohesive full-length brimming with both dissonance and melodic sensibilities. The record's powerful mid-tempo backbone is complemented by lots of guitar layers and impressive vocal melodies.
It certainly does not hurt that "Plaster Saint" features Indecision's Tom Sheehan offering impressive guest vocals that fit perfectly with the song's driving post-hardcore vibes. The lyrics are clever.
The recording is sharp. The musicianship is great. I also think it's wonderful that Triple B Records continues to expand their roster's sound, and that Somerset Thrower is getting some well-earned attention. Check out "Takeyouapart" and "Say Hello" as two other standout songs on Paint My Memory, my favorite LP of the year.
Nicholas James' pick:
Slutbomb/Body Farm, Split 7 (...So This is Progress)
2020 has been a horrible year. My tastes in music this year have reflected the savage beating my mental well-being has taken. Of all the stellar records that came out during the year of COVID-19, farcical politics, a broader more militant BLM movement, and a general feeling of "manic isolation," the record I think needs to be addressed is the Slutbomb/Body Farm split.
Both bands are from Ohio, a state that has continuously cranked out furious punk for 45 years. Slutbomb is from Cincinnati. They are a well respected gear in the Cincinnati punk scene who book shows, run Landslide Records, organize the annual Landslide Fest, and are involved political activists. The lyrics on this split are class conscious, maudlin, and razor sharp. The riffs and leads are frantic and tempo changes coincide with my mood swings.
Body Farm is a new(ish) band from Newark, near Columbia. They appeared on my radar less than 2 years ago, but they have already produced several releases. I cannot get enough of this band. Sonically, I am reminded of everything from Dead Kennedys (In God We Trust, Inc.) to White Stripes to the Locust's cover of "Flash's Theme." It is the full spectrum.
Dan Vanderpool's pick:
Holehog, Radiation Blues (Addicted to Chaos Records)
Holehog is sick. Their debut EP is sick. You know the drill. It's heavy. It's fast. It's rabid. It was the combustible sonic reprieve to my lockdown blues.
Radiation Blues is 9 tracks, 15 minutes and as soon as they get going, Holehog refuses to let off the gas. Some moments push a little harder than others, but there ain't no getting off the ride unless you're prepared to tuck and roll.
The soundtrack to a post apocalyptic nightmare where one could imagine most of us will be left railing hydoxychloroquine pills in musty, graffit'd basements and sewer drains because they ran out of the vaccine.
Mick Reed's pick:
Soul Glo, Songs to Yeet at the Sun (Secret Voice Records)
Soul Glo's latest EP, Songs to Yeet at the Sun, has more or less lived up to its name this past year, earning glowing praise from publications like Stereogum, Flood Magazine, and even Pitchfork. It's the rare hardcore record that indie rock sites cover without begrudging its merits and qualifying their praise.
And with good reason, Songs is an exciting record, maybe not exciting enough to overhand pitch it into Apollo's groin area, but it's smartly brash and unequivocal assertiveness, a uniquely enjoyable listening experience that is up to the task of vaulting the expectations of even skeptical listeners.
"(Quietly) Do the Right Thing" is a chrome cork-screw that borrows its way through sockets of Revolution Summer-era DC hardcore, powered by a grimy, fat-lipped breakbeat, and "29" is a space-warping spiral of fever-brained jazz and Bad Brained grooves. "Mathed Up" feels like Trash Talk after being force-fed a sack of organic Korn, topped off with a thickly-sliced Butthole-Surfer and bologna sandwich, while "I'm on Probation" is an uninhibited exploration of every errant variety of metalcore the '90s saw fit to offer.
Last but not least, the album's keystone is "2K," a collaboration with Richmond's DJ Archangel, a track that ferrets through chaotic, contortionist beats, chewy, lascivious bars, and frequent detours into slice-of-life skits.
Beyond being impressively coherent, despite the precariousness of its balancing act, the lyrical focus of "2k" exposes the album's raison d'etre. That is, to provide an outlet for the expression of the personal, one that is to a degree resistant to the political shibboleths and wrote pablum that are often imposed on the group through critical assessment of their music.
It's an album that recognizes that politics are a part of living, but that living is its own struggle as well. To this end, it is a work that focuses on the important things in life: self-respect, getting paid, and having weird hook-ups in the back of U-Hauls. Remember to take your meds and get enough sleep in 2021.
Howie Abrams' picks:
Napalm Death, Throes of Joy in the Jaws of Defeatism (Century Media Records)
Since the release of their debut, Scum, in 1987, Napalm Death has not necessarily been an outfit rife with surprises. High-speed brutality has consistently been the name of the game, complete with progressive, righteous lyrical themes.
Throes of Joy... is certainly no different, however, it features some truly well-concocted and effective risk taking.
Kicking off with the blackened death grind of "Fuck the Factoid," and continuing on through several tracks of tried and true ND grind, it's the numbers the likes of, "Joie de Ne Pas Vivre," "Invigorating Clutch," "A Bellyful of Salt and Spleen," and especially, "Amoral" which set the LP apart, with their bold Swans meet Killing Joke stylings.
The production work by Russ Russell is crisp and murderous, allowing for the album to breathe as it should. Top notch from beginning to end!
Bruce Hardt-Valenzuela's pick:
Kruelty, A Dying Truth (Profound Lore, Daymare Recordings)
My top picks of the year are all over the place. If you asked me for my tip-top pick, it'd be Nothing's The Great Dismal by a considerable margin, but of course, at the other end of the spectrum of my music taste, there's that itch for something irresponsibly heavy; enter Kruelty's A Dying Truth.
A compilation of re-recordings of songs from EPs and singles paired with new material, A Dying Truth was released in March, which you know, all things considered at the time, was regrettably slept on until recently.
In the spirit of the best beatdown bands, including fellow Japanese legends Sand and Straight Savage Style, Kruelty dole out mean breakdown after mean breakdown throughout their debut's 40 minutes. You'd think that'd become formulaic, but Kruelty imbues their songs with catchy songwriting, staying heavy while grabbing your attention by the head with a crushing grip.
Heavy, despite the flexibility of the word, seems like almost an understatement in describing songs like "An Introduction…" or "Darkside," with their already meaty riffs coated with mercurial death metal. Doom metal's mournful cadence is weaponized into a mosh-inducing artillery, brooding and awash with thunderous malice.
These elements, while not disparate, are fused with an alchemic richness that beatdown rarely achieves, marking Kruelty as a contender for genre heavyweight.
As a bonus, Kruelty released two songs off last year's split with Moment of Truth alongside an outstanding cover of Grave's "Into the Grave" on the Immortal Nightmare 12" back in June.
***
No Echo has launched a Patreon with 3 tiers offering all kinds of hardcore-related goodies to help support the site:
***