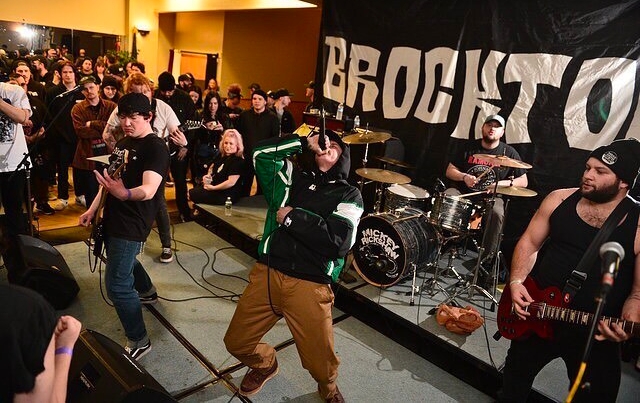 The Boston hardcore scene has always coincided with a working class ethic and attitude as is characteristic of the city and it's people. The bands that come from this scene are typically blue collar workers who find time in between their jobs in construction and other manual labor efforts to bring loud and abrasive sounds to the ears of their fellow working class men and women and as they say.
They say there ain't no rest for the wicked and one of the bands that has embodied the ethics of the Boston scene of hard working folks is Risk from Merrimack Valley.
The band is no newcomer to the scene as they've already put over a decade of their lives into the hardcore music they love but the band had remained dormant for a few years before playing a couple shows in 2020 to mark their return.
Since the quarantine restrictions have been lifted they've worked harder than any band around as nearly every flier I see has their name on it and they've been lined up with some amazing legends like Death Before Dishonor, Cruel Hand, 100 Demons, and Rude Awakening but also alongside some great up and coming acts such as Hard Target, Street Power, Wisdom & War, and Blood Tithe.
The original lineup of Risk formed in January 2010 when the members were still in high school and back then the scene was a much different place than it is now but the band has had no problem adapting and carrying themselves with the same vigor mixed with amplified aggression as they did when they were young.
"We originally started out in January 2010 and played mostly at Anchor's Up and around the Merrimack Valley area. We were trying to put out this new record and it took a lot of time for us to write the record and we really wanted to get the physical copy but the label fell through and there was infighting between us so we finally decided to just call it. We played one last show and that was it for us back then," explained Risk vocalist Brendan Glennon.
In their early days, Risk played a style of hardcore that stood tall amongst the crop of early 2010s bands with thrash influences bleeding into a style of hardcore punk you'd hear around Boston. They were fast as all hell and damnation but the speed was backed by a heaviness comparable to a wall of concrete and rebar. "We were trying to sound like a mix of Shipwreck and Hammer Bros. but we ended up sounding like Shipwreck and Guns Up! which is fine, we like those styles too."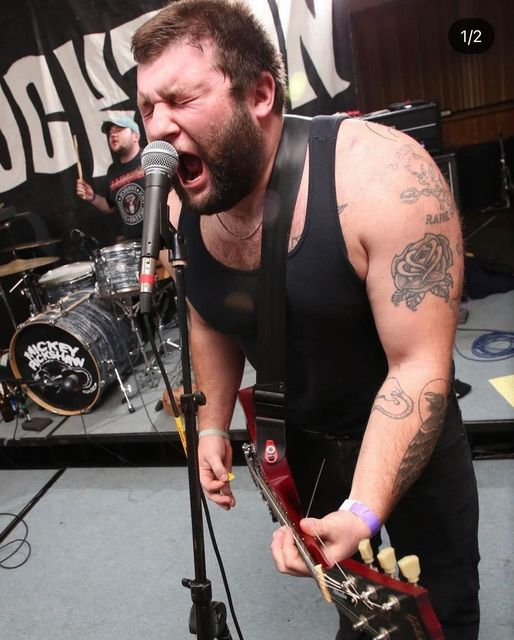 Since their return and the release of their 2020 promo, The Prologue to the Pain: A Demonstration, Risk updated their style to play more into the thrash metal sound both tonally and stylistically. I once even described it to someone as Mindforce but darker. "Getting back into it we wanted to keep that Shipwreck influence but also add more like Power Trip and Anthrax sound into the mix. Any thrash metal that borders on hardcore was really where we wanted to create this like melodic thrash hardcore sound we play."
I came to discover Risk at a show just before the pandemic began when they played Sammy's Patio in Revere, Massachusetts alongside Sick Minds, Psychic Weight, Cannabis Crypt, War Criminal, and Needle Play. I'd never heard of them but some of the bands playing mentioned this was Risk's return to the scene.
"Around 2018 me and Resees, the original guitar player, got together and were like, 'You know this life shit is kinda boring without playing shows, let's do it again.' So we started up Risk again with some friends who we've known since we were 12 years old. Crisco plays drums (Triggered, the Union Boys, and Mickey Rickshaw), the kid London plays bass (also Triggered) and Jimmy is our second guitarist and he plays in the same bands as Crisco." Brendan elaborates on the band's reunion in 2020.
Their show in Revere would unfortunately be their last of 2020 as the COVID-19 pandemic would put a halt on their reunion plans.
Combining the sounds of hardcore with the grinding and bashing guitar tones and rhythm of thrash is where Risk finds their sound. This direction has culminated in the aforementioned Prologue to the Pain: A Demonstration. Clawing over the mountain of noise that builds a track such as "Nothing Ever Ends" is Brendan's tortured vocals which perfectly capture such lyrics as "Bleeding to remember drowning to forget. Every love I've ever lost was like a hammer to my head. I shed my skin to break away from the pain of yesterday."
Brendan elaborates on his lyrical influences:
"I always wanted my lyrics to mean something, a lot of bands sound like they phone it in and I just couldn't be that way. Bands like Shipwreck strictly spoke in metaphors and I'd draw from them lyrically a lot but one other record I go to is Leviathan by Mastodon because it was the perfect concept album to me."
He continues: "The From the Depths record was a concept album. I styled it so I wouldn't use the word 'You,' I'd just be speaking metaphorically. The last lyrics of the title track are 'No cold can stop me' and then the first lyrics of 'Rot' are 'As the cold sets in.' I based it all around the idea of climbing a mountain and you're standing on the precipice taking it all in and then as you climb you're thinking 'This sucks I don't know if I can make it.' I wanted to continue that theme in our next album, The Monologue of Misery, but I want to be more direct with my lyrics. I don't like pointing people and events out but I want it to be more direct than From the Depths."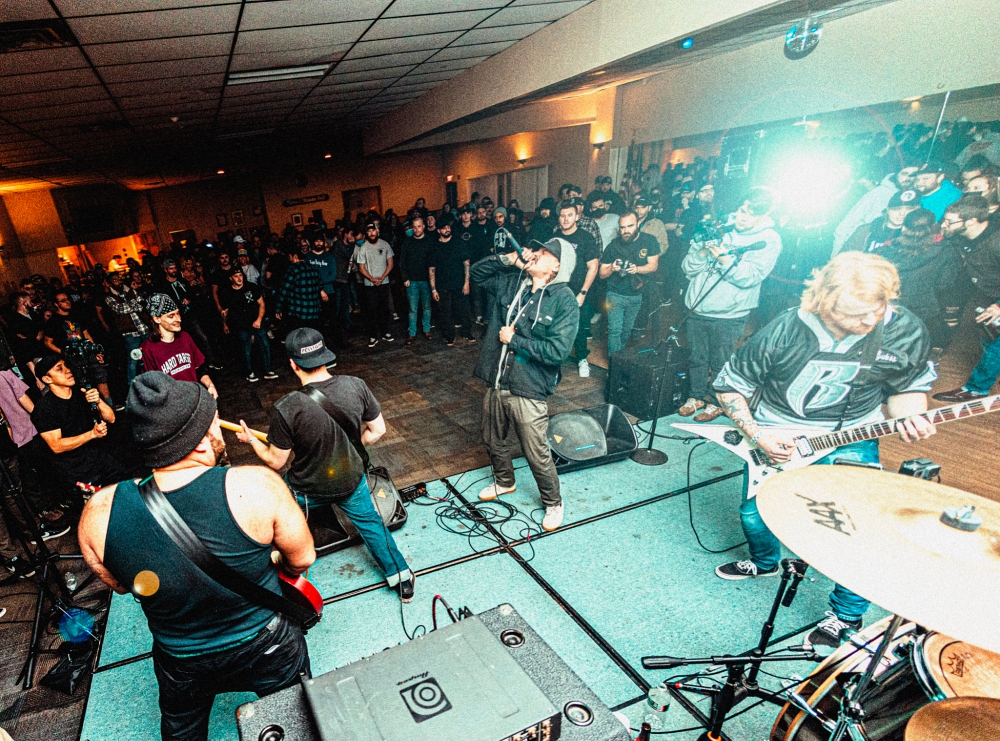 Being away from the scene gives Risk a chance to reinvent their sound from before, bring a new energy and life into it and that's what Brendan says they fully intend to do with their new album on the horizon. "I was very satisfied with From the Depths, especially with my lyrics but now musically we want to present ourselves with a different sound, like RC Cola to Pepsi we have to make this shit bigger and better than what we did back in 2014."
Since the restrictions have been lifted they have been constantly popping up on countless shows all around New England. They've probably been on more flyers than any other band I know around here, coming back into the swing of things with an absolute grand slam. They even snagged a short tour with Death Before Dishonor which would have seen them playing alongside the likes of Madball and Next Step Up. That tour however has been pushed back into the spring.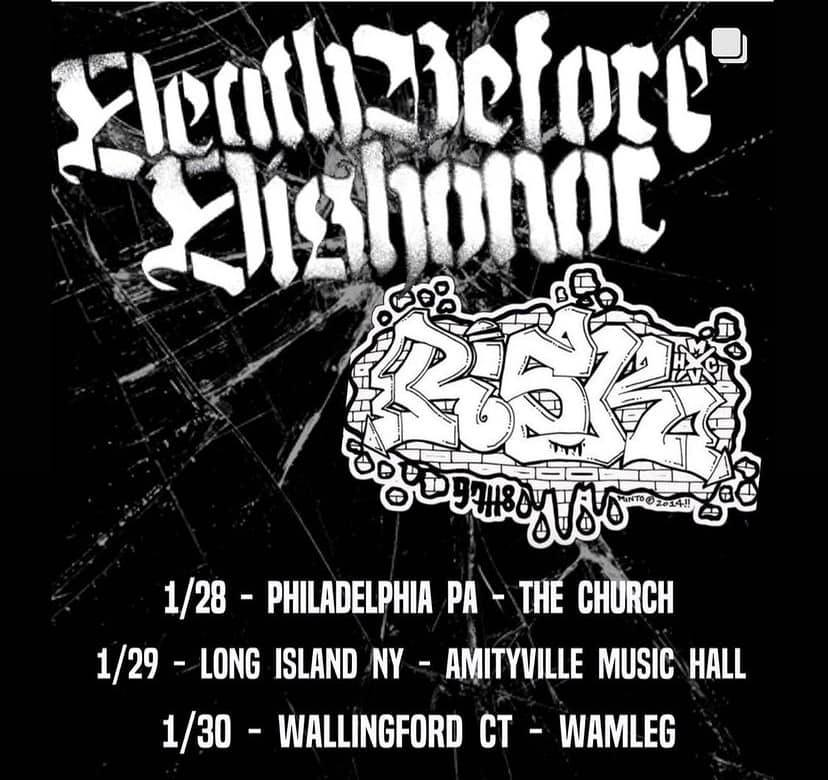 The scene in Massachusetts has felt a renewed vigor since the end of the pandemic with the amount of shows happening and bands that were born out of the quarantine. Brendan sees this new crowd of hardcore kids as nothing but a positive force for the scene. "When we started playing around Merrimack Valley everybody was in a band so you could have an entire lineup of local bands and a hundred kids would show up. It kinda dipped for a bit but nowadays there's at least three shows going on every weekend and all the kids are coming out and moshing."
Brendan continues: "Everybody is in a band too and there's so many that are just killing it right now like Fraud, Climb, Hard Target, Blood Tithe, Grasp, Adrienne and Move BHC. We've been asked to play a lot of shows with these kids so we're just like 'let's get friendly with all these bands and show them what's up you know?' It's also cool cuz now we got something to do basically every weekend."
The group has finished recording 'The Monologue of Misery' album and are working on getting a label to put it out hopefully by the end of the year with it being pressed on vinyl. This release will follow the bands trend of carrying similar concepts over in songs as they did in 'From the Depths,' a rare feat in the hardcore scene but one that no doubt Risk can achieve with their creativity and drive.
Risk is a band that keeps on giving 100% of themselves into their music, even after playing shows sometimes multiple days they still have an energy in their playing that is as palpable as when you listen to their recordings. Do yourself a favor and listen to Risk, they won't disappoint.
Risk on social media: Facebook | Instagram | Twitter
***
Help Support What No Echo Does via Patreon:
***
Tagged: risk