Crud Is a Cult was a Pennsylvania hardcore band that existed briefly in the early '90s. But despite only releasing a demo and 7 inch during that time, the group managed to aquire a—no pun intended—cult following within certain punk circles.
After Crud Is a Cult parted ways, the members stayed heavily involved with the hardcore scene, playing in such bands as Ink and Dagger, Lenola, and The Mandela Strikeforce in the following years.
Next spring, the recently relaunched Toybox Records label (Hot Water Music, Integrity) will be releasing Love Hate Life Death, a Crud Is a Cult collection that will include all of their recordings, including tracks that have never seen the light of day before.
In addition to the music, Love Hate Life Death will also be accompanied by a book with a ton of stories and accounts from various people from the hardcore scene about the band and vocalist Sean McCabe, who died 20 years ago.
No Echo chatted with Crud Is a Cult drummer Alec Rosenberg and Toybox Records owner Sean Bonner about the band and forthcoming discography.
Alec, tell us how Crud is a Cult initially came together.
Crud Is a Cult (actually just Crud at the time.. "Is a Cult" came later) was born in the basement that the band Flagman practiced out of in Bensalem, PA, a suburb just north of Philadelphia. Sean McCabe, actually was the original singer of Flagman, but early on was replaced by AJ who we had met from going to shows at the Unisound in Reading, PA.
Anyhow, even though Sean was not in Flagman any longer, he was usually hanging out during our practices. Sean and I were toying around with lyrics for this imaginary hard as nails, in your face straight edge band a few days earlier. Sean always carried a notebook, so he jotted them down.
Stylistically speaking, did you guys have a clear idea of what you wanted to do with Crud Is a Cult?
At that time, we were really just writing stuff for fun, and we came with the lyrics for "Rage," and "Dedication" in like 3 seconds. A few days later, we were having Flagman practice, and AJ hadn't gotten there yet, and Sean was there. He took out the notebook and started talking about the lyrics we had written.
My brother Dave, Ed, and Josh came up with some quick parts for it, and before we knew it, we had music for "Rage" and "Dedication," and it just took off from there. We'd see each other in school in the halls, or study hall, and be like "Crud practice before Flagman after school?" and with a nod, that was that.
Style wise, we knew we wanted to do something hard. Flagman played a much different style of hardcore, and since Sean was originally in Flagman, he too wanted to do something different. But, I think as we started writing more music, it started turning into something different than what we had initially envisioned. It became a lot more dirty, and raw.
We named the band Crud due to that side of it. We had other early influences before straight edge hardcore took over, like the Circle Jerks, the Dead Kennedys, Black Flag, etc. So, I think we have some of that going on. But yeah, we quickly released that it definitely had to be much different than Flagman, or it would have been silly since Crud was Flagman, with a different singer.
Sean, since you've put so much time and effort into putting this retrospective project together, I wanted to ask you why did Crud Is a Cult resonate so deeply with you?
In the late '80s and early '90s, I was big into writing letters. I'd write to every band that I was listening to and tell them what songs I liked from their records and more often than not they'd write back. I was juggling I don't even know how many penpal relationships for many years.
Part of that was due to living in central Florida where we had to drive an hour to see a show and there just weren't that many people around into the same things I was, so I was sort of on this endless quest for connection and community.
I mention that only as a preface to explain that when I found out about IRC and the #punk & #sxe channels in '92-'93 it was world changing for me. and I very quickly developed many friendships that have stuck with me to this day.
One of the people I connected with right away was Sean McCabe. We talked online but also on the phone and I recall him telling me very early on that I was part of the cult, which at the time I kind of thought was just his creative way of describing his circle of friends — which maybe it kind of was?
Anyway, so I knew about the band before I ever heard them. Between '93-'95 I made several trips up the East Coast on various tours that I'd booked for bands I was working with and anytime we went through Philly we stayed with Sean and I saw Crud several times in that stretch.
Sean was always kind of pushing me to do more, to take bigger steps, and reach just a little further than I thought I was capable of.
I think, especially at that time in my life, that kind of encouragement from Sean meant a lot to me, and I think Crud, maybe more than any of his other bands, was a very true reflection of that. So far back as I can remember I had a really personal connection to the band.
Alec, what were some of the highlights of being in the band? In that video of the Fieldsboro Hall show that Tim Morris shot, Sean says to the crowd that the band wasn't fun to do anymore. I was curious about that comment.
The highlight of being in that band was doing it with your best friends in the world. Period. The inside jokes, and references that only the band and a few close friends got, the constant laughter, and literally not giving a shit about anything other than music, and your friends.
I'm sure we were like most "crews" back then. Mischief and hijinx were never in short supply. In retrospect, the other big highlight is knowing that you gave one of the greatest performers, personalities, and minds in hardcore his first real stage to get his thoughts out. For that, we're very grateful and proud.
As for when Sean said the band hadn't become fun anymore at that "last show," there were a lot of forces at play at that time, and they felt like they were pulling us in all different directions. College, girlfriends, drugs, drama, new and different music.
I think each of those things had at least a part in Crud losing its luster. So we broke up for awhile. But everyone knows breaking up is hard to do, so we got back together for a little while, and then broke up again, ironically due to some more of the same reasons we broke up initially.
Sean, how did this anthology project come together?
I started hiding references to Crud Is a Cult in some of my other releases at the time as Sean was helping me out with some printing and distribution and very naturally we started talking about doing something together.
Several early Toybox ads from around that time list an upcoming Crud record and for whatever reason it just never materialized. Crud broke up and different people had different recordings and it was all kind of chaos honestly.
There was never a decision not to do the record, it just never came together and then I stopped doing the label and when Sean died it seemed like this chapter without a real closing.
This year I started to seriously consider relaunching the label and as part of that process I started to document the early releases on Instagram. The comments on those posts became a really wonderful place where people reconnected and the topic of the Crud record that never happened came up.
It turns out Josh and I both live in British Columbia now and we started talking about then and now and ideas just started flowing, we all kind of wanted the same thing and I couldn't think of a better way to kick things off again with the label then giving a proper nod to Sean and doing this record that we'd started planning 25 years earlier.
Alec, when you listened to the songs for this anthology release, how did it make you feel about Crud Is a Cult? Was it a bittersweet experience to go through the material?
If you only knew the half of it. This anthology has been 2 and a half decades in the making. There is a lot of baggage, and self fulfilled prophecy with this band.
There was a lot of hate, and death in the lyrics. But, there was also a lot of love and life.
And even though, things can get pretty fucking down right shitty with this band (yes, Sean and Dave did actually get into a fight in the middle of a set while on stage), we always countered that with with a love for each other.
A brotherhood. And a determination to have fun living life, in the hardcore scene, that we also loved very much.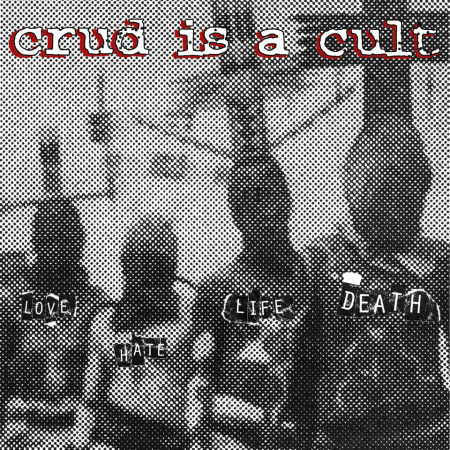 ***
Love Hate Life Death will be out Spring 2021 via Toybox Records.
***
Donate a few bucks to help with No Echo's operating costs:
***
Tagged: crud is a cult, ink and dagger