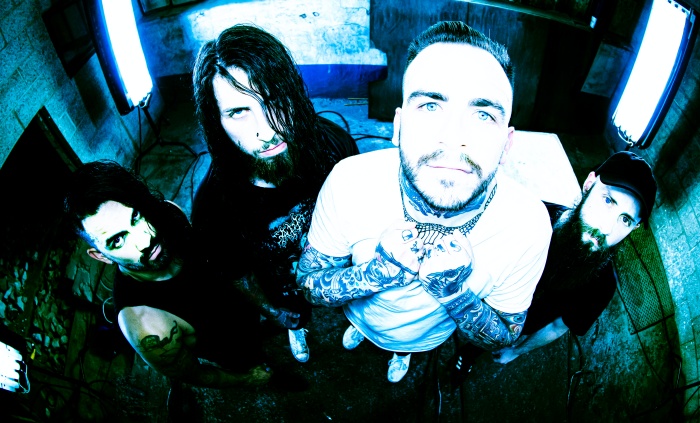 Great American Ghost vocalist Ethan Harrison wears his New England hardcore influences proudly. I'm not kidding, folks. The singer went as far as tattooing the Hope Conspiracy's band symbol on his head. You gotta love that kind of devotion!
But back to Great American Ghost! The Boston-based metallic hardcore quartet's previous two albums Everyone Leaves (2015) and Hatred Stems from the Seed (2017) found praise from my fellow heavy music scribes, and Great American Ghost maximized that positive energy via a schedule of solid touring throughout that time. Teaming up with producer Will Putney (Terror, Vein), the band is returning with their latest album, Power Through Terror.
Take in the aural/visual assault of the track "Prison of Hate" below to get a feel for what the rest of the forthcoming Great American Ghost album has in store for us:
Since Ethan was such a devotee of his region's underground music scene when he was coming up, No Echo asked him for a list of the 5 New England hardcore bands that changed his life.
***
American Nightmare/Give Up the Ghost
This band changed everything about how I saw heavy music. They taught me that heavy music can be clever and heartfelt and hurt and mean and authentic and progressive and cathartic, all while drawing an actual physical reaction. I remember I let a friend's girlfriend borrow my car for a day and when I got it back she had left We're Down Til We're Underground in my CD player. As the record played, I remember knowing it was actively changing my life.
Word for Word
I'm from Manchester, NH, and this band was that city. This was the first hardcore band that I ever had in my life that directly affected me. They weren't some guys in a city I had never been to, they were dudes I knew, and they were so damn good. They were the band that drew me to hardcore shows. I remember being so proud of this band from my city. Still am. On top of all of that, they hustled. They taught me that nothing is going to be handed to you. You have to get yourself out there and take it.
The Suicide File
The band that molded me the most as a kid was the Clash, and when I first heard this band, it felt like hearing the Clash again for the first time. Sonically they were different, but they were raw and honest and current and conscious in the way that I always imagined the Clash were when they were active. "Fuck Fox News" was this political and social blast of hardcore that I hadn't found in modern bands yet. Couple that with the authenticity of the more personal songs and the catchy rage they brought in every track, I was hooked from the first note. This band still inspires me to this day.
Hammer Bros.
God damn this band was heavy. So ahead of their time. The Kids Are Dead stands up to this day as one of my favorite hardcore recordings of all time. The guitars had this metal influence, Jim Death is still one of the angriest vocalists of all time, the rhythm section brought this bounce and groove to all of it, and their shows were something I had never experienced before. The band is incredible.
The Hope Conspiracy
This band is probably my most significant influence when it comes to Great American Ghost. Kevin Bakers' lyrics and delivery were something I had never heard before, and the songs are relentless and driving. There is never any let-up in this band. When Death Knows Your Name came out, I listened to that record every single day for at least a year, and to this day, I have never grown tired of it. Whenever I write a song, I try and think about how that record made me feel, and if I can get even close to that for anyone at all, then I am beyond proud.
***
Great American Ghost's new album, Power Through Terror, will be out on Feb. 14 via eOne and can be pre-ordered/saved here.
Tagged: great american ghost