With bands like Dead Heat and Torena killing shit right now, the Oxnard underground music scene is on fire. It's a great time for Vendetta to come back with new material.
The last time we heard from the hardcore outfit, they released Time Will Tell EP in 2007. This time out, the band hit the studio again with Roger Camero (No Motiv, Ill Communication) and tracked 10 new songs that would ultimately become Death Grip.
With Death Grip just being released last week, I spoke with Vendetta drummer Matt Anderson about the LP, their history, and how they plan on juggling being in the band with their family and career commitments.
Give me some info on Vendetta's history and how you guys came together initially. I know there's a strong connection to Retaliate there.
During high school, Verity, Andy, and myself started a band called Too Close To Call and were playing local shows around Oxnard, California. During that time, we would see Zack [Nelson] from In Control at shows and Verity being the most social guy within the group, walked up and introduced himself. Our band, Too Close To Call was recording a demo around the early summer of 2002, and for some reason our singer decided to quit right before vocals needed to be recorded. As a result, we found ourselves without a band.
Around the same time, Zack wanted to sing for a band and reached out to Verity to see if the three of us would be interested. We agreed and that was the birth of Retaliate. However, Zack made it clear that he only wanted to play a few shows, since at that time In Control was a full-time touring band and they were in the process of recording their third record, The Truth Hurts.
During the Retaliate run, a mutual friend of ours mentioned to us that his friend Danny, who played bass in a local Oxnard hardcore band, Whatever It Takes, was looking to sing for a band and recommend him for Too Close To Call. He came by and Verity sang one of the songs for him to show him how it went. Danny then sang, but wasn't liking his voice. However, he played bass and informed Verity that he actually had a better sounding voice and should just be the singer.
It was at that point the four of us salvaged through the Too Close to Call demo songs, reworked and restructured guitar riffs and by early fall we had 4 to 5 songs. As the four us continued to practice, Danny recommend that we recruit his friend and band mate in Whatever It Takes to round out the band on second guitar.
Once Milo joined, Vendetta was born. Around this time we befriended Nick Jett of Terror/Piece By Piece and recorded our demo with him at his studio, Blood Tracks, in November of 2002 and would go on to play our first show on December 4th, 2002 at the Ojai Valley Women's Club with In Control and Terror.
What led to the hiatus/break up? What are some of the other bands you guys have played in since then?
Any band that is full-time knows that everyone has to be committed and willing to sacrifice everything to make it work. Vendetta had three members still in high school during 2004-2005. When it became apparent that college/education was going to be the main focus for some members, it was clear that Vendetta was only going to be a local band with occasional out of town shows.
Vendetta has never broken up, but while the band has had member changes over the years, some of us went on to join and play in The Warriors and still do currently. Retaliate has been another band that we've been lucky to play for still to this day.
How did this new chapter of Vendetta get started?
suggested to us that Vendetta should make a new record. During the lockdown, I think most bands, musicians, and recording engineers were looking for a way to stay busy and creative.
I think Roger had in mind to record a fun project with a band he recorded decades earlier. Plus, nothing is better than getting paid to produce and record your friends band. So Roger knew what he was doing.
READ MORE: Dead Heat: The Nardcore Crossover Thrash Masters Return
Tell me a bit about the new material on Death Grip. Since you wrote the songs during the lockdown, did you do it remotely, or were you able to jam everything together in a room? Also, how is it working with Roger? There's such a deep connection there with Oxnard, etc.
Tell me a bit about the new material on Death Grip. Since you wrote the songs during the lockdown, did you do it remotely, or were you able to jam everything together in a room? Also, how is it working with Roger? There's such a deep connection there with Oxnard, etc.
Overall, Death Grip showcases a nice balance of straight forward, heavy hardcore with just the right amount of melodic features that ties it all together. Sonically, I think we found our true sound when we made Time Will Tell, and moving forward we wanted to keep those same elements for this record.
Lyrically, Death Grip deals with feeling isolated, desperate and alone as everything continues to become more polarized; fighting a losing battle in trying to stay positive while watching the world around us go to shit.
I would say it was about 60/40 in terms of remote/rehearsing together. Our guitarists Andy and Charlie started sending me riffs via voice memo and I would try to structure and get ideas flowing for songs. A lot of ideas would come to mind but some either worked or didn't when we got together to jam it out.
A few of us bought some tools that allowed us to hear and demo the songs through GarageBand which was a big help. In the end, it was Roger that came to our aide during pre production and helped shape the songs going into production. We ended up recording 12 songs but only kept 10.
Working with Roger has always been a pleasure. He has literally watched us all grow up and he was our Quincy Jones for this record [laughs]. Roger is the type of producer that will always bring your vision to life. He has always gone the extra mile for all his projects, but for this record he went out of this world!
What are the band's plan now that you have Death Grip out in stores?
Well, if I'm being transparent, I don't see us playing anymore than a few times a year, but who knows? We're definitely going to put our best efforts forward and do all we can.
80% of us have kids, 100% of us have full-time jobs and mortgages now, so it will be much harder to get away in this current state but we continue to love hardcore, and any band who's ever taken the stage can vouch that there's nothing that compares to the energy of playing live.
It must be so fulfilling seeing how your region has been on fire in these past few years with bands like Dead Heat and Torena doing so well.
Absolutely! The entire hardcore scene is flourishing right now and our local scene here in the 805 just might be in the best shape it's ever been. Dead Heat and Torena are amazing, hard-working bands that are continuing to showcase Oxnard's hardcore talent!
***
Death Grip is available now via Indecision Records (vinyl shipping now).
***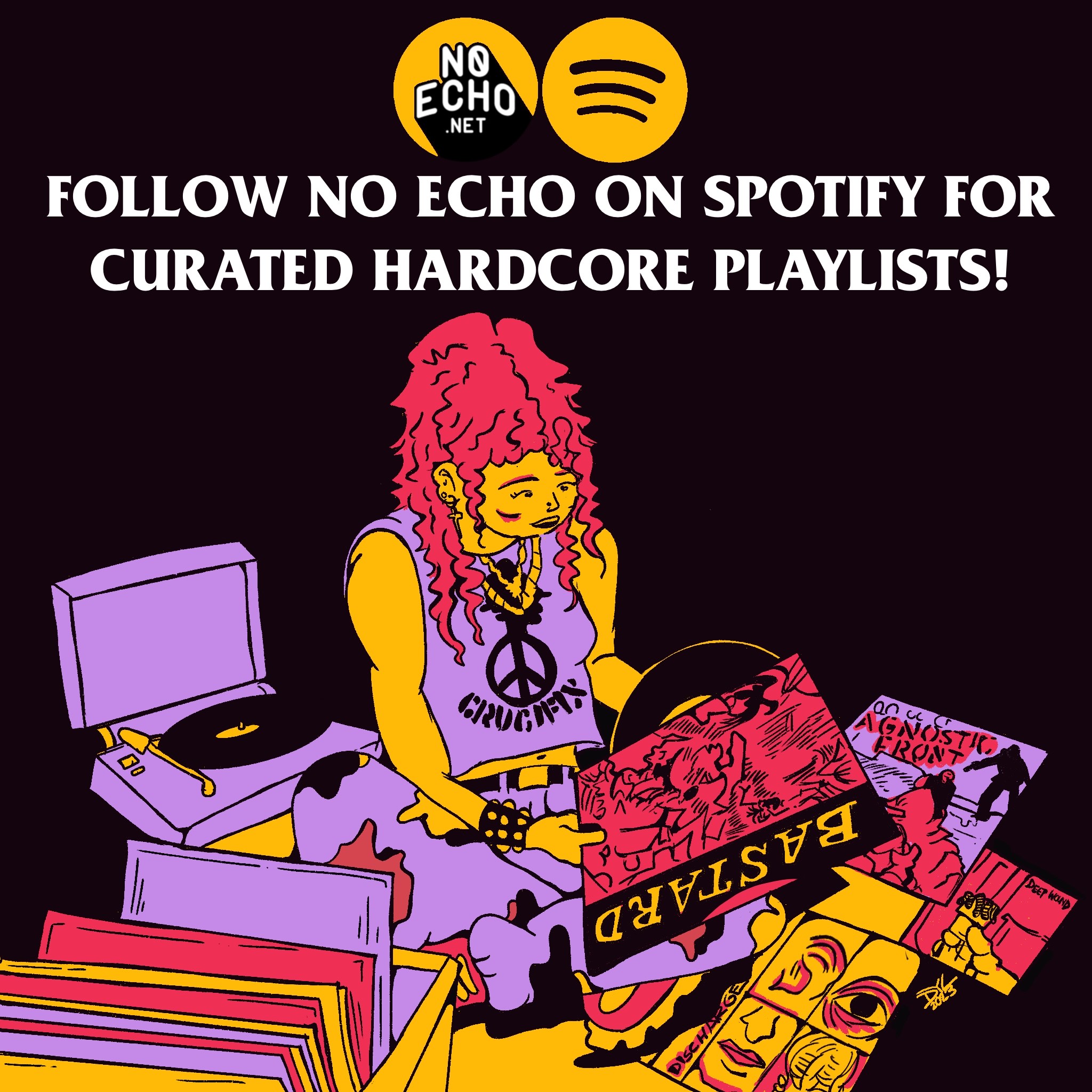 Tagged: vendetta