Terroreign is a band that recently came to my attention through an email from bassist/vocalist Herb Jowett. Playing a D-beat-infused hardcore style, the Philadelphia-based trio released a searing 7-song demo earlier this year.
"Our drummer Ian [Wagnon] and I tried starting a band a few years ago but I ended up joining another band and he became a Dad so that fell apart," Herb told No Echo. "We kept in touch and eventually got together again 2 years ago. We wrote one song and I mentioned to him that I was talking to Matt [Miller] about starting a band so the three of us got together and here we are."
Because I know many of our readers are into this kind of stuff as much as I am, before Terroreign, Herb played in Lickgoldensky, Javelina, and Hellrad, Ian in Old Lions Way and Gravemarcher, and Matt in Catharsis, Wormrider, and Destruct Device.
With their debut full-length planned for 2022, Herb said this about Terroreign's writing and playing approach: "We don't go out of our way to mix styles, it's just what comes out when the 3 of us jam. As for influences I'd say Napalm Death, Neurosis, Discharge, Bolt Thrower, DRI... I could keep going but you get the idea."
"As for the lyrics, we're trying to get a point across without sounding preachy. Some of the issues we address are the ugly side of the 24-hour news cycle and being constantly connected, growing older and trying to stay involved in a youth-oriented scene, the ridiculous idea that you're superior to someone based on your race, gender or nationality are some of the issues we touch on."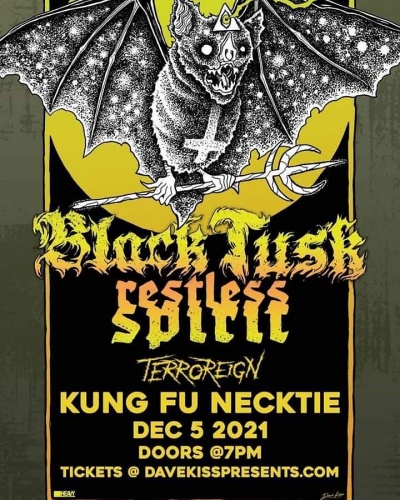 Next week (December 5th), Terroreign will be on a live bill also featuring Black Tusk and Restless Spirit at Kung Fu Necktie in their hometown, which Herb told me is still cooking with kickass bands.
"Philadelpha's always had a good scene, a little fractured sometimes but there are all kinds of good bands. Family Garden, Honey, Backslinder, Atomic Cretins, HIRS, and Ritual Earth are just some of what's going on."
Terroreign on social media: Instagram | Bandcamp
***
Help Support What No Echo Does via Patreon:
***
Tagged: terroreign